Good afternoon, Autopians. In honor of daylight savings time, (unless you're in Arizona or Hawaii…) my colleagues and I were discussing our favorite in-car clocks, and boy are there some good ones. Let's take a look.
Our now-second-youngest writer, Thomas Hundal, is a fan of Bentley's gorgeous glass Breitling:
Patrick George is taken by BMW's simple, yet perfect E30 analog:
Why do certain cars have analog clocks in them, you may wonder? Why couldn't they digitize it, like nearly everything else? Well, hold your wristwatches, I'm here to explain why. For some reason, I read a blog from a Mercedes dealership out in Scottsdale, AZ many years ago. The blog was naturally titled, "Why do luxury cars have analog clocks?" Here's what the dealership had to say:
They help you keep track of your day and help you get where you need to go on time. Luxury brands like Mercedes-Benz offer analog clocks on the dashboard, not just because they are stylish, but also because they are functional. One of the main reasons automakers choose to put analog clocks in their vehicles is because it creates a focal point in the vehicle. They often use high-end watch/clock brands, which also gives an added statement of luxury.
Hmmm, I suppose they have a point here. Why should I, a wealthy Wall Street investor, look down at my wrist as I'm chauffeured down Broadway in my S-Class? I shall never do such a thing as vile as that! It also does act as a focal point, which I guess tends to bethe job of infotainment displays, these days.
How could I not talk about Porsche's clock? No, not an analog clock. But a stopwatch! Available on 911, Macan, Cayenne, Panamera, and 718, the "Sport Chrono" package adds performance niceties such as launch control, motor-sports inspired gear shifting, and a stopwatch. Now Porsche owners can use your stopwatches to execute Porsche's "winning together" slogan. 
A few more notable automotive clocks: 
An opulent car the Jaguar XJL is — the modern equivalent of a land yacht. If you ever get a chance to sit in one of these, front or back, take it! Look at that clock! Talk about a classy piece of art you can stare at awaiting your tow truck. (I own a Land Rover, so I can say this given that Jaguar and Land Rover are sibling brands).
I am a fan of the first generation Equus. I truly believe that it was a whole-hearted effort by Hyundai to challenge the likes of the 7 Series, S-Class, and A8. They're a bargain these days, presumably more reliable than the Euros, and you get a retro-inspired clock!
What about the Chrysler Town and Country? Does it add a statement of luxury to your Enterprise rental van? They had a center dash-mounted clock. I imagine it was placed there for children in the backseat to keep track of how many minutes Mom and Dad spent spot-searching the parking lot at Disney World.
I feel it is extremely appropriate for the modern RX to contain an analog clock. Although the redesign for the 2023 model year ditched it, the RX was clockin' until 2022! With a CD player! Old school, cool school. The buyer demographic seems to withhold this saying as well. 
Hmmm. I'm not sure how I quite feel about this one. The Ghibli is an interesting car. Maserati's have long paid homage to their origins, sporting analog clocks in most models since the 80s I believe. It just feels strange to see a Maserati-stamped analog clock over an 8.4 UConnect screen, no?
[Editor's Note: I'm going to give a shoutout to some old-school rectangular clocks like this one that I have set aside to eventually install into my Jeep J10: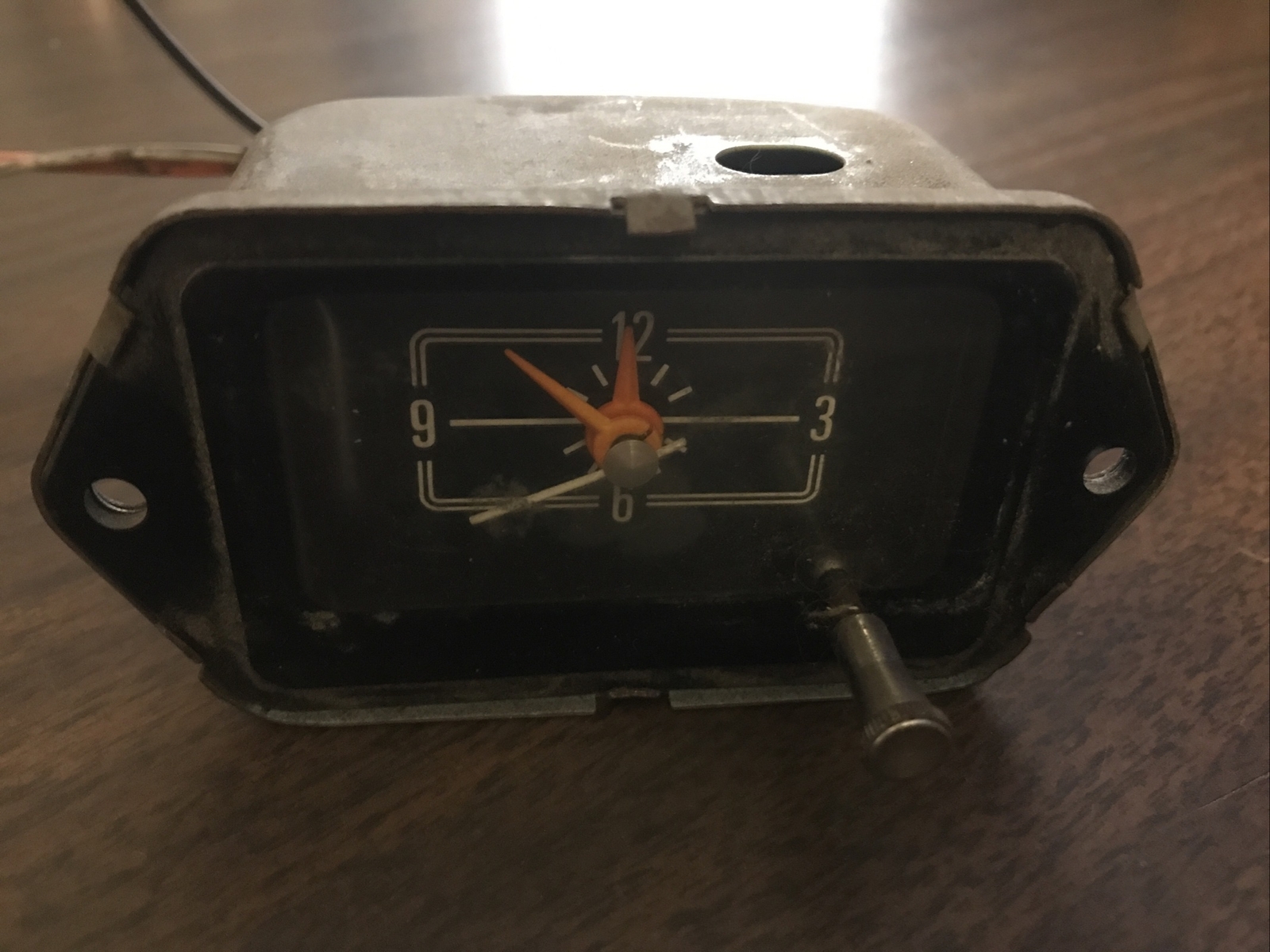 But this style of clock was ubiquitous all through the 1950s, '60s, and '70s; behold all these Cadillac clocks for sale on the eBay listing titled "1957 1958 1959 1960 Cadillac Clock Lot":
Now tell us, readers, what are your favorite in-car automotive clocks? Elegant or tacky? Functional or funky? Let us know!