Back in the summer of 2012, Chrysler was booming. With Fiat's support, it had roared out of a recession, and was now looking to the future, hiring over 300 interns in southeast Michigan. I was one of them. It was one of the most fun summers of my life; I'd driven from UVa in my 225,000 mile 1992 Jeep Cherokee because there was no way I was going to show up to my dream job without my beloved Jeep, even if it was burning quite a bit of oil. Keen to impress, Chrysler treated us interns like kings, inviting us to swanky events and making sure we were entertained. One method of entertainment was a game called the Chrysler Intern Scavenger Hunt. It asked interns to identify over 40 parts on two vehicles sitting on hydraulic lifts. Here's a look at that challenge.
I cannot express the sense of wonder I felt that summer. I'd been dreaming about working at Chrysler since I was a child. I'd read all about the headquarters in Auburn Hills, I'd devoured every review of every Chrysler product since 2003, I'd learned more about Jeep than any human should — and to finally head to Michigan for the first time to be in this hallowed spot that I'd dreamed of for so long, well, it's something I'll be grateful for the rest of my life.
Detroit in the summer of 2012 represented the fulfillment of my biggest dream, and the things I saw there blew my mind.  Here's me at the Woodward Dream Cruise, amazed by all the incredible iron cruising down that fabled highway:
Here's me in front of the Renaissance Center:
And, because I'm starting to feel kinda weird about showing you pictures of me, here's the last photo of me you'll see in this article: It's me at the Concours d'Elegance of Michigan in Plymouth:
The 1999 Dodge Charger concept car was there:
It was a beautiful day; I felt like I was in heaven:
This is a photo of the Dodge Dart (remember those?) prototype we interns drove way up north one weekend. The 1.4 turbo mated to a dual clutch transmission was rough, particularly in traffic:
I explored lots of Detroit's abandoned structures, like the Packard plant here:
Wait OK, just one more photo of me — this time in front of what was once the abandoned Michigan Central Station, but what is now Ford's Future of Global Mobility.
We also drove lots of fast cars; Chrysler had an intern day that involved all 300+ of us driving pretty much any Chrysler product around the Chelsea Proving Grounds' high-speed oval. We were told to keep speeds below 75 mph, but there was no way in hell we were doing that with 470 horsepower Dodge Challengers and Jeep Grand Cherokee SRTs.
I remember one intern friend of mine got a manual Challenger RT for the weekend. We spent the whole night just ripping burnouts and donuts in suburban Michigan. It was absolutely epic.
Anyway, because Chrysler was in growth-mode, it treated interns like Royalty, holding fancy events at the Detroit Symphony Orchestra's Max M. Fisher Music Center, at Chrysler's now-departed museum in Auburn Hills, and on this rooftop near downtown Detroit:
Plus there was a speech from leadership; here's the late Sergio Marchionne speaking with us interns. I got there early so I could sit near him and Ralph Gilles.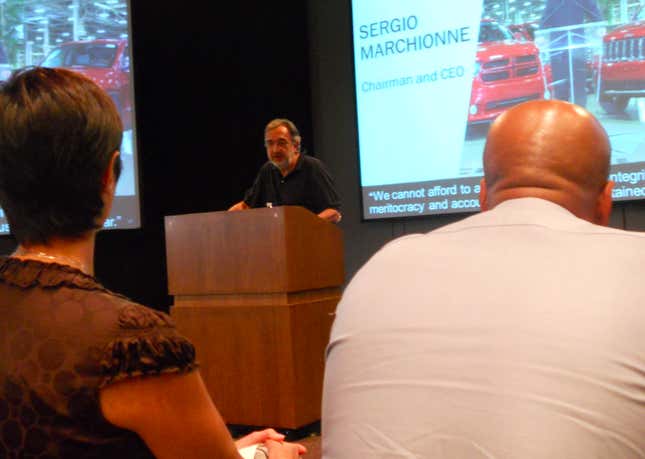 Other events included the Chrysler Intern Scavenger Hunt. I wasn't exactly sure what this was; I figured we'd have to run around and find things, but then we were told that the event was in the basement of the Chrysler Technical Center, in the south wing. This was where all the engine dynos and vehicle hoists were.
I arrived to the meeting spot to find two vehicles on lifts: One was a Ram pickup and the other…well, I can't remember the other one. Underneath and inside the car were a bunch of stickers with numbers on them. The intern coordinator sat at a table with a bunch of sheets that had over 40 vehicle components in a list. "You have to walk around these two cars, and when you find a part that's on the list, write down the number on the sticker that's on that part."
I spent the full 30-ish minutes trying to find all the parts. I remember being super intense about it rushing, looking closely, and having absolutely no chill whatsoever. Other interns thought I was a weirdo, but this was my element. And I was a little confused; where the hell was the distributor? I'd just swapped my Jeep's distributor cap a few months prior, but I don't see a distributor cap anywhere! What the heck is a Knuten Valve? (I later realized that this, and that muffler bearing, were nods to the famous Chrysler Turbo Encabulator).
So all the parts that I didn't recognize — instead of guessing them — I just left them blank or put a question mark.
I'm glad I did, because Chrysler had tried tricking us with parts on the list that one couldn't find on either vehicle!  As such, I scored 45 out of a possible 45 — perhaps the only intern out of the 300-ish to score a 100 percent. Chrysler offered a free pizza lunch to interns who scored well on this scavenger hunt. I recall being rather late to that lunch.
Anyway, let me know how you'd do if you had to identify the parts on the above list.