I relapsed. After selling much of my Jeep collection and buying a sensible BMW i3 electric car, I was unable to keep my eyes off Craigslist, and when I saw a 1991 Jeep Wrangler YJ, there was nothing on this green and blue earth that was going to stop me. This was the ultimate Jeep Wrangler in my eyes — the best model year, the right engine, the right transmission — and because it was in the desert in California, I had a feeling it was completely rust free. Let's take a look at this incredible machine, which I may or may not have overpaid for — you decide.
Why I Bought A Jeep Wrangler YJ
Seven years ago, 24 year-old me made a foolish mistake. I had in front of me the last model-year Jeep Wrangler — a 1995 — with the unkillable 4.0-liter inline-six mated to a manual transmission with the much-preferred external secondary cylinder, and it was the best color: green. The seller wanted $4,500, and I, too young and naive to realize the opportunity that lay before me, turned the machine down:
The YJ has always been my favorite Jeep Wrangler. In many ways, it's the underdog – the disposable, cheap Wrangler that came out of the gate in 1987 to jeers from the Jeep faithful who believe all real Jeeps have round headlines. But I've always admired it; even though many call it the Yuppy Jeep, with its plastic dashboard and cushy amenities like available cruise control, the reality is that the YJ remained an extremely basic machine that still felt like an old CJ. It's got four leaf springs, rear drum brakes, two solid axles, a frame, steel bumpers, a stick shift, and really not a whole lot going on inside aside from its hilariously long string of gauges (I'll show those in a second).
The successor, the TJ Wrangler, was so much better, with its, five-link coil spring suspension design taken from the Jeep Grand Cherokee ZJ (whose suspension was inspired by the XJ Cherokee's front suspension), available locking diffs, available rear discs on some models, improved transmission options, cushier interior, and on and on. In many ways, the YJ Wrangler is to the TJ what the last-generation JK Wrangler is to modern JL — it's not bad, but it's been eclipsed in almost every way. This is why the YJ is still the cheapest Wrangler money can buy, but also why I think the JK will soon take over that post.
But despite having been thoroughly improved, how can anyone look at this Jurassic Park clip and not fall in love?
And if that doesn't do it for you, surely Jeremy Clarkson doing the Rubicon Trail in a pretty-much-bone-stock YJ will win you over, right?:
And I guess it'd only be fair to include this, since I suppose this kind of thing could do it for some of y'all:
Anyway, as many of you probably know, for years I've been debating whether or not I should buy a new Jeep Wrangler JL — a vehicle on whose engineering team I was from 2013 to 2015. I decided against buying a JL primarily because I'm a cheap bastard, and dropping $33,000 on a vehicle that scores 15 MPG when I have to pay $5 a gallon for gas just doesn't make sense to me.
What I wanted was something that was new and safe, something convertible, something efficient, and something that I could take off-road. And though the JL hits most of those requirements, it fails hard when it comes to efficiency. So I decided to buy two cars for much less than the price of a JL.
First, I snagged the cheapest BMW i3 in America, a vehicle that I think is the ultimate city-machine, and that has served me well so far now that it's got a fresh new battery. I pay very little to charge it, I can park it easily, it makes me feel safe and comfortable on LA's busy highways, and I remain fascinated by its engineering. The i3 was a great purchase.
But the i3 can't off-road, and it doesn't have a convertible top. And though I won't pretend that anyone needs a convertible top, part of me realizes that, if I'm ever going to own a Jeep Wrangler, now's the time. I'm sorta-young [Ed note: you are young, dummy – MH] , I live in sunny California, and there aren't any gasoline-car-bans in place yet (that's sort of a joke, but sort of not). So I sought out my favorite Jeep Wrangler: a YJ. And not just any YJ: The Holy Grail of YJs.
Why I Wanted A 1991 Model
1991 is not just my birth year, it's also the best model-year for the Jeep Wrangler YJ in my eyes.
The Jeep Wrangler YJ debuted for the 1987 model year with two engine options: A 2.5-liter AMC inline-four and a 4.2-liter AMC inline-six. They were both decent motors, but the six was only adequately powerful and the four was downright sluggish. Both of them were carbureted nightmares with vacuum hoses and all sorts of annoying emissions stuff clogging up the engine bay and making getting through California emissions in 2023 a chore.
The only smart YJ to buy is one with a 4.0-liter fuel-injected inline-six, a 190 horsepower, 225 lb-ft brute whose only achilles heel is heat. Keep that motor cool and it will drive 350,000 miles without trouble. That engine was only available in YJs starting in 1991, and luckily by then the junky Peugeot BA-10 five-speed found bolted to the 4.0 in the Jeep Cherokee XJ had already been booted from Jeep's lineup, leaving just the stout AX-15 five-speed as the sole manual behind the 4.0.
The 4.0 and AX-15 were available from 1991 all the way to the YJ's demise in 1995, and though the later models got plenty of improvements — like rear shoulder belts, available ABS, stronger front axle universal joints, a center high-mounted stop lamp, an external secondary clutch hydraulic cylinder (meaning to replace it you don't have to drop the transmission), and allegedly galvanized body parts — the 1991 was special. That's because, starting in 1991 for the 1992 model year, Jeep changed the roll cage from the slick, slanted one here:
…to the "family style" roll cage here: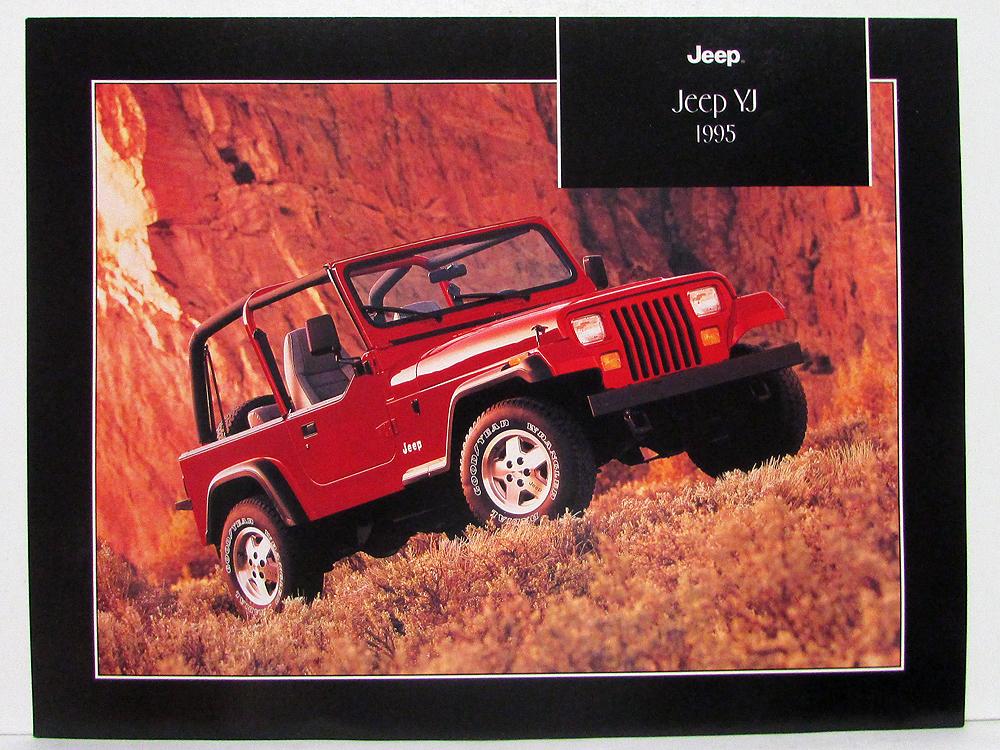 The family-style roll cage came about due to federal requirements for rear shoulder belts. Not to get too far into the weeds, but "national, non-profit organization dedicated solely to child passenger safety" SeatBeltSafe U.S.A. writes a bit about this requirement in a document about rear shoulder-belt retrofits, saying:
Until the 1990 model year, most cars had only lap belts in the back seat. Shoulder belts have been required in the outboard (side) positions in the back seats of new sedans, station wagons, and hatchbacks made starting in December 1989. The same requirement applies to vans, SUVs, and pickup trucks starting with 1992 models.
Anyway, I like the older slanted roll bar significantly more than the family-style post-1991 roll cage (I realize I could have swapped an older style cage onto a newer YJ, but I like to keep my vehicles factory-correct), and given that I want that powerful and reliable fuel-injected 4.0-liter engine, that left me with just one model-year: 1991.
Finding The Ultimate YJ On Craigslist

The photos you see directly above and below are what I saw on Craigslist. The seller, located in a place called Littlerock, California about 50 miles north of me, was asking $9500, which wasn't cheap. Luckily the listing included three magical letters: OBO — or best offer.
So I figured I'd hop in my i3 and test its range on the freeway (it made it 80 miles on EV only, and 20 miles using the gas range extender, for those of you curious). It won't hurt to just look at this YJ, right?
I ended up in a tiny town in the desert, in front of a house on a dirt road. A Barbie Jeep sat on its front porch, and a gorgeous black Chevy K10 blazer was out back not far from an equally gorgeous VW Super Beetle. An energetic Lebanese man named Jack and his friendly son Jacob walked out of the house to greet me. Jack used to work in a body shop, and still does body work — hence the minty K10 Blazer and Beetle. "Hey, [I'll] show you the Jeep now," Jack told me, opening his garage door.
The thing looked clean. Like, real clean. "I painted the hood and side," Jack told me. His son showed me a photo of the Jeep prior to Jack's work, and my lord had the sun done some work on that hood:
Jack told me he'd bought the Jeep from his neighbor for just over five grand. He'd installed a tan soft top and full-doors, which he'd painted and installed new inner panels on. The Jeep had some tow points on the bumper, and came with a y-shaped tow bar; apparently the neighbor had yanked the vehicle around with his Motorhome, though it's unclear how many of the 188,000 miles on the odometer came from all that unpowered highway travel.
There was some janky stuff happening in the engine bay — the heater core had been bypassed with a hose that ran directly from the thermostat housing into the water pump. The AC wasn't turning on for whatever reason, the driver's seat was torn, and there was no rear bench to be seen. I told Jack and Jacob that, right now, $7,000 was what I wanted to pay. Jack wanted $8,000, so we agreed we were too far apart and that if one of us changed their mind, we had the other's number. I drove back home.
The next day, I called Jack back, offered $7,700, he negotiated up to $7,800, and thus, I'd agreed to purchase the ultimate Jeep Wrangler YJ.
The following day, I stopped by the bank to grab $7,800 in cash, and then dropped $65+tip on a 50-mile Uber to that small town of Littlerock, which — as shown above – is in the middle of nowhere.
Did I Overpay For My New Jeep?
I showed up to Jack's driveway and took these pictures of the YJ as I prepared to take my first drive in it. I probably should have test-driven it before showing up with all that cash, but I'm a seasoned mechanic, and I wasn't worried about a 4.0-liter or an AX-15. I have a spare engine, and I can rebuild a manual transmission in my sleep (though I'd rather not have to, admittedly):
The Jeep drove well, so I forked the cash over in exchange for keys and a title, and went on my way. But not before loading up the half-doors and soft-top hardware that you may have noticed in that pre-painted-hood photo above. I'm a Jeep diehard, and I'm buying this machine largely because it's convertible (not just because it's good off-road; I already have a ZJ that can off-road), so I plan to ditch that hardtop and those full-doors in favor of a soft top and half-doors.
View this post on Instagram
The hardtop should sell for $1,200, and the doors probably around $1,000. So if you take those off the purchase price, I'm at $5,600. Add a new soft top and soft top hardware, a bench, a new driver's seat, and smaller tires that don't rub when I turn, and we're probably talking about $6,500 for a rust-free YJ set up just like I want it.
Is that a decent deal? I don't know. That 1995 model I looked at seven years ago cost $4,500 at the time. That's $5,757.36 in today's money, so it's definitely cheaper, and it had a rear bench and decent seats, though it lacked carpeting and it also had a little bit of rust. Then there's this YJ that sold on Cars & Bids for $6,400. It looks really nice inside and out, with a nice soft top and decent tires, but it has a little bit of rust, and also I'd have had to have paid to get it here from New Jersey.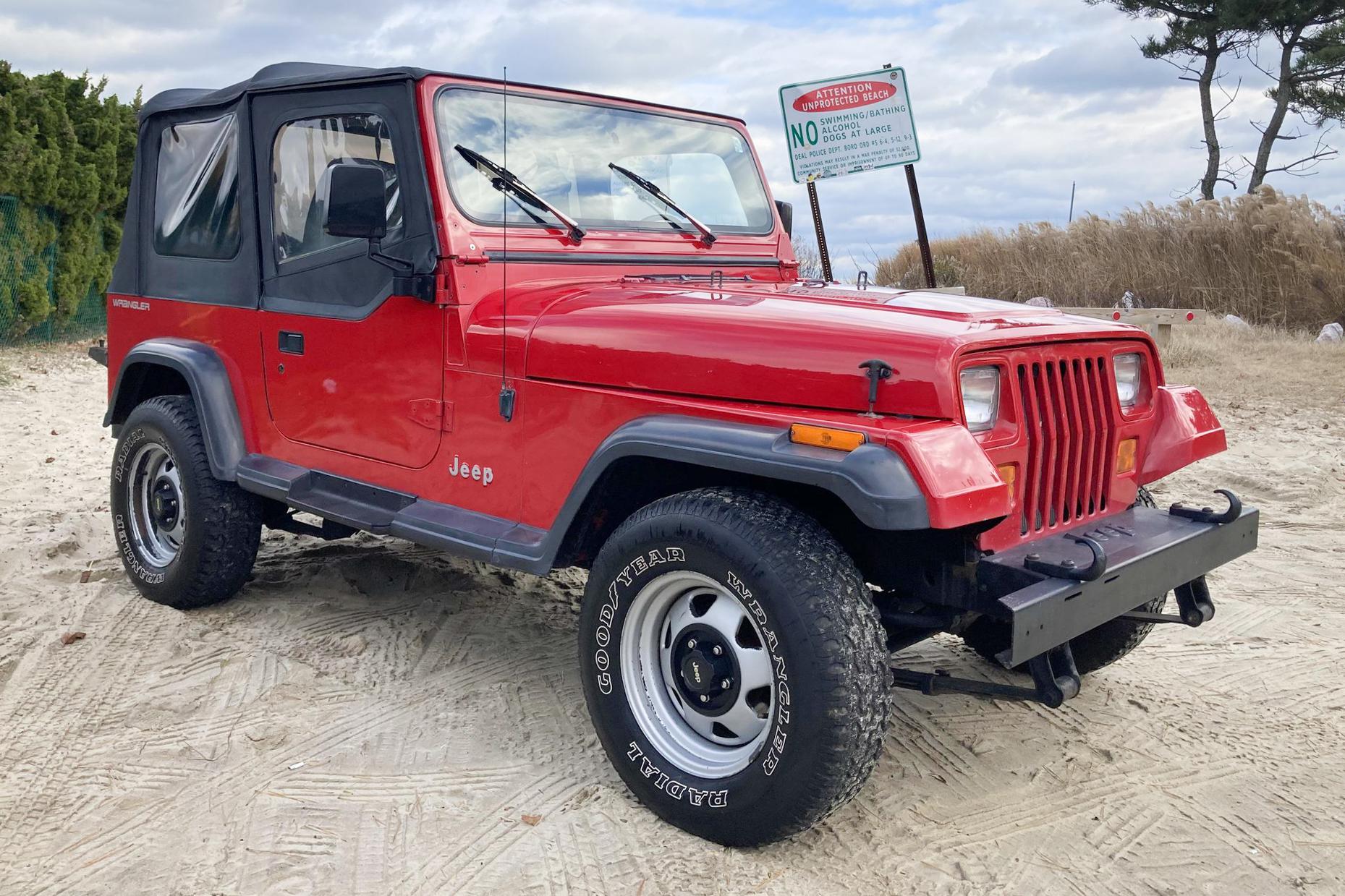 Then there's this Ohio one that sold for $7,200. It's got half as many miles on the odometer, beautiful tires, and a nicer interior, and it also has a hard top and half doors (but even comes with a soft top), though there is a bit of rust: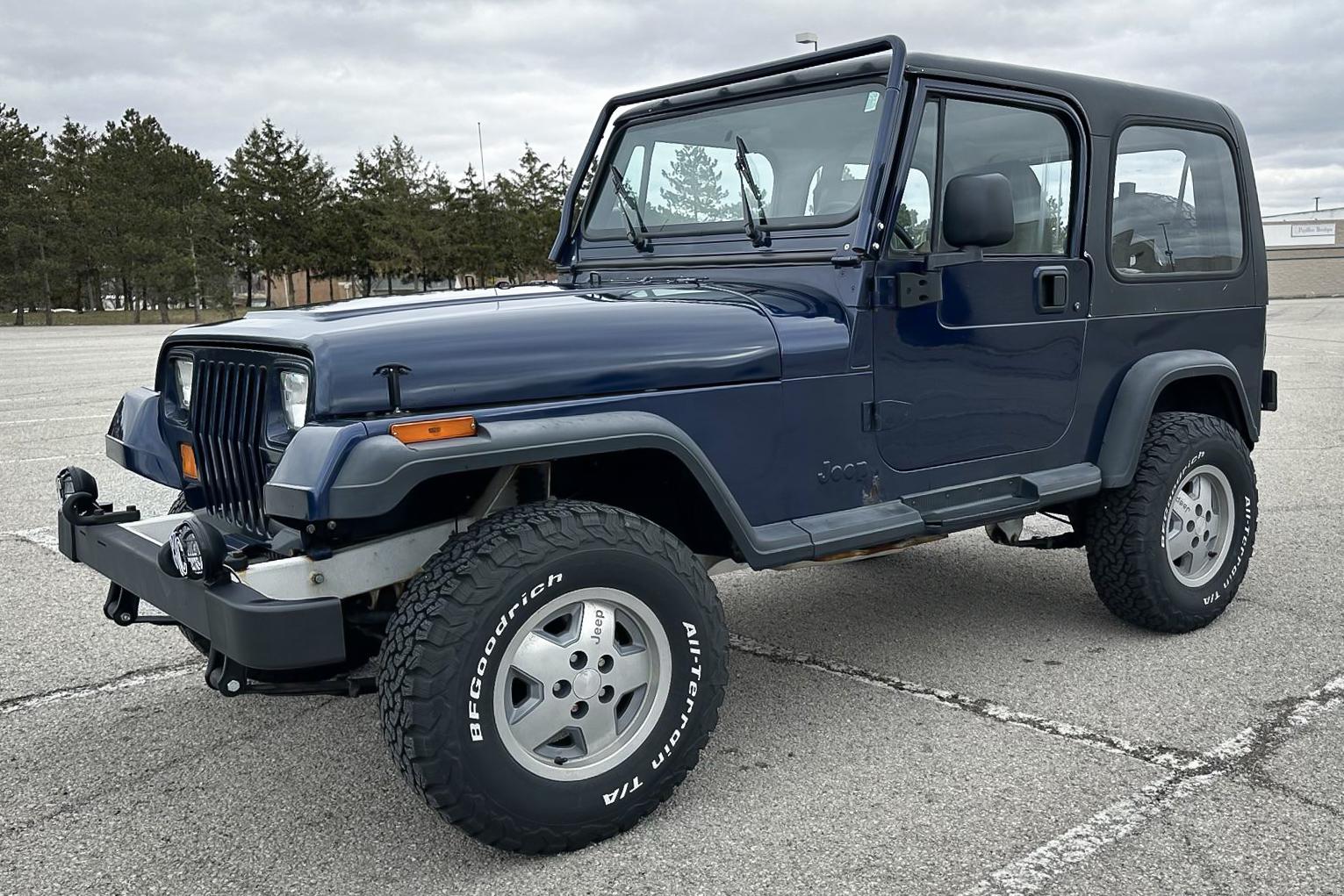 Anyway, before you answer whether or not I overpaid, let's take a peek at my new YJ.
A Close Look At My 1991 Jeep Wrangler YJ
Let's have a look at my Jeep, starting with the exterior, which those of you who are Autopian members have already seen:
Not bad, right? Jack did a great job painting that hood and those full doors. He even offered to repaint the half doors, which had some scratches on them from sitting in his yard and a big burn mark from where he tried removing a bolt. I'm excited to get those half doors on there, along with a soft top, though I have quite a bit of work ahead of me. I don't have the hardware (aside from the two bows) to mount the soft top, so I have to buy all of that. Then I need to buy a soft top, but luckily that should just cost me about $300 (I plan to go with a tan top).
Here are a few close-up shots. Sadly, the grille has small holes drilled into it:
The footman loops on the hood are missing for some reason:
As for the interior, it's not great. As I mentioned before, my driver's seat is messed up:
Someone mounted an aftermarket cruise control switch onto the dash (under the temperature gauge), the Jeep emblem at the center of the steering wheel is missing, and I loath the cue-ball shifters:
The center console lid has small holes in it:
And there's no rear bench:
Luckily, there is a carpet in there (this is often yanked out of YJs), and I found out that the AC does work, though the blower is weak, and also the radio is shot.
Under the hood, there's that weird heater core bypass, with a hose going from the thermostat outlet straight to the water pump inlet. Presumably, the heater core leaks:
Someone put a bolt into the air box lid for some reason:
But let's get to the underbody. Because of all Jeeps on earth, it is the YJ that's perhaps best known for rust. Jeep sold almost three quarters of a million of these Jeeps, and they were beaten on hard, and put away wet — anywhere in the rust belt, you're likely to find YJs in shockingly horrible shape. Our weekend writer, Rob Spiteri, is actually on the hunt right now for a YJ; look at what he's found:
Now let's look under mine:
Absolutely incredible.
Expect more YJ content soon. My plan is to keep it bone stock, and maybe — maybe — try to traverse the Rubicon trail. I need to do a bit more research on whether that's even possible with a stock YJ (I'd throw some era-appropriate guards on the rocker panels) without totally destroying it.