Happy Friday to you all. It's almost the weekend, so I'm listening to The Weeknd this morning. It's probably because I watched his live concert show on HBO last night. It's pretty good. Anyway, let's talk cars: today we have news about General Motors' attempts to get those pesky Cruise Origin shuttles on the road, plus shakeups at Mazda, Rivian, and GM's own marketing division. You have my word that a grand time will be had by all.
Barra Meets With Senators To Get Cruise Shuttles On The Road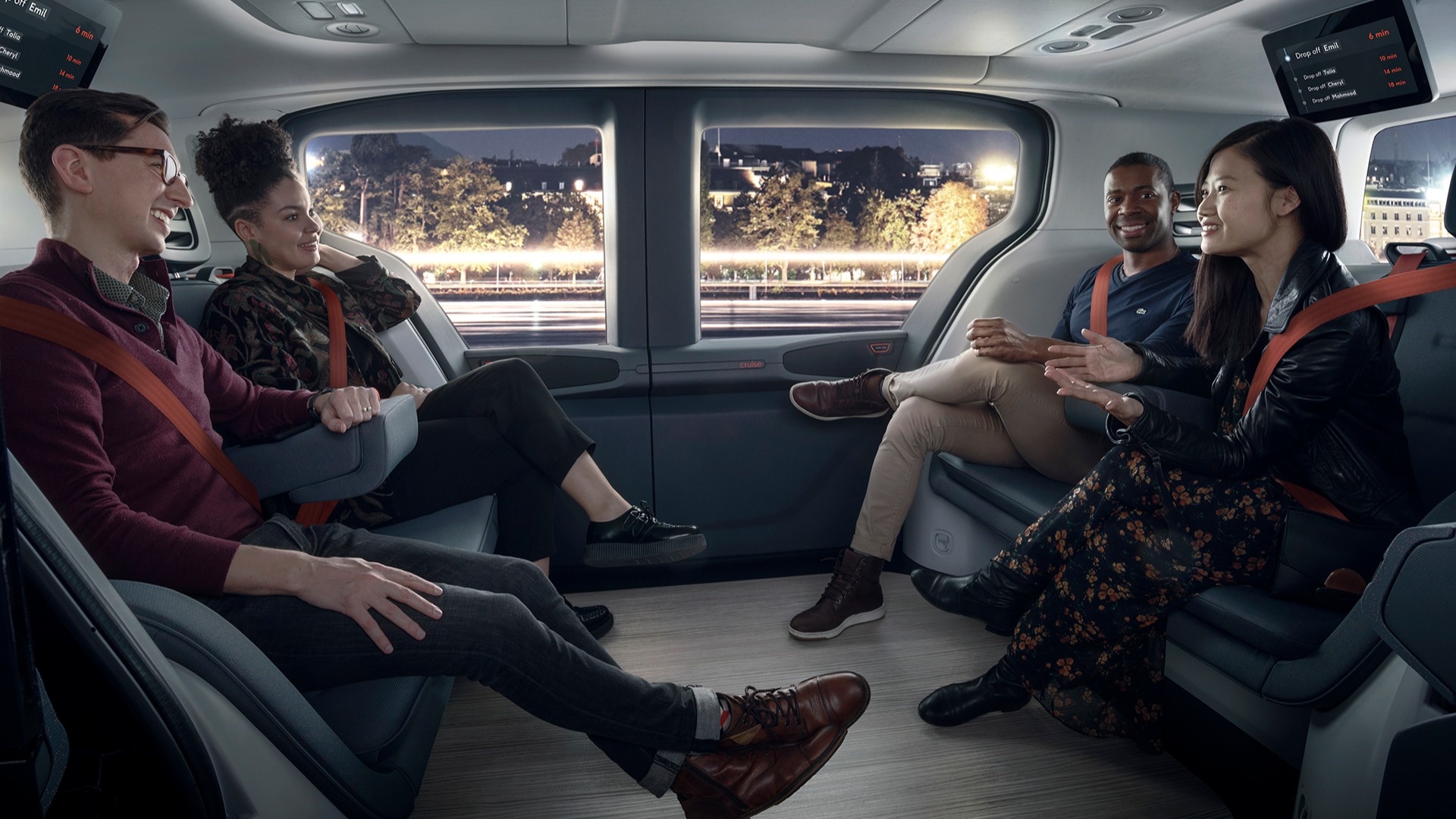 Last year was a semi-apocalyptic one in the self-driving space, particularly the robotaxi "business," and I put that in quotes there because a lot of companies are trying that out but none can figure out how to do it at scale and in a way that makes actual money. Also, the feds are starting to crack down on the deployment of autonomous shuttles on city streets, just as the test cars keep getting headlines for breaking down and causing 30-minute traffic jams in places in like San Francisco.
Other than that, everything's going great. Thanks for asking.
It's particularly irksome for GM's Cruise division, which has allocated precious manufacturing capacity to build and then deploy some 2,500 Origin vehicles—bus-like robotaxis with no steering wheel or pedals—onto city streets. But that plan has been on hold this year pending approval from the National Highway Traffic Safety Administration. This is because the feds are looking into whether the Origin is really even street-legal and safe to operate, let alone to put people in; GM's requesting an exemption from federal safety standards to put the shuttles on the road. GM has logged half a million hours in those autonomous Chevy Bolt test vehicles, but the Origin bus hasn't been able to hit the road yet.
So on Thursday, GM CEO Mary Barra met with two U.S. senators in Washington to try and get things moving. Here's Reuters on what happened:
GM's EV Marketing Shakeup
Speaking of GM, its global marketing chief Deborah Wahl has "elected to retire" from the company, according to the automaker. While Barra has offered buyouts to salaried employees in order to cut costs, one imagines there's more to the story when your CMO and a member of your executive team does that. Wahl, 60, joined GM in 2018 where she headed up Cadillac marketing and took the top job in 2019.
That's kind of a quick turnaround, especially since Wahl was just added to the GM executive team in October, AdAge reports. It may have something to do with the major EV push GM is planning for 2023, or just new blood at the company:
Wahl in October was added to GM's 18-person corporate leadership team, adding the senior vice president moniker to her CMO title — making her exit some five months later somewhat surprising.

But GM is also being steered by some new members of its board of directors, who are known to take a keen interest in the automaker's marketing direction, according to a person familiar with the matter. The current board has "a very different tenor from previous orientations," said this person.

New board members include Jonathan McNeill, co-founder and CEO of venture firm DVx Ventures. McNeill, who was appointed in October, is a former chief operating officer at Lyft and former president of global sales, delivery and service at electric vehicle leader Tesla. Also joining the board last year was Joanne Crevoiserat, CEO of Tapestry, whose brands include Coach, Kate Spade and Stuart Weitzman. Members added in 2021 included Aneel Bhusri, co-founder and co-CEO of software firm Workday.
Additionally, there's speculation GM could tap some outside expertise for marketing duty next:
It's tricky to parse what happened here, especially after Wahl's Super Bowl and Netflix ad wins. I also think a bigger problem for GMs is EV production,
actually getting these cars on dealer lots
, not so much marketing. Either way, expect a different direction for these cars soon.
Mazda Gets A New Boss, Too, And He's Had Wins In America
The Japanese auto industry seems to be going through a bit of a shakeup right now. Nissan and Renault are rethinking how they do things. Toyota CEO Akio Toyoda is stepping aside to make room for a younger executive with a bolder EV plan.
Subaru's doing the same,
we learned just this month.
Next up in the executive shuffle game is Mazda. CEO Akira Marumoto, who has held the top post since 2018, will be replaced by longtime Mazda North America boss Masahiro Moro. Moro's an interesting guy, according to
Automotive News
. He's a fluent English speaker, was based in Europe for a time, and was credited with turning around the dealer network and getting some sales wins in America.
Moro's also adding making North American executive Jeffrey Guyton the company's global finance boss and a board member. "We want to bring fresh eyes to the company," Moro said at a press conference, stressing the need for cost-cutting and big rollouts.The takeaway here is you're about to see a Mazda that is more focused on the crucial North American market (that's 36% of global sales) and, along with the rest of this new crop of Japanese industry execs, will probably take EVs more seriously than past leaders did.
As that story notes, this kind of turnover happens at Subaru and Mazda every five years, so it's not super uncommon. But between these changes and Koji Sato taking over at Toyota, it's a lot of change at once for an auto industry now accused of lagging behind rivals in America and Europe on various forms of future-car tech.
Rivian Chief Engineer Heads Back To McLaren
I don't think it's unfair to say things aren't going amazingly at Rivian these days. Like most EV startups, it's going through significant production ramp-up challenges, exacerbated by supply chain woes and an objectively shitty capital market right now. Now its top engineer, Charles Sanderson, is headed back to his old employer McLaren Automotive as Chief Technical Officer. He had been at Rivian since 2018, and Automotive News reports it was Sanderson's decision to move on.
Here's a rundown of Rivian's other problems:
I do hope Rivian can get past this current moment; I have a lot of respect for Scaringe and it makes an impressive product. But this environment is an arguably even worse one than Tesla faced when it was going through its version of "
production hell
" a few years ago. Meanwhile, McLaren
has its own set of troubles, particularly with quality
as it seeks to refresh its lineup. Sanderson's got his work cut out for him over there too.
Your Turn
What do you think of robotaxis? Where does that technology, and that business, go in 2023?