Good morning! Before we dig into the car news, let's address the most important news of all: It's Friday, baby. We did it. I'm proud of you, and I want you to know I was behind you all the way on this. Let's close out this week with some news about Audi production in the U.S. and ditto on that for Volkswagen's new Scout brand; Mercedes' big software plans; and Hyundai finally moves to deal with some truly horrifying behavior in the South. Let's dig in.
Audi's American Plans
Audi is an interesting creature among the three major German luxury brands in that it does not have a manufacturing presence at all in the U.S. BMW has a gigantic plant in Spartanburg, South Carolina, actually the biggest one it (currently) has worldwide and the producer of basically all its SUVs sold globally. Mercedes-Benz also has a pretty large plant in Tuscaloosa, Alabama. Both of those have been around since the 1990s.
The closest Audi has come on this continent, however, is a factory in San Jose Chiapa, Mexico. That's about to change soon because the new Inflation Reduction Act says that if you don't weigh in, you can't wrassle. In other words, if an automaker wants its electric vehicles to qualify for tax incentives—making them more enticing to buyers over competitors who don't offer that—both the cars and the batteries must be made domestically. The goal of the IRA is to localize both EV production and the supply chain around it, and so far, it's working. Many automakers have announced they'll create or expand their U.S. production bases now to take advantage of the new rules. It's already set to drive a lot of American manufacturing jobs.
That now includes Audi, Reuters reports, citing comments directly from the brand's CEO. Audi officials said they were considering this move last fall, but now it appears to be a go for real. And as makes sense, it may be a team-up effort with another VW Group brand. From that story:
Chief Executive Markus Duesmann said that a decision had not yet been made but that the IRA made it far more attractive to build electric vehicles (EVs) in the United States. Duesmann made the comments in an interview with Frankfurter Allgemeine Zeitung, which were later confirmed by the company.
Asked whether Audi would build a plant itself or do so together with other Volkswagen brands, Duesmann said: "Both are possible. But the probability that we do it within the group is high."
And a little recap, in case you haven't been following this stuff:
The $430 billion IRA was passed last August and offers subsidies and tax incentives for a swathe of domestically produced green industry products, including a $7,500 consumer tax credit to buyers of North American-made EVs. It also includes a restriction on battery minerals and component sourcing to the region, in an attempt to phase out Chinese inputs.
Audi has also said that from 2026 onward, it will only make EVs.
VW's Scout Will Reportedly Do The Same Thing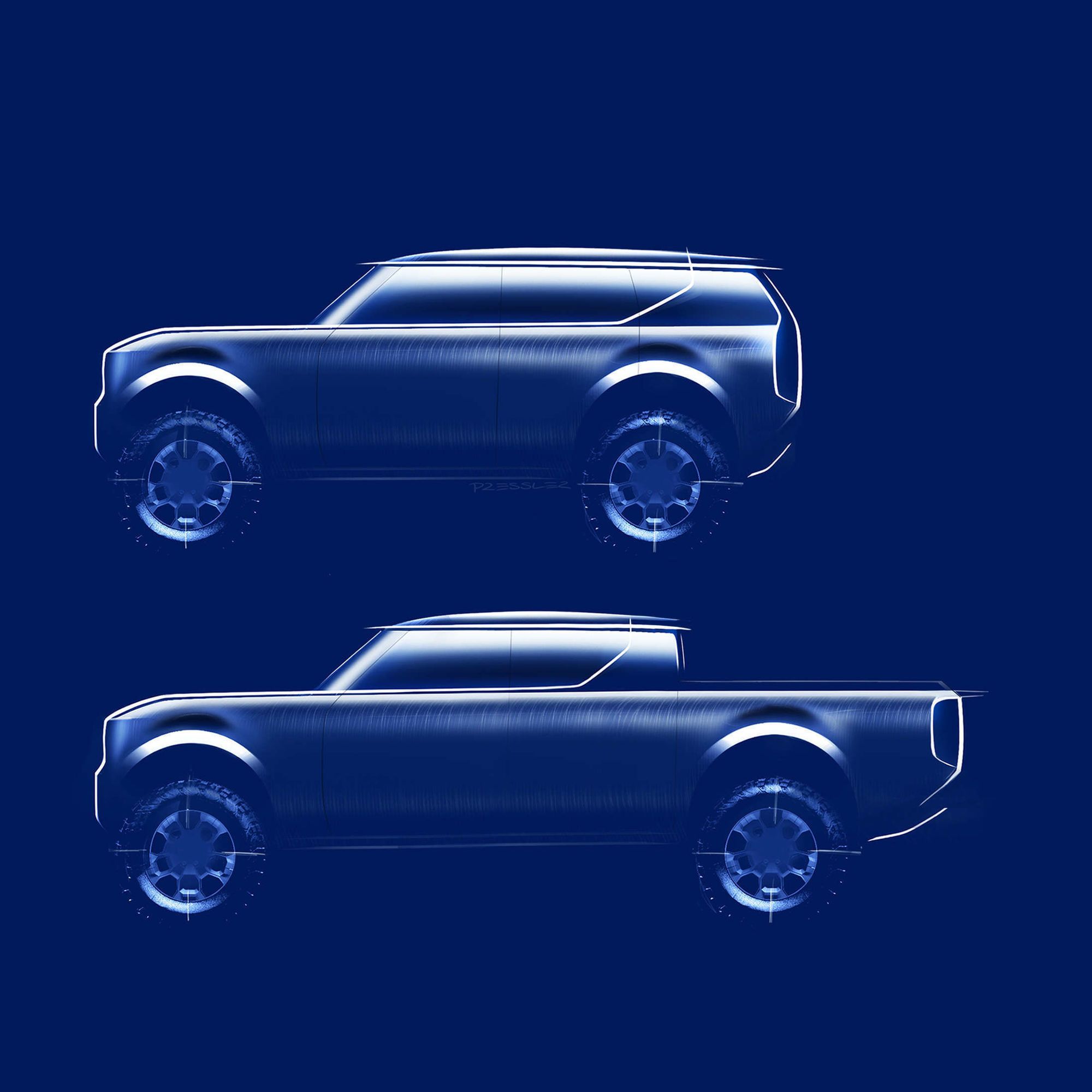 But which VW Group brand could Audi team up with? Well, there's a new (sort of) one on the horizon that also now needs a home in the U.S. for the exact same reasons, and it's Scout.
In case you need a memory jog, VW bought the rights to the famed American SUV brand Scout not too long ago for the goal of finally appealing to American buyers with big, off-road-capable EVs. The company even tapped
Scott Keogh
, probably the best American executive it's ever had, to lead the effort.
Anyway, the original plan didn't call for a standalone U.S. factory for Scout; maybe a collaboration with a partner like Magna Steyr, or even iPhone manufacturer Foxconn, which is getting into the car game. Now
Reuters
, via German trade pub
Automobilwoche,
says the plan has changed for the reasons above. And doing Scout stuff at VW's existing facilities won't quite work either:
Volkswagen Group (VOWG_p.DE) will build its own production plant in the United States for its new Scout brand rather than collaborating with a partner, industry publication Automobilwoche reported on Friday, citing company sources.
[…] Volkswagen is expanding its existing U.S. plant in Chattanooga, Tennessee, to produce the ID. Buzz. However, the Scout brand will build off-road electric pick-up trucks and SUVs that require a new platform and the Chattanooga plant does not have enough space to do it all, a source told Reuters last May.
The timing of these two developments is interesting. I'm not saying this U.S. factory will be a joint Audi/Scout effort, but I am speculating that it could make a ton of sense. Especially since one assumes Audi's U.S. operation will want to focus on SUVs since we're so addicted to buying those.
Mercedes Wants Drivers And Subscribers
Speaking of big plans, BMW's probably gotten the most heat (yes, pun very intended) so far for its subscription feature stuff. But rival Mercedes has a lot in store there too. At a recent event where the Silver Arrow brand unveiled the new E-Class interior and its fancy TikTok integration, executives said Mercedes expects its "robust menu of on-demand services" to explode over the next few years. That all starts when it debuts its new proprietary in-car operating system.
Here's Automotive News on what to expect:
As that story notes, the reasons automakers are getting into subscriptions is because a.) software features allow this b.) EVs, in theory, need less in the way of parts and maintenance so they need to make up the money somehow and c.) people could keep these new EVs longer and that opens to the door to more upgrades over time.
"In theory" is doing a lot of work here. I'm not fully convinced car buyers will be completely on board with this stuff compared to what most people are driving now (a few-years-old gasoline Honda CR-V, or something) and I'm not sure they'll want to make room in their budgets for yet more subscriptions. But it's what the OEMs are about to push hard over the next few years.
Since this is Automotive News and they know their audience: what about the car dealers? They could be even more cut out if EVs need less repair work. Well, Mercedes has an answer for that too:
We'll see!
Hyundai Cracks Down On Supplier Accused Of Child Labor
Hyundai is about to be done with Smart Alabama, one of the U.S. parts manufacturing companies it owns that has been accused of using migrant child labor in recent months. This has been an absolutely horrifying story and it could lead to criminal charges. Children as young as 12 were allegedly working at some of those plants.
Now, Hyundai says it will divest itself of one of those subsidiaries. Here's Reuters again, the news organization that broke this story in the first place:
One of the plants where children worked, SMART Alabama LLC in rural Luverne, Alabama, is a direct Hyundai subsidiary. According to Hyundai's financial statements from last year, the automaker controls a 72% stake in SMART.

[Hyundai Chief Executive Jaehoon] Chang wrote that Hyundai was "in the process of divesting its ownership interest in SMART" but it would ensure "that the economically important jobs in the Luverne, Alabama community are preserved."

Hyundai's letter did not say when the transaction would be completed or identify a buyer or the form a divestiture would take. Since the early 2000s, the metal stamping plant has made chassis parts for hundreds of thousands of Hyundai vehicles per year.
If you're wondering how the hell this happened in the first place:
As Reuters reported earlier, many of the underage workers who found their way into the Alabama auto parts plants were recruited by third-party staffing agencies, a process that can allow big corporations to turn a blind eye to the illegal employment of minors.

In the shareholder letter, Chang reiterated that Hyundai was "discouraging" suppliers from relying on such staffing agencies in the future.
These are very rural plants where things like staffing can have minimal oversight. One hopes that will soon change; heads need to roll over this whole thing.
Your Turn
Support our mission of championing car culture by becoming an Official Autopian Member.