It just became a lot easier than ever to support the car-cult that is The Autopian, because we have a new base tier — one that you, dear readers recommended — that sits just below the former-lowest membership level, Vinyl, which itself sits below Velour and Rich Corinthian Leather. The new tier is called "Cloth," and it foregoes merch to focus on getting you access to Members-only posts, the private channel on our Discord, and you'll get discounts to our events! If you buy the annual membership, it adds up to just $5.83 a month, which is a 30 percent savings over the previously-cheapest option! (Sign up here). I'm going to spend much of the rest of this blog talking about some very good cloth seats even though I'm supposed to be convincing you to become a member, since it's a critical part of our roadmap towards sustainability as a website. Let's talk cloth seats.
The cloth seat that gets the most love, I'd say, is the VW Golf GTI's plaid seat, and you know what? Rightly so; it's fantastic: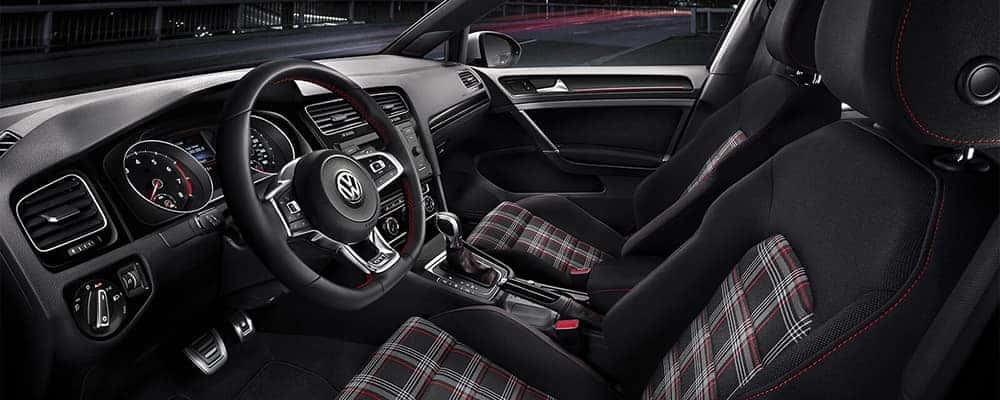 There are a few other examples of decent modern cloth seats, but these days cool-cloth is rare.  We're at a point where, in the U.S. at least, it seems cloth seats are blander than ever. If you buy a modern car with cloth, chances are you'll get a plastic-y-single-color fabric of some sort. Maybe you'll get black and another accent color, but this doesn't mean cloth is somehow uncool. No, cloth is legitimately cool, even if you'll be hard-pressed to find a modern vehicle with cloth seats that look as good as those on this old Chevy K5 Blazer:
I once bought one of these seats from a junkyard in Michigan. What a find!:
The thing is: This was hardly an isolated thing. Back before cloth became relegated to the cheaper trims, and leather/fake leather became the standard for higher trims, you'd find great cloth patterns in even the top models. Check out the 1990s-era Jeep Wrangler Sahara's green and tan seats. Lovely!
And let's not forget this fantastic seat available on Jeep TJ Wranglers: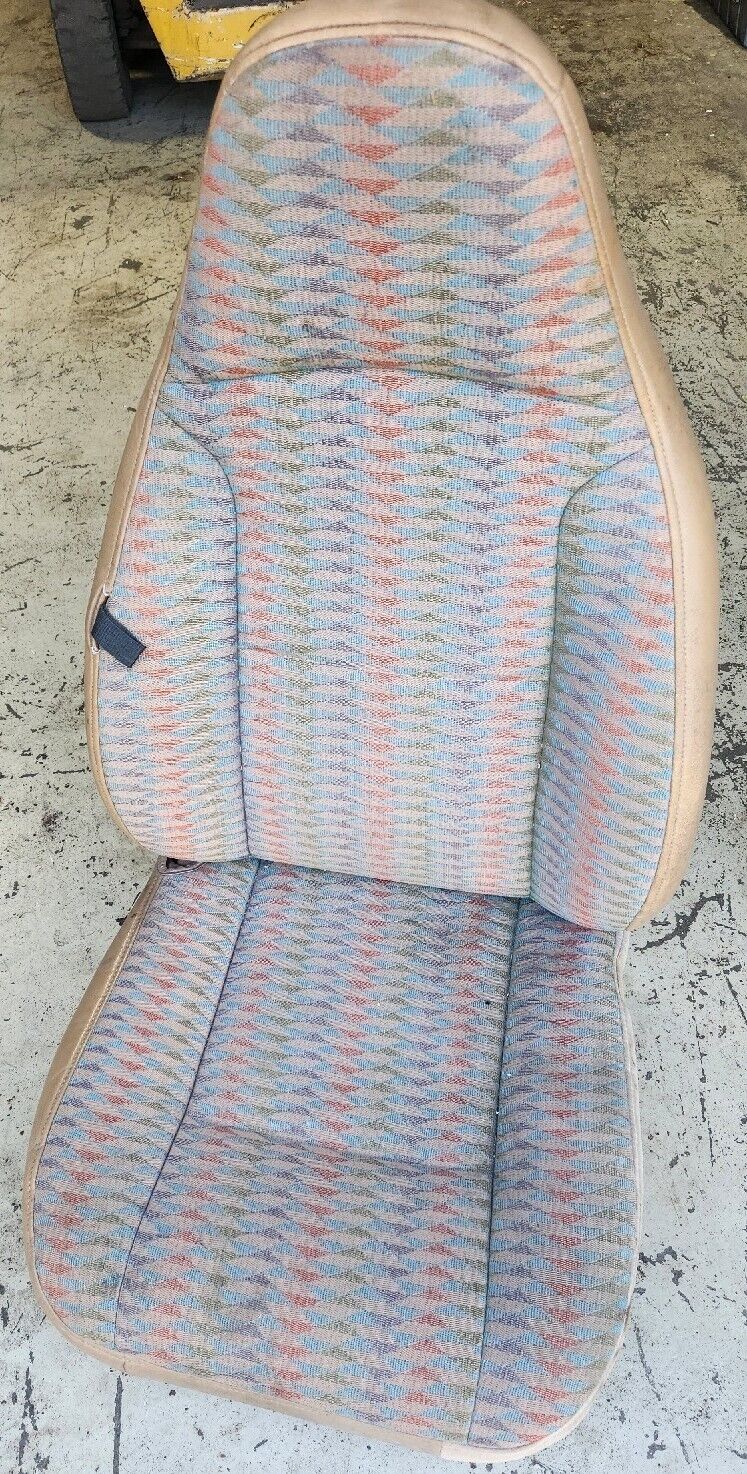 Nowadays, if you want cloth seats in a Wrangler, this and a tan version of this are all you get. All the interesting stuff is leather/leatherette, these days.
(Note: Before the Wrangler, there was the CJ, which could be had with a Levis interior: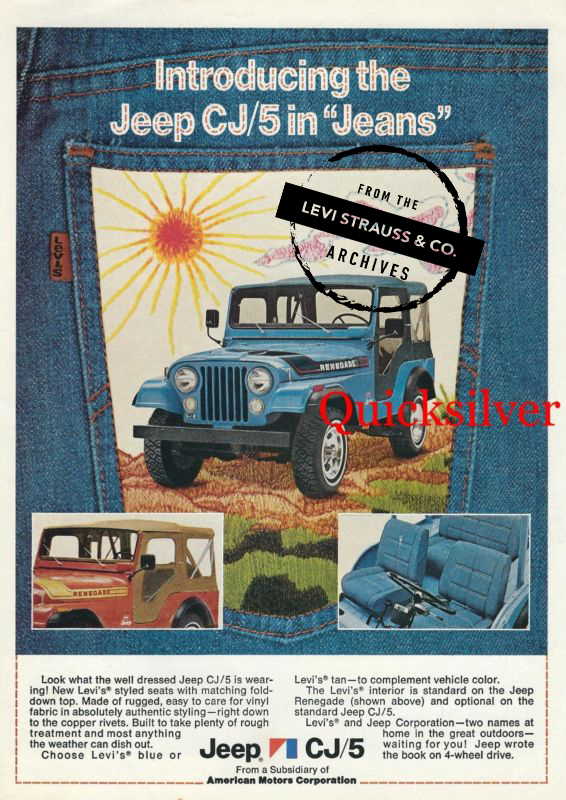 But, as a reader pointed out, and as written above, this was actually vinyl! -DT]. 
Oh boy, check out this Jeep Cherokee XJ cloth seat below. XJ seats were fantastic at launch in 1984, remained fantastic even after the headrests entered the game sometime in the late 1980s, and then in the mid 1990s they became awful. After the XJ's refresh in 1997, cloth seats remained bad but became slightly better than 1995/1996 cloth seats. It's really amazing how much the seats regressed, but this was a pattern in the industry.
Anyway, please post in the comments your favorite cloth seats of all time to commemorate the new, cheapest Autopian membership tier. Oh, but maybe click the link in this caption first:
If you're unsure about supporting us, just know that we appreciate the fact that you read our website, no matter what. That said, we've amassed a few testimonials from members. Folks seem happy! (Though we're always open for feedback on how to improve!).
Oh, and here are some grille badges that Velour+ members put on their vehicles. Amazing!:
Rich Corinthian Leather members, though, get the GOOD stuff. Rust (among other things, including private car-collection tours, which we're working to orchestrate!):
You can sign up here. But expect some weird members-only content from your favorite car cultists.
[Ed Note: What David was supposed to say was: In a world where our competitors are looking to use AI instead of writers, platforms like Facebook are de-emphasizing news, and advertisers are turning more and more to influencers, we're hoping to build a sustainable community that supports writers and treats its readers like customers instead of just a product to be sold to brands. He was going to add that we have over 750 members and they help cover about 10% of the operating costs of this site. Our goal with this summer membership drive is to get over 1,000 total members, which would help a lot. Additionally, we've added a Foreign Legion tier for people outside of the United States who still want merch/gear. If you're an existing member outside of the USA you're grandfathered in. – MH]
[Editor's Editor's note: Fair point, Matt. I got distracted by the cool old-school seats. -DT]