One of the things people notice when I'm out and about at various car meets in my Ferrari is not just the goth rock star driving it. Once we get past the inevitable tedious questions about what band I'm in, and no seriously you must be in a band looking like that (unlike my Autopian wingman S W Gossin I can't play a fucking thing. He got the musical talent and the voice, I got the style) the next thing people comment on is its originality. I'm only the second owner, and it still has the HR Owen license plates, dealer stickers and tax disc holder it had when it rolled out of a fancy pants Mayfair showroom in London forty years ago. That extends right down to its wheels, people saying something along the lines of "you don't see many of these on their genuine alloys anymore".
Yes those fucking wheels. I hate them. They're too small and the offset is terrible – they're the one thing I'm desperate to change. But I can't. I'm stuck with them for now. Why? Because my Mondial rides on the Betamax of tire technology, the Michelin TRX.
What is Betamax? Dear summer children. A long time ago old men like your Uncle Adrian and Uncle Jason survived something called the format wars. In the late seventies the technology to record your favorite programs from the telly box onto magnetic tape for viewing later was becoming a reality. It seemed like witchcraft, and ten year old me genuinely thought you could use the fast forward feature to skip through to programs that were on next week. To cut a long story short, there were two emergent formats; Betamax invented by Sony, and VHS introduced by JVC. Betamax was more expensive and boasted the superior technology with a glorious 250 lines of smear-o-vision, but Sony wanted to keep Betamax proprietary and license it out. JVC decided the best way to encourage the adoption of VHS was to make it an open standard, allowing competitors to make VHS machines. This drove down the cost, VHS was adopted as the default standard, and by the mid-eighties Betamax for the home consumer was deader than Jason's RV (although it found a second life in professional broadcasting).
Now we're all caught up on obsolete home recording technology, what the titting hell does any of this have to do with the round rubber things we put on our cars. We'll get to that. First of all, let's have a look at one of the tires on my Mondial.
You can see the size is 240/55 VR 390. In the name of all buggeration what kind of size is that? For those of you that skipped car design class when we talked about wheels here's a quick primer on how to read conventional tire sizes from our friends at Ford UK:
In the above image, the 175 is the tire width in millimeters. 65 is the profile of the tire expressed as a percentage of the width: in this case the sidewall depth is 65% of 175mm or about 114mm. R14 refers to the diameter of the rim in inches. Finally the load index 82 means a maximum load for that tire of 475kg, and T is the speed rating, indicating this tire is safe from exploding up to speed of 118mph. This nomenclature is universal across all modern radial ply tires. Yep, a confusing mix of metric and imperial. Did us British come up with this?
So let's decipher the size of the Mondial tires together: 240mm wide, 55 profile, speed rating of V (up to 150mph) and 390. What the fuck even is that? If you guessed it's the rim diameter in millimeters, well check out the brain on you. Goddamn French and their science based system for weights and measures. Why can't they use imperial freedom units for the rims? Turns out this was a very deliberate decision surprisingly not based on typical French stubbornness and arrogance but one of safety (in case you think I don't like France, not true. In common with most bougie Brits I love France).
When they weren't drawing maps or dining out in snooty restaurants why did the bods at Michelin decide to introduce a whole new type of tire? Turns out Michelin have a bit of form for tire innovation. Traditional bias-ply (or cross ply) tires were made by laying the internal cords at an angle from the inner to the outer bead at an angle of thirty to forty degrees. Each layer of cords (plies) would be placed at opposing angles, hence the name cross plies. This gave superior ride comfort but shitty grip and the cords rubbing against each other under load would produce excessive amounts of heat, leading to blow outs.
For the French, no doubt concerned with such pressing matters as getting to the restaurant on time or rushing to meet the mistress, an impromptu wheel change at the roadside wasn't ideal. So Michelin developed the radial ply. Placing the internal cords at ninety degrees across the carcass of the tire, this resulted in a much stiffer tire that gave better grip and was less prone to exploding when you were late for your dinner reservation. At the time, Michelin owned Citroen, so one of the first cars with radial tires as standard was the 2CV of 1948, although you weren't exactly getting anywhere quickly in one of those.
Nonetheless, the loping ride and long travel suspension of the 2CV masked one of radial's initial drawbacks over a cross ply; a ride that would turn your spine to cookie crumbs. At first this wasn't a problem; another total waterbed on the ride comfort front, the 1970 Lincoln Continental MkIII was the first American car to roll out of the showroom on radials. But by the end of the sixties cars were getting faster, heavier and thanks to increased highway construction, traveling at higher speeds for longer. These factors along with a new generation of supercars, demanded lower profile radial tires be developed. Michelin wanted to develop a tire that would combine the benefits of a low profile with a good ride quality the French were famous for.
Michelin's solution was to design a complete wheel and tire as a system. In 1975 they introduced the TRX. This used a shallower flange where the bead met the rim, allowing for a more even distribution of stress through the sidewall, giving it its name. TR for "tension répartie" (distributed stress) and X after the original Michelin radial X. According to Michelin:
"For the first time, the tyre and its rim complemented one another perfectly, working together as a single unit. The rim therefore underwent a fundamental transformation, the essential characteristic of which was a flatter, lower flange. This new design of the rim and the bead of the tyre resulted in a gradual curvature of the casing without the "S" shaped flexing inherent in traditional designs."
Because fitting a TRX tire on a non-TRX wheel would be extremely dangerous (due to the different bead seating), Michelin wisely decided to size the TRX in millimeters as opposed to inches, so they physically wouldn't fit a normal road wheel. TRX sizes ran from 315mm (12.4") fitted to hotter versions of the Austin Metro all the way up to 415mm (16.3") on early models of the Ferrari Testarossa. The first car to have them as standard fitment isn't entirely clear, but by the early eighties the majority of French luxo-barges including the Citroen CX, Peugeot 504 and Renault 30 came with them, along with the most Ferraris, 2.8 injection models of the Euro Ford Granada and some BMWs. On account of their cost, they generally only appeared on higher end models.
Back then Ford of America was constantly giving its Euro division the glad eye. When they rolled out the Fox platform the idea was to have a more Euro influenced lineup of cars. As such, the 'Built With American Ingenuity' 1979 Mustang could be optioned with French TRX tires. Astonishingly, the 1980 Thunderbird came with whitewall TRXs, which I imagine involved a Lethal Weapon 2 style container full of dollar bills being shipped from Detroit to Clermont-Ferrand.
And this is where my taking up half the article with Betamax nonsense becomes relevant. Despite being technically the more advanced system, when Sony introduced Betamax, it would cost over $2000 to put one underneath your television. In 1975. That's a staggering $11,000 today. And the first tapes could only record for an hour. VHS, introduced to the American market two years later, could record up to three hours and was much cheaper. Fellow ballpoint fondler The Bishop found out ticking the TRX option box when ordering your 1979 Mustang would cost you a princely $298 ($1252 in 2023) on top of the $4828 for the hatchback (because who the fuck wants a notchback Fox body Mustang?). Or over 6% of the base price. Because they needed bespoke rims, if you wanted fancy French tires, you were paying fancy French prices.
It wasn't just the expense that did for the TRX. Due to the special way the bead sealed against the rim, if you got a puncture, you had to find a tire shop that had the necessary equipment to change them. Not only that, you had to have a Michelin replacement – there were no budget ditch finder specials you could swap on in those days. A couple of other tire manufacturers did dabble in the TRX system, notably Dunlop and Avon, but by the mid-eighties traditional low-profile radials had negated much of the TRXs advantage in ride quality. They appear to disappear from the Mustang options lists by 1985, and Autocar's June 1986 road test of the Mondial 3.2 shows the tires as being TRX, possibly due to Ferrari using whatever was laying around in the factory to build cars. But there's no doubt they reverted to imperial sizing by 1987.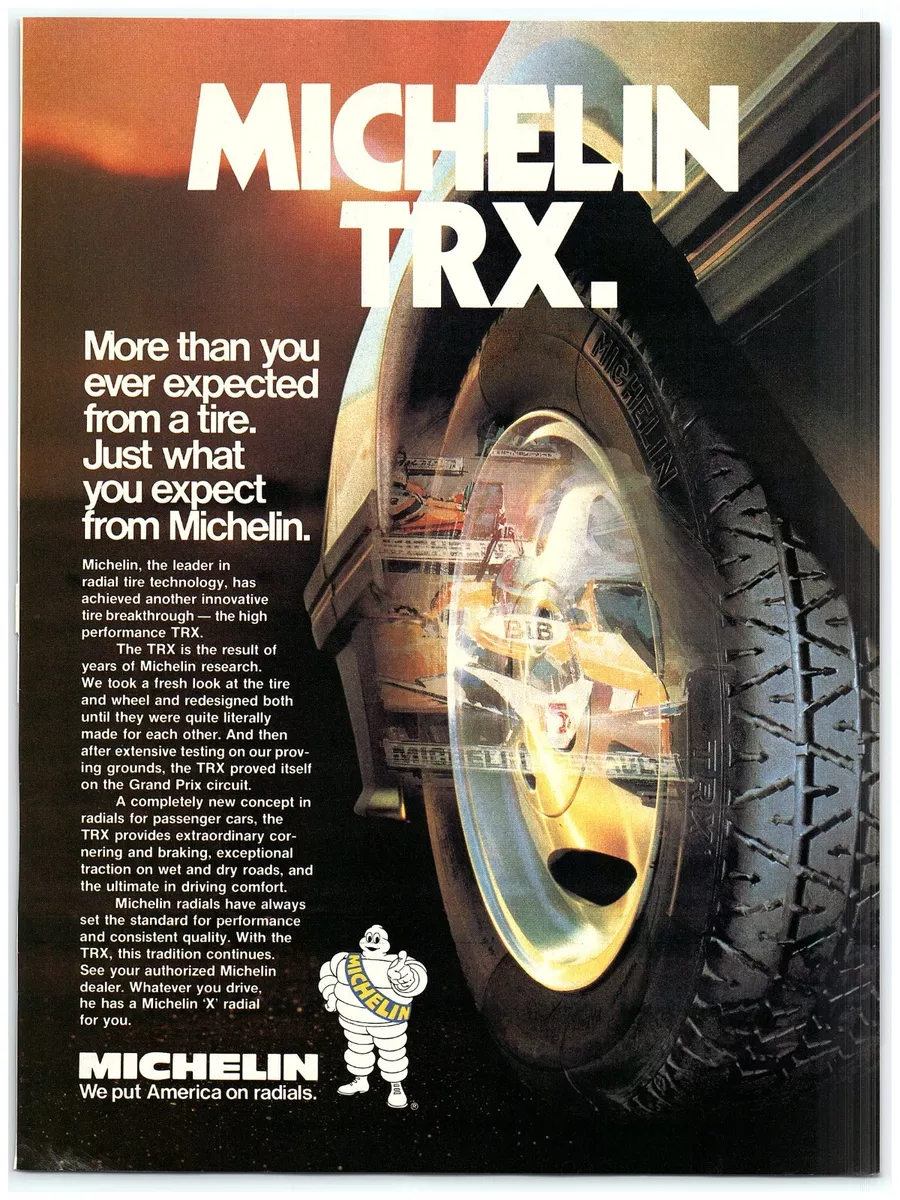 When I went and viewed my Ferrari in December 2021, it had just emerged from a period of hibernation after the original owner parked it in his barn when he replaced it. I took one look at the tires and knew they wouldn't go through an MOT test, being well out of date and having a sidewall texture like rhino skin. A full recommission and fresh MOT test was part of the deal, so I paid a deposit and went home to search for a set of imperial alloys from a later model, which I found on eBay for £650. A day or two later the dealer called me to say he'd put four brand new TRXs on the car at a cost to him of £1600.
If he'd called me to ask what to do I'd have told him to knock the cost off the asking price of the car and I'd have bought the imperial wheels I was watching. Now I'm stuck with the sodding TRX wheels because the tires are only 18 months old, and with the mileage I do in the car, they're unlikely to wear out anytime soon. But we must give full credit to Michelin for continuing to support the TRX, even if they are still bloody expensive.