The clouds part, and a beam of sunlight shines onto a cardboard envelope at my doorstep. "DO NOT BEND" has been stamped twice onto the front; the sender is "Digital Consulting," an eBay seller of rare automotive media kits. I grab the parcel and feel a chill rush up my arm, for I understand the gravity of what I am about to behold. This was the world's very first look at the world's very first Jeep Wrangler: the 1987 Jeep Wrangler YJ. Viewing the materials within would be a borderline religious experience, as I would finally learn things about the Jeep Wrangler that had seemingly been lost to time. Here's a look at Jeep Wrangler information that has somehow never made it to the internet.
I opened the cardboard envelope and carefully slid out an old First Class USPS envelope shipped to Automotive Quarterly photographer Rick Lenz (great last name for a photog) by "American Motors Corporation Public Relations Department" out of the now-defunct company's Southfield, Michigan headquarters. A black-and-white photo of a then-totally-new, half-door, top-off, alloy-wheel-equipped Jeep Wrangler adorned the envelope along with the text: "1987 Jeep Wrangler News & Photos."
Inside that envelope was a beautiful photo of a black, hard-top, chrome-grilled YJ atop some text reading "Jeep Wrangler 1987 photos and technical information." This was printed on the front of a folder, which housed precious media information meant to introduce the world to the very first Wrangler:
First, let's check out the very first photos of the Jeep Wrangler available to the public, for they are gorgeous. These glossy prints look so lovely in person, though these scans my colleague Jason made are nice, too:
What's going on with those rear bumpers? Those don't look like the production bumpers. And what's the deal with those mirrors on that last photo? Those also don't look like what ultimately came off the assembly line.
As for the documents, the first was just an intro page titled "1987 Jeep Wrangler All Photos and Stories For Release May 13, 1986." Here it is:
Then there was the "Jeep Wrangler General Story." On these pages, American Motors' Vice President of Product and Quality, Francois Castaing, talks about how the YJ shares some of the CJ's overall look, but that the vehicle is actually quite different. This is a pattern throughout the press release, and fairly normal for a press release for an all-new vehicle — especially one that isn't actually that different than its predecessor — though I think Jeep had another reason for trying to differentiate the YJ from the CJ (more on that in another article):
"We're completely confident of the Wrangler's off-road capabilities…but the factors that make this vehicle particularly unique are its smooth ride characteristics for every transportation," Castaing says in the press release.
Likely spurred by some bad PR from rollover lawsuits in the 1980s (again, more on that in another article), Jeep makes it clear that the Wrangler is significantly changed from its tippy forebear. "While it bears an outward resemblance to the Jeep CJ-7, which ended 40 years of civilian production in January 1986, the Wrangler is actually a breed apart," AMC's press release introducing the new Jeep Wrangler reads.
"The product design philosophy behind the two vehicles is completely different," Castaing says, before again mentioning that the Wrangler — which was in development for five years — brings "everyday comfort" that the CJ never had, as a Jeep isn't just an off-road vehicle, but also a machine for personal transport.
(As someone who's experienced CJs and YJs, I can tell you: They're really not that different).
The page above mentions that the Wrangler would not be called a Wrangler in Canada, but rather a YJ. This, as I understand, was due to a trademark dispute with General Motors, who owned the name Wrangler as a trim level for one of its trucks.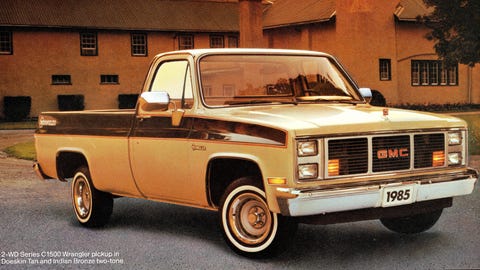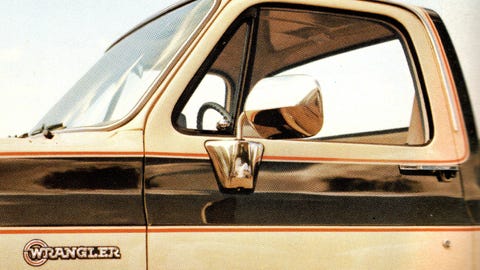 The page also mentioned the engine options: A fuel injected AMC inline-four cylinder and a carbureted 4.2-liter inline-six, with both offered bolted to a five-speed manual and just the six available with a three-speed automatic.
The YJ borrowed quite a bit from the legendary Jeep Cherokee XJ— the transfer case, wheels tires, engines, transmission, axles, steering system, and brakes. Many of these components and systems would also form the basis of the Jeep Wrangler TJ and Jeep Grand Cherokee ZJ.
This page talks about the standard equipment, as well as the 0-60 time of under 12 seconds for the six-cylinder model.
The page above talks about the exterior features, as well as — and this is something I haven't seen anywhere on the internet — an optional tire size of 255/75R15 for the Off-Road Package. For years I'd been curious what tire size Jeremy Clarkson had on his Jeep YJ when he did the Rubicon in 1993 (see below), and while my 1987 brochure may not represent 1993 specs, it does tell me that the vehicle was designed to handle 30-inch tires, so I bet that's what these are:
The YJ press release also includes input from Robert Nixon, AMC's director of exterior design, who talks about the crease in the grille and the square headlights — two features that, at the time, set the Jeep world ablaze with controversy:
AMC's Director of Interior Design Vincent Geraci talks about how much more comfortable and modern the YJ's interior is than the CJ's:
I have to say that, like all the discussion before in this press release about how the YJ is significantly different than the CJ-7 before it, this is a bit of a stretch. The YJ's interior is only marginally more modern and comfortable than its CJ-7 predecessor. Here's the CJ-7's cabin:
And here's the Jeep YJ's cabin: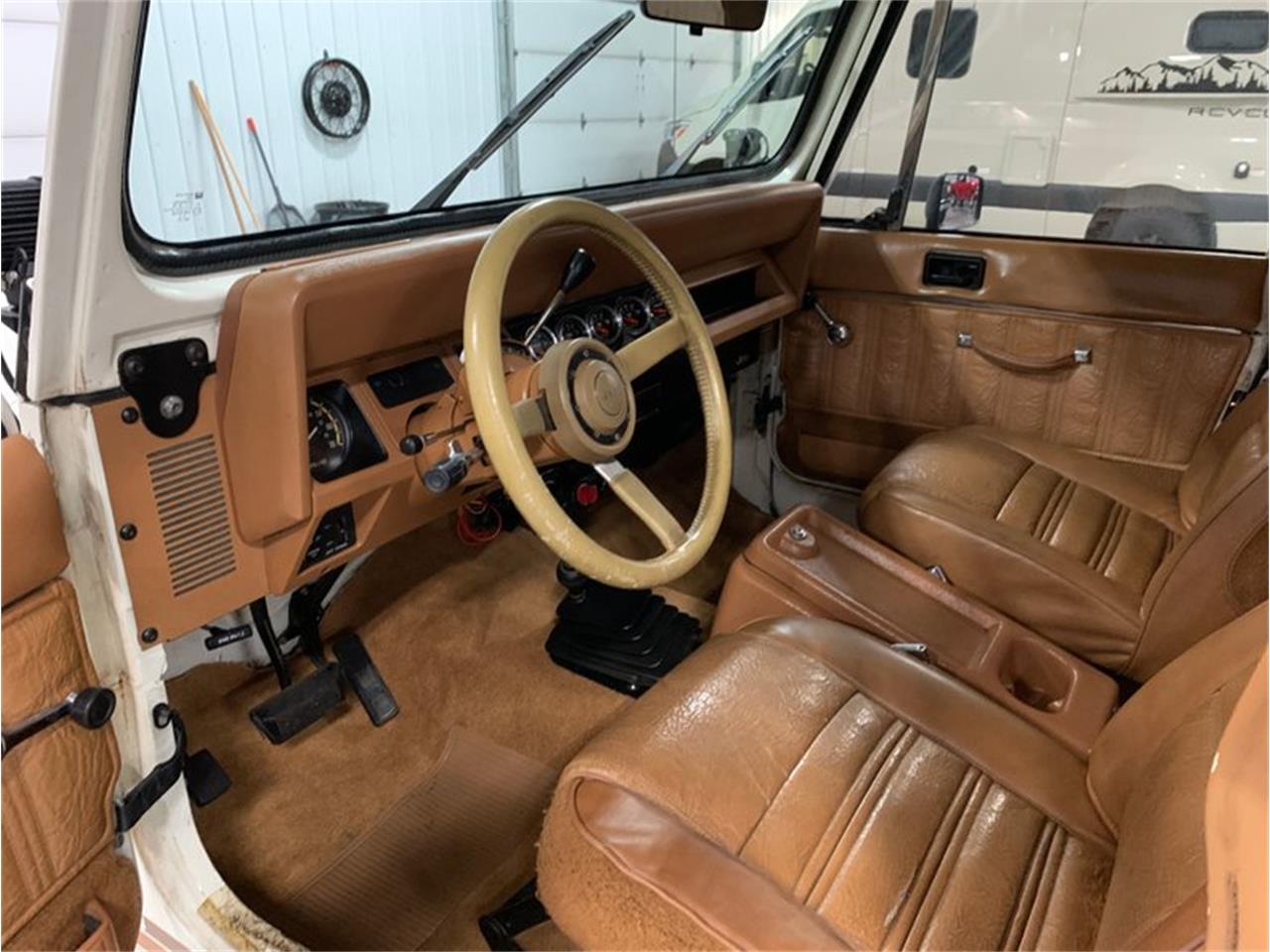 Sure, there's more plastic on the dash, but come on — that's pretty subtle.
Not so subtle, though, is this typo in the "Jeep Wrangler Heritage Story" section of the Wrangler's introductory press release — "will presents." (As someone who is highly typo-prone, I sympathize).
There's not a whole lot to say about this part of the press release, though I will highlight the ending, which says the YJ "holds out the promise of the smoothest on-road ride yet offered in a small sport utility." Any YJ owner will tell you: That's a stretch.
The last document in the media kit talks about the "Jeep Wrangler Marketing Story." It describes Jeep's history of print ads and commercials for the CJ, as well as the brand's plans for marketing of the new YJ:
Here's the panoramic cowboy-sleeping-in-Jeep commercial referenced in the document above:
A bit of an aside: My personal favorite YJ commercial is this one poking fun at the Suzuki Samurai:
Also included in the press kit was this one-pager discussing the deals one can get on Jeeps and Renaults, which were for sale in the U.S. in 1987 and a few other model years before bowing out of the U.S. market in 1992:
But the real gold comes in the form of specs. Here are the fuel economy and power/torque figures for the then-new Wrangler:
Below is a detailed spec sheet, which includes details nowhere to be found on the entire internet.
For example, I've been trying to figure out the Jeep Wrangler YJ's approach, departure, and breakover angles for literally over a decade, and could never find them. I honestly didn't think Jeep ever published those figures, but look — they're right there!
1987 Jeep Wrangler YJ Approach Angle: 30.77 degrees
1987 Jeep Wrangler YJ Departure Angle without bumperettes: 36.37 degrees
1987 Jeep Wrangler YJ Departure Angle with bumperettes: 31.50 degrees
1987 Jeep Wrangler YJ Breakover Angle: 24.64 degrees
I also can't find the YJ's stock ground clearance anywhere online. Check them out in that press release:
1987 Jeep Wrangler YJ ground clearance (axle): 8.14 inches
1987 Jeep Wrangler YJ ground clearance (skid plate): 9.65 inche
Also worth pointing out is that 3,022 pound curb weight. That's awesome, especially when you consider that the modern Jeep Wrangler's lightest two-door configuration comes in at a hefty 4,012 pounds. Obviously, it's a much safer and more comfortable vehicle, but wow how things have changed.
Anyway, I just thought I'd share that press kit with you. If you want to take a close look at the full press kit (minus photos) American Motors sent to journalists in October, 1986 so that those journalists could introduce the world to the Wrangler nameplate, click here: 1987JeepPressKit
I'm just glad I finally have those approach/departure/breakover numbers I'd been searching for since I was a teenager.