I'm a Land Cruiser owner and I've been pretty involved in the community since I bought mine about 10 years ago. I've volunteered at the Land Cruiser Heritage Museum, I go to the events and gatherings — you get the idea. To me, and other victims of its charm, the Land Cruiser is an important brand, and like so many people passionate about a brand, I've become very passionate about defending it. Today, Toyota will unveil a new Land Cruiser model, and while I don't know the details and I haven't yet seen it I have some concerns about what I think I know. Will this be the Land Cruiser I know and love? Does this have what it takes to carry on the brand legacy? 
How The Toyota Land Cruiser Built Toyota's Reputation In America
Toyota started selling the Land Cruiser in the United states in 1958.  This very one in fact, which is on display at the Land Cruiser Heritage Museum in Salt Lake City, Utah:
Since 1958, Toyota had sold the Land Cruiser continuously up until 2022, making it the longest continuously running nameplate up until that time — yes, longer than the Suburban, which was not trademarked as a Chevy exclusively until 1988. The Land Cruiser is more than a neat little truck, it has been an incredibly important product for Toyota.  
As you can imagine, the country was in a very different place in 1958 with respect to foreign automotive brands, and especially Japanese brands competing against domestic entrants. To build confidence in its brand and to increase marketshare, Toyota needed a product that could find a small but loyal market and challenge notions about quality. Offering a durable, Jeep-like utility vehicle with plenty of domestic commonality (the F engine was largely based on the 1939 GMC L6 236 with a scaled up Chevy "stovebolt" head and built under license) for utility companies, farmers and sportsmen was Toyota's way of building a loyal following and quietly establishing a foothold. It worked. The Land Cruiser quickly established a reputation for being a durable, long lasting and hard working vehicle built by a now-trusted brand.  The 1958 pictured above, as rough as it is 70 years later, was used as a snow plow for years by its 2nd owner and still runs and drives today. In Brazil the Land Cruiser was called "Bandeirante" or flag carrier. The Land Cruiser was literally Toyota's best foot forward.
[Editor's Note: The Land Cruiser wasn't Toyota's first U.S. product, the Toyopet Crown was, though it bowed out of the market after rather poor sales. The Land Cruiser, however, stuck around and won hearts. ""In 1958, Land Cruiser saved the company, at least here in the U.S.," Toyota Spokesperson Sam Butto told the New York Times in 2008. -DT]
The 40 Series Land Cruiser quickly followed the 20 Series and further cemented Toyota's reputation for quality, becoming the brand's top seller from 1961 to 1965. This gave Toyota what it needed to succeed in the US market – trust – and opened the doors for the brand to take hold and become the global powerhouse that it is today. It's not a stretch to say that the Land Cruiser made Toyota, especially in North America, and it's an incredibly important nameplate. 
In 2022 Toyota announced that after 68 years it would no longer have a Land Cruiser to sell to North American consumers as the 200 series sunset and the new 300 series would not be coming to the US or Canada as a Toyota (it is available as the LX600 in the US).  
The Land Cruiser, arguably Toyota's most important nameplate, casually shuffled away. Yeah, that bugs me, but while that kind of notoriety is important, it's not really what Toyota hangs its hat on.  Toyota has never really understood nostalgia and prefers to look forward culturally; it's less a big deal to drop something like the longest running nameplate, but it had me worried for a long time that Toyota was going to let its heroic "founding father" nameplate go by the wayside. Thankfully we found out pretty quickly that Toyota was working on something for the Land Cruiser name.
What Is A Modern Land Cruiser?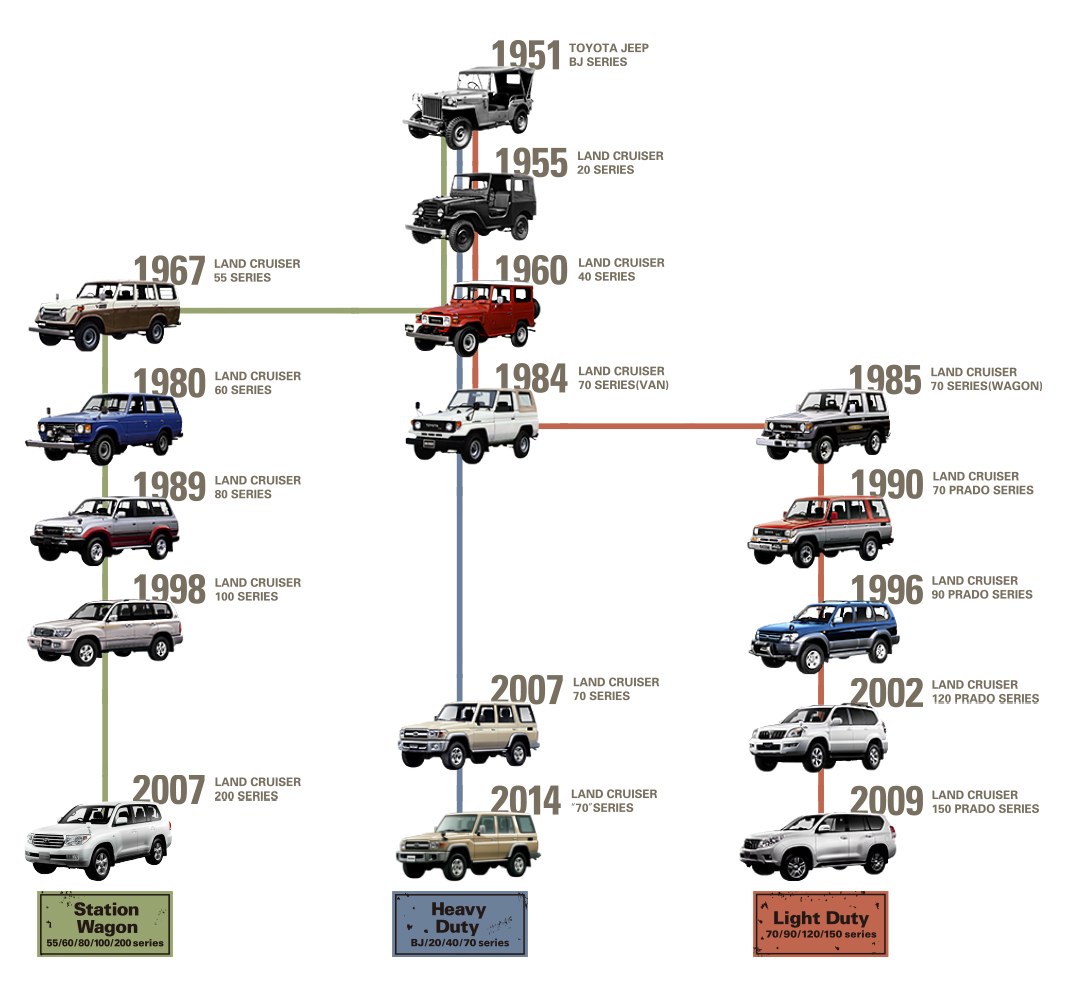 In 1997 Toyota ended production of the 80 series (see below and above), which was the replacement for the boxy 60/62 series. The Land Cruiser brand was going through something of an identity crisis by the end of the 62 series in the late 80's. It was clearly moving more upmarket and attracting more affluent buyers, but its rugged simplicity was clearly part of the charm. The 80 series was meant to bridge this schism by being both a better utility vehicle and flagship luxury machine. It was a radical departure from the 60 series – bigger, rounder, coil sprung and clearly focused on a quiet luxurious experience.  
Above is my 1997; I bought an 80 series expressly because it represented this crossroads in the brand history. I wanted something comfortable, but analog. Something simple and rugged, but with fuel injection and ABS. 
I love what the 80 series is and it's generally considered a pivotal point in Land Cruiser history. It established the "golden wheelbase," (considered by many the ideal wheelbase length for overlanding) and it set the pattern for comfort and luxury. However, as good as the 80 series was compared to the 60, it was still dated at launch. Like most Land Cruisers before it, the 80 series had a series of inline 6 engines that were either directly or spiritually related to the F engine used in the very first Land Cruiser models from the 50's. Mine is one of a few years with the updated 1FZ engine, which was considered very modern for a Land Cruiser but I can tell you that even brand new, it was slow…and this was the fast engine. If you had an early model with the F engine, a direct descendant of a 1938 design…well the advice people give in the forums is to simply learn to accept a slower, more chill pace in life.  
The traditional solid front axle was rugged and allowed for a lot of modification, but it gave it vague steering and handling that was no longer in line with luxury car standards. Especially when their Land Cruiser was badged as a Lexus, Toyota knew that the buyers of its fabled off-roader demanded more and that the company would have to make changes.
The 100 series was the culmination of that change. Longer, wider, with a new modern V8 engine and independent suspension, it was something entirely different from the Land Cruisers of the past.
Purest will say that this is where the Land Cruiser lost its way a little, and I can see that point — how did a little Jeep-like utility truck end up as a luxury wagon?  It's easy to argue that Toyota had lost the plot. 
As I've mentioned before, Toyota looks forward, not backward, and while that can suck for people who love the old thing, one thing Toyota has never done is make a WORSE Land Cruiser. The 100 series proved every bit worthy of the name with its durability, longevity and reliability. It was succeeded by the 200 series which, again, was seen as a softening of the brand, but was easily the strongest and most durable Land Cruiser ever built and it's been proven over and over through countless miles including the crucible of racing. 
This 200 series (Monica) has been racing in the SCORE series for 13 years including some class wins at the Baja 1000 — same chassis, same engine and trans. Yeah, they break a lot of stuff, but the fact that it's still driving, let alone class competitive speaks volumes.
This all brings me back to a question of what IS the Land Cruiser Brand. Is it the Inline 6? The solid front and rear axles? A particular body style?
Well the Land Cruiser brand has too much variety to be pinned down to any one thing, but there are a few things that all modern Land Cruisers in the US are.
112.2 inch (2850 mm) wheelbase – Seriously, from 1990 to current, ALL US Land Cruisers have had a 112.2 inch wheelbase. Even the 300 series is the same.  In an age of ever growing…everything…this is significant in its staying power. It's what Toyota calls the "magic wheelbase" for wagons and it's meant to be the ideal ratio for Land Cruiser things.

Wagon bodies. Since the 40 series left the market in the 80s all Cruisers have been wagon bodies.  That's not to say all Cruisers are, or that it's required, but it is the way it is here.

Built in Japan. Every Land Cruiser meant for North America is built in Tahara Aichi Japan. This is one of Toyota's flagship factories and every Land Cruiser and most Land Cruiser engines are built here.

Engineered and built for a 25 year service life. Everyone hopes their cars are made to last but Toyota makes it part of the mission for the Land Cruiser for it to be serviceable under severe duty for 25 years.  Mine is kicking right along at 28 years (built in 96) and 345,000 miles and still gets abused on the trail. It's a well known fact that a Land Cruiser is a safe bet for durable and reliable.  

Expensive. They are far above other SUV's in the range.
Now Toyota builds a lot of other very tough cars and trucks – The Tundra, 4Runner, Tacoma, etc.  Some even say that the GX is the best SUV ever…but the Land Cruiser always stands on top of the pile.
The New Land Cruiser
Now Toyota tells us we are getting a new Land Cruiser and it's not the Land Cruiser the rest of the world gets, breaking the chain from J55 through J300.  
What we know for sure is that it is going to be "based on" the new GX550. I quote because it appears that it will BE the new GX550, but as a Toyota. Same chassis and mostly the same body.  
In some markets Toyota sells many kinds of Land Cruisers. Australia is a great example as you can buy a 70 series, a 300 series and a 150 series concurrently. While these are all wildly different products, they are all "Land Cruiser" and built to a standard. 
The 70 series is an agricultural/industrial working vehicle. Very commercial, very dated.

The 300 series is the latest in the wagon line and follows the US Land Cruiser line till now.

The 150 is a light duty design meant to be a little more affordable to buy and run, with smaller engines, lighter components and a tidier footprint.  This line is known as the Land Cruiser Prado (Meadow in Portuguese).  
In the U.S. we've gotten the Prado in one form or another for decades as the 4Runner is based on the same line and the Lexus GX was and is basically a rebadged Prado. The GX550 is what the world will get as the Land Cruiser Prado, only with smaller engines and less luxurious treatment compared to the Lexus.
This is where I get a little bothered. While the Land Cruiser Prado is absolutely a Land Cruiser and it's absolutely up to the title, it's not THE Land Cruiser. It is literally a Land Cruiser Lite. And While we still get the LX300, we no longer get the top tier Land Cruiser that the rest of the world will get.  
Will It Be Enough?
Well, here is what we know about the GX550, and by association, the new Land Cruiser.
112.2 inch wheelbase.  The GX has grown to be the size and will now be the same wheelbase as the other Land Cruisers.

Wagon body. The GX/Land Cruiser will certainly have the right body style for North American consumers. 

Built in Japan.  The Land Cruiser and GX will both be built in Japan alongside the 300.

Engineered and built for a 25 year service life.
We also know that the chassis will be a version of the TNGA-F chassis that underpins all new Toyota trucks including the Tacoma, Tundra, 300/LX and the GX.  In the past these platforms varied wildly in terms of strength of chassis and component; Now the gap is narrower/non-existent. Basically, where a Prado was literally a lighter take on the Land Cruiser the GX550 IS the Land Cruiser's chassis — more or less.  
We can assume that the new GX/Land Cruiser will be every bit as tough as the 300 series as they are basically the same chassis. We hear that this new model Land Cruiser will be a 7 seater and we can assume it will inherit the GX's towing and payload, more or less. This will be, for all intents and purposes, a 300 series with a different body.  
Now, that does some weird things with the other Prado stablemate, the 4Runner, but we can only wait and see what Toyota does with that mess of their own making. Will Toyota sell four identical chassis with slightly different bodies (LX/GX/Land Cruiser/4Runner)? We can assume there will be smaller engines than in the GX550, at least as options as a means differentiate the two and the styling will be different but how different will they really be?
Part of me is really excited for this new model. It promises to be more fuel efficient, less expensive, and every bit a Land Cruiser.  Part of me knows deep down that we've lost something really special in the US market and that the heritage of the Land Cruiser will never be the same.
The reality is that people like me rarely have a chance to love a Land Cruiser fresh from the dealer's lot as they have been priced well out of reach for people who want them as the off-road legends that they are.  With this new, presumably lower priced entrant, it may change that and that's not nothing.  
One thing we can know for certain, if Toyota calls it a Land Cruiser, it is very serious about it. Will it be a true Land Cruiser? The part of me that knows it's "only" a Prado will always bother me, but I do love my Prado and am willing to take it in as part of the family.