I was digging through some files on my computer, looking for something that must have been important but I absolutely cannot remember what it was right now, but I did manage to find this strange picture, a record of the time I made a cardboard Volkswagen Rabbit. I mounted these on wood chassis with casters and seats so you could get in and scoot around. I think I added LED lights, too?
I made this as part of an event I was helping out with for the art collective I used to work with in Los Angeles called Machine Project. This was a fundraiser event, and we had a sort of weird DMV theme, which kind of started as a joke about the worst possible themes for a party, but then we ended up doing it. It was fun!
We made a lot of really bad fake driver's licenses and museum pass IDs, too, using that archaic giant-sign-with-a-hole-in-it-shot-with-a-Polaroid method that I actually did use for my first fake ID way back when.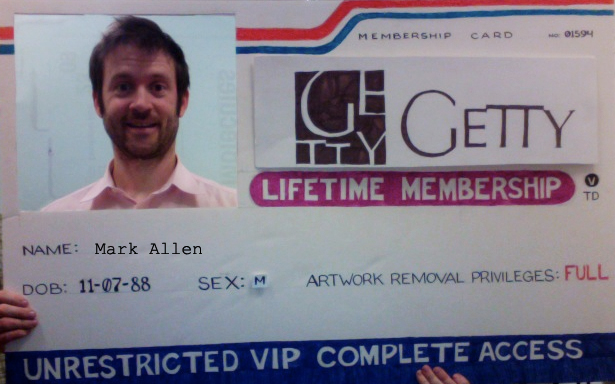 There's Mark, the guy who ran Machine Project, with the fake Getty ID I made. I bet it still works!