What is the ultimate truck? Depending on whom you ask, the best could be something tiny like the kei trucks that Georgia hates, or maybe the gargantuan commercial trucks with pickup beds. For many enthusiasts, the ideal truck is probably somewhere in the middle — a consumer pickup with a ton of capability and a lot of fun tossed in. From 2005 to 2009, Dodge offered just that with the Ram 2500 Power Wagon, a truck with front and rear lockers, 33-inch off-road tires, gear ratios low enough to pull a stump, and oh yeah, did I say you could get a six-speed manual transmission?
Last time on Holy Grails, we looked at a Toyota configuration that came and went in just a blink of an eye. For just two and a half model years between 1995.5 and 1997, you could get a Toyota Tacoma a regular cab, and a V6 engine. If you wanted more oomph, for just a single year in 1997, you could get that same truck with a TRD supercharger. This truck configuration is perhaps the closest we got to a Toyota flavor of the Ford SVT F-150 Lightning.
This week, we're staying in the realm of trucks. A number of readers responded to last week's Holy Grail with some awesome trucks of their own. Today, we will highlight another, and it's a truck that you may have forgotten about.
From War To The Farm
The Power Wagon from today's entry is a descendant of the truck that arguably kicked off the modern four-wheel-drive pickup. As Hemmings explains, Dodge had been building four-wheel-drive pickups since 1934. That year, the United States Army ordered an experimental half-ton truck and Dodge delivered the K-39-X-4. The Army requested 796 examples of this truck and had them configured for different roles. These trucks were successful enough that the Army would return to Dodge over the years for more militarized trucks. As the Estrella Warbirds Museum writes, during World War II, Dodge had produced hundreds of thousands of trucks for the Army. Many of those trucks were WC "weapons carriers," lightweight and versatile four-wheel-drives that got soldiers and their equipment through rough terrain.
These trucks ranged from half-ton to one-and-a-half-ton models and as Dodge noted in a press release, when soldiers came home from the war, they wanted to know where they could buy a civilian version of what they drove in the Army. Thankfully for those soldiers, Dodge was already planning on a civilian version of its war trucks before the war even ended. In 1945, this culminated in the Model WDX General Purpose Truck, what would months later be renamed the Power Wagon:
Dodge Power Wagons first appeared on the civilian market in 1946 as the model WDX. The model designations changed over the years, but the Power Wagon was offered only as a 1-ton truck through its final year of production in 1968.
The Dodge Power Wagon was similar in design to the 3/4 ton weapons carrier, with a 126-inch wheelbase, closed cab similar to the Dodge VC series trucks, and the front shell and grille similar to the T234 3/4 ton built by Dodge for the Chinese Army, also known as the Burma Road truck.
The WC made for a solid choice for the platform of a civilian truck. The WCs proved themselves to be durable, tough machines that could go places where there were no roads. From a practical standpoint, those WCs could carry up to 1,800 pounds in three-quarter-ton configurations and a whopping 3,300 pounds in one-and-a-half-ton configurations.
The civilian truck was mechanically similar to the three-quarter-ton WC with a 126-inch wheelbase, the three-quarter ton's open fenders, a commercial cab, and a 230 cubic inch flathead six making 94 horses. The Power Wagon wasn't a fast truck, but it was a durable workhorse with a 3,000-pound payload, an eight-foot bed, and a two-way power takeoff. These were trucks that took a beating and then asked for more. Because of this, it wasn't long before Power Wagons became the trucks of choice for farmers, loggers, miners, and oilmen plus government agencies such as fire departments, the U.S. Forest Service, and the Army Corps of Engineers. In 1950, Dodge reportedly ran an ad that said:
"A Power Wagon can do anything. It'll milk your cows, or move your mountains…As goes men's imaginations, so goes the Power Wagon. A single truck, born in the desperation of war is now changing, helping, serving and improving the lives of people for whom it works."
The original Power Wagon remained in production virtually unchanged until 1968, when sales ended in the United States as the nearly 30-year-old cab did not comply with federal safety regulations. Power Wagons were exported until about 1971 and limited sales continued until 1978. Medium-duty Power Wagons soldiered on until 1980.
The New Power Wagon
Nearly 25 years later, Dodge decided to revive the Power Wagon name for a trim level of the third generation of the Dodge Ram. This truck would not be military equipment adapted for civilian use, but it would be the ultimate off-road specification for an already solid truck.
Development of the third generation of the Dodge Ram began just two years after the launch of the famous second-generation Ram. As the Los Angeles Times wrote in 2001, Dodge's designers had a tough mission ahead of them. A year prior, DaimlerChrysler pulled the wraps off its new minivans to a critical reception that saw them called "mildly evolutionary" and reportedly, made some wonder why the company that essentially invented the minivan wasn't taking any risks.
When it came to the next generation of the Ram, Dodge gave its designers and engineers the mission to create an entirely new truck, but one that didn't lose the macho big rig style of its predecessor. Here's how this new truck's design was described, from the Los Angeles Times:
His team's task, said Dodge truck design studio chief Dennis Myles, "was to keep what we own–the Ram image–and yet be different, to exceed our own design."

To do that, the team basically put the old Ram on steroids. They beefed it up with a more aggressive front end–what Myles calls a "get out of my way" grille capped by a hood that slopes sharply up to a windshield that is canted a full 5 degrees more than that of the current Ram. It gives the pickup a racier, speedier profile. The front and rear fenders are more pronounced; the taillights are integrated into the fenders and mimic the "Frenched" taillights of custom hot rods of the 1940s and '50s.
I think this was a mission success. When you see those Ram crosshairs taking up the entirety of your little hatchback's rear window, it makes you want to dive over into another lane.
At launch, the new Ram carried developments such as a hydroformed steel frame. This boasted five times the torsional strength and two and a half times the bending strength of the previous truck's frame. At the truck's launch in 2001 for the 2002 model year, the Ram had a base 3.7-liter V6 rated at 215 HP and climbed all of the way up to a 5.9-liter 245 HP V8. The heavier duty 2500 models got an 8.0-liter V10 making 310 HP or the fabled 5.9-liter Cummins diesel straight six and its 235 HP and 460 lb-ft torque.
These trucks were available in rear-wheel-drive and four-wheel-drive configurations with electronically shifted transfer case as well as an independent front suspension. However, the 2500 and 3500 models retained live axles up front. Those wouldn't be the only engines, as there would be a 6.7-liter Cummins diesel straight six making 350 HP and the gnarly SRT-10 with its 8.3-liter V10 making a killer 510 HP. Dodge even made a hybrid version of the third-gen Ram.
In terms of off-road gear, the standard truck was somewhat lacking. You didn't get lockers, but a limited-slip differential in the rear. You also didn't get a full load of protective gear for the underbody. Dodge rectified this with the Power Wagon.
The Grail
Based on the Ram 2500, this truck was able to be had in regular cab, long bed or Quad Cab, short bed configuration. The interiors were unchanged from a regular 2500. Instead, it was what was underneath the truck that counted. This truck was nominated by DrDanteIII:
@Mercedes I have another idea for holy grails: The 2005-2009 Dodge/Ram 2500 powerwagon was available with a 6-speed manual G56 transmission and a 5.7L hemi. Good luck finding one for sale
Power Wagons came swinging with electronically-controlled locking differentials front and rear. The rear axle is a 10.5-inch American Axle & Manufacturing axle and that TracRite GTL locker gives full lock when engaged. When it's disengaged, it acts as a helical limited-slip differential for towing and other heavy-duty needs. Up front is AAM's TracRite EL front locker, but that one is based on an open differential. The axleshafts are also properly beefy, featuring the same units used in the AAM 11.5-inch diesel axles.
[Editor's Note: My friend Chris O'Neill wrote about these trucks at Autotrader a while back. Also, while I'm here, I'll note that the 2005 is the only one worth buying, as in 2006 the Ram got a hideous redesign.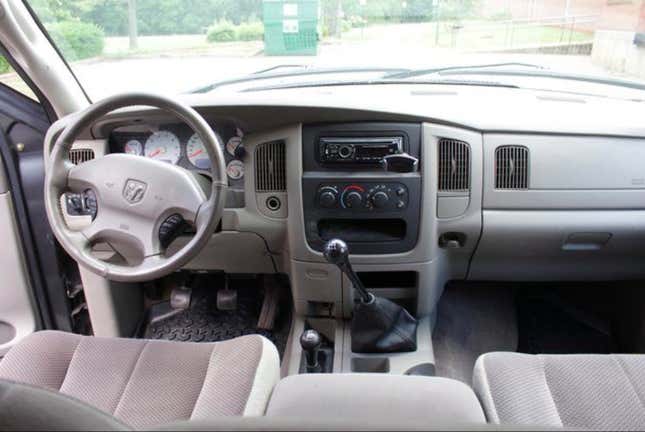 Also, since I'm here, there's a picture of a third-gen Ram with a stickshift. This one is a 2003, and not a Power Wagon. I couldn't find an interior shot of a manual Power Wagon; that's how rare they are! -DT].
Mounted to those beefy axles are chunky 33-inch BFG all-terrain tires, which are wrapped around 17-inch Alcoa forged aluminum wheels with a special bead seat to increase tire bead surface area. They're supposed to ensure the tires stay on a bit better when you're wheeling with low tire pressures. To help keep the power aplenty, there was just one engine choice, a 5.7-liter Hemi V8 making 345 HP, and power ran through 4.56:1 gearing. This meant still putting down strong power despite the tires.
That's not all, other off-road goodies include an electronic disconnecting front antiroll bar, a 1.4-inch increase in rear ride height, a front increase of 1.8 inches, Bilstein high-pressure monotube shocks, and far greater articulation. This resulted in a 35-degree approach angle and a 26.5-degree departure angle, compared to 26.5 degrees and 20.5 degrees with a stock truck.
But wait, there's even more! Dodge also covered the underbody with skid plates for the steering damper, transfer case, and fuel tank, plus bars between those skid plates so rocks can't wedge in between the plates. That transfer case is a New Venture 271 with a 2.72:1 low range and a manual shift lever. In addition to the underbody protection, the beastly trucks also get a larger battery, which helps power the factory 12,000-pound winch that Warn designed for the Power Wagon. Since this is an off-roader, Dodge also tweaked the truck with a slightly higher idle and a fan that kicks on slightly sooner. The best part? You could even get it with a six-speed manual transmission.
If your mouth wasn't already salivating at this rugged, go-anywhere Dodge, Four Wheeler Magazine might do the trick, from its review:
The Dodge Power Wagon is the epitome of the American fullsize truck, and we wouldn't change a thing about this truck, short of throwing a set of 35s on it. But even with 33s, our Wagon has proved nearly unstoppable, recording its only stuck when its amazing four-wheeling prowess caused one of our editors to forget about the 140-inch wheelbase and high-center it on an obstacle at the Tierra del Sol event in Truckhaven Hills, California. Fortunately, there was another Dodge nearby to quickly recover us. Lesson learned, and neither our guy's ego nor the Power Wagon was worse for the wear.

We love this truck so much, a certain editor on staff absconded with the keys for the first three months it was in the fleet and came up with all sorts of excuses not to give it up. Even when reminded that he is a so-called "Ford guy," and he needed to share, this editor openly confessed he would spend his own money to buy a Power Wagon and it would take more than an army of Four Wheeler editors to talk him in to turning himself and the Power Wagon in. Once his grip on the keys was loosened, other people on staff also agreed that they would also spend their own money on this truck. Which is great praise coming from a bunch of jaded magazine editors who get to regularly 'wheel just about every truck out there.

When all is said and done, there isn't a fullsize pickup out there that can do what the Power Wagon is capable of out of the box. Spending quality time driving and wheeling the Power Wagon has only reinforced our decision to make it the PTOTY winner, and we have no regrets. In fact, we are already plotting ways to convince Dodge to let us keep the big red wagon as a project once the Long Term test is complete-then we can finally get those 35s under it.
Not often noted but still noteworthy is the fact that the truck still sported a payload of 2,660 pounds and a tow capacity of 11,000 pounds. MotorWeek did what it normally does and took one out onto a track, where it hit 60 mph in 9.2 seconds, completing the quarter mile in 17.2 seconds at 80 mph. Obviously, this truck uses its muscle for off-roading prowess, not speed.
Arguably the best version of the truck, that's the regular cab, long bed, and manual transmission, was $36,660 ($59,022 today). Quad Cab plus a manual was $39,125 ($62,991). Adding an automatic transmission called for $37,830 ($60,906) and $40,295 ($64,874), respectively. Apparently, despite these trucks' fantastic credentials, few Americans opted to buy them. Reportedly, just 4,629 were sold in the United States, plus 281 for the U.S. Government and another 1,253 for Canada.
As our reader says, finding one of these in good condition is tough. I found one in South Carolina, but it's an automatic. There's another automatic in Washington with the most blurry pictures you'll ever see. I found two others in good shape, but even those are automatics. All of them are $10,000 and up. Apparently, automatics outnumber the manuals about 10 to 1, so if you find a manual, buy it and hold onto it forever. If you've owned one of these, I want to hear about it. Is the mid-2000s Dodge Power Wagon as much of an off-road brute as it sounds?
Do you know of or own a car, bus, motorcycle, or something else worthy of being called a 'holy grail'? Send me an email at mercedes@theautopian.com or drop it down in the comments!
Support our mission of championing car culture by becoming an Official Autopian Member.