Three U.S. auto plants on strike may not sound like a huge deal, but that's 13,000 workers and already a good degree of industry disruption— disruption involving parts, suppliers, deliveries, all of it—and we're not even a week into things. But by Friday, this could turn into a bigger strike with even greater ripple effects. As the kids (apparently) like to say: "Who's next?"
That and another UAW news item lead off today's morning news roundup. Also on tap: Lexus' big plans to be Toyota's electric tip of the spear against Tesla dominance, and why technology is enabling some concerning new advancements in car theft. Let's take a look.
UAW Strike Could Escalate This Week
I don't mean to dip into national stereotypes here, but Ford is probably saying to its striking American workforce: "Why can't you be more like the Canadians? They're so nice!" In fact, our neighbors to the north have already inked a tentative agreement with Ford, potentially avoiding a strike in Canada, too. Granted, that country's auto industry footprint is smaller than America's, but as CNBC points out, a strike there would've impacted F-150 and Mustang engine production—some headaches Ford surely doesn't want.
Meanwhile, in America, progress is slow. But if it doesn't pick up in the next 48 hours or so, UAW says, more plants will shut down. You might liken it to ransom demands, but the union calls this "escalation." Here's Automotive News:
"If we don't make serious progress by noon on Friday, Sept. 22, more locals will be called on to stand up and join the strike," Fain said in a video posted by the union Monday evening. "Autoworkers have waited long enough to make things right at the Big 3. We're not waiting around and we're not messing around."

Fain didn't say how many additional plants would join the work stoppage, which began Friday. His comments suggested that the UAW could decide not to add plants even without deals in place by Friday, so long as the union is satisfied that the talks are productive.

[…] Bargaining at the subcommittee level continues at a near constant pace while the union has held main table discussions with each company since the strike began. It met with Ford on Saturday, GM on Sunday and Stellantis on Monday.

In a statement, Stellantis said "the discussion was constructive and focused on where we can find common ground to reach an agreement that provides a bridge to the future by enabling the Company to meet the challenges of electrification." It said the two sides "have the opportunity to establish a framework in this contract that will allow the company to be competitive during this historic transformation and bring our workforce along on this journey. This includes identifying a solution for Belvidere, something we have been committed to from the beginning and a discussion we want to continue with the UAW."
Right now, the plants on strike make the Jeep Wrangler and Gladiator, Ford Ranger and Bronco and Chevrolet Colorado and GMC Canyon. I say again: Who's next? Or will we see some "progress" before noon on Friday?
UAW Gives Heisman To Biden And Trump
It's super interesting that this strike is happening during a presidential election, and arguably the most consequential one of our times. Both parties are dealing with it in weird ways. For the Republicans, it's somehow ammo to target electric vehicles, which are surely causing some tension in these strikes but which are definitely not the primary cause of the current standoff—electric vehicles are not expressly mentioned as a major component of any worker demands. On the Democratic side, President Biden is stuck between keeping the automakers happy for his own green agenda's sake and being as pro-labor in action as he is in words. He does not want to deal with the economic fallout of a prolonged autos strike, and remember, he has no legal authority to intervene here as he did with the rail workers last year.
But for the UAW's part, they aren't playing sides here. They just want their money. Via Reuters:
On Friday, Biden sided clearly with the union, telling automakers to concede more to workers who walked off the job at Detroit's largest car companies and share record profits fairly, and said he would dispatch two of his top officials to Detroit to support both sides in the negotiations.

But he was rebuked by UAW's Fain, who said "this battle is not about the President," and the two officials, Gene Sperling, and acting Labor Secretary Julie Su, were not in Detroit as of Monday evening.

A White House official said "their goal is not to intervene or to serve as mediator but to help support the negotiations in any way both parties feel is constructive."

"Nobody has a read on Fain," said Art Wheaton, director of labor studies at Cornell University's School of Industrial & Labor Relations. "He's not just a stranger to the Biden administration but was a stranger to all of the big three," he said, referring to the automakers.

Fain has led the UAW for less than six months, and the union has yet to endorse any presidential candidate for 2024. Fain also rejected Republican Donald Trump's entreaties.

"Every fiber of our union is being poured into fighting the billionaire class and an economy that enriches people like Donald Trump at the expense of workers," Fain said. Trump said he would go to Detroit to speak on Sept. 27.
More On Lexus' Big EV Push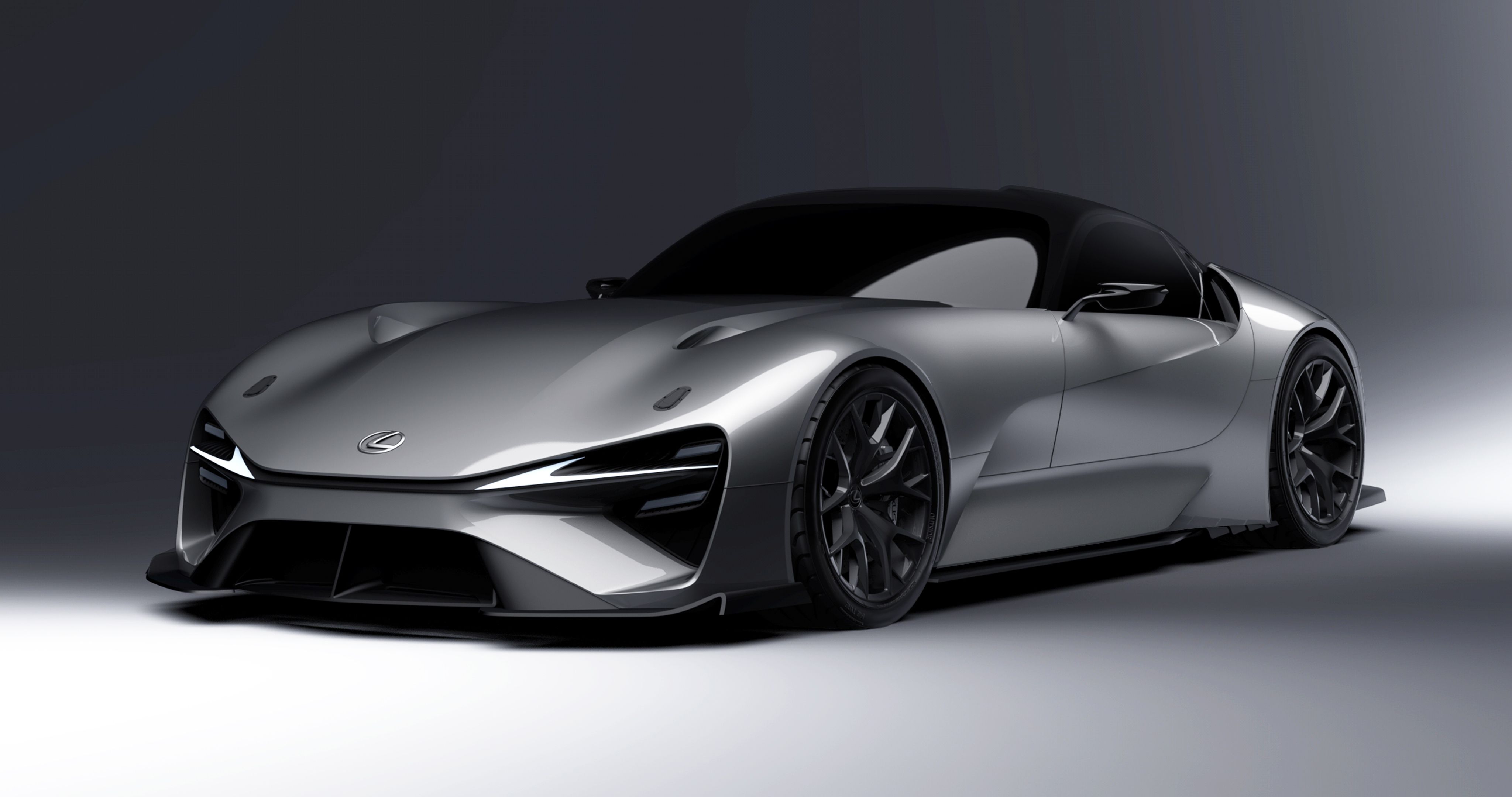 As Matt said yesterday, don't count Toyota out. I'm not doing that, either. Culturally, the company doesn't like to say big things, it likes to do them, and it only makes announcements when it plans on following through with those plans. But it's got its work cut out to catch up on batteries, gigacasting and the other things that could be crucial to cheaper EV production at scale. I think we all know the Lexus RZ ain't it, folks.
And besides, Lexus announced it'll go all-electric by the middle of the next decade, too. Here's what we can expect from Japan next month, via Automotive News:
"In 2026, we will introduce the next-generation battery EV that re-innovates the vehicle modular structure, significantly alters our production methods and completely re-imagines the software platform," [new Lexus boss Takashi Watanabe] said at a vehicle and technology showcase this month at Fuji Speedway. "We have also prioritized vehicle design to embody the essence of Lexus."

On the radar is a software operating system that Lexus said will unlock a new world of personalized premium perks and performance, as well as luxury tailored to regional preferences.

Pure electric motor drive will deliver more direct control and excitement, Watanabe said, adding Lexus is even considering an all-electric stick shift technology that will retain the thrill of throwing through the gears for tomorrow's electric motor heads.

A new generation of F-inspired all-electric performance models on tap is pumped up by rumors of an EV sports coupe positioned as a spiritual successor to the legendary LFA supercar. A teaser of the Japan Mobility Show concept shows a wedge-shaped silhouette with a long wheelbase, tucked-down nose and raked windshield.

It all feeds into how Lexus wants to distinguish itself from the premium pack through its Lexus Driving Signature, a driving experience characterized by quiet comfort and responsive steering.

[…] Lexus will piggyback on a slew of new production techniques being readied by Toyota. These include cars that drive themselves through assembly lines and the adoption of giga casting techniques to greatly reduce the number of components.
Like we said, don't count these guys out.
Car Theft Goes High-Tech
There are exceptions to this, like pushing it onto a flatbed (ask me how I know this) but on the whole, modern cars are very hard to steal. Hot-wiring is a thing of the past and various immobilizer devices in keys and software have led to thefts dropping off dramatically in recent years.
Except now, as I wrote for The Atlantic recently, software-driven cars are cyber-security nightmares. And you had better believe that's going to lead to more car thefts. Not to mention, so are so-called "kits" that can help enable such things in the hands of those who know how to use them. From Bloomberg:
After years of decline, car thefts have been on the rise. In the US, they bottomed out in 2014 and have since risen more than 45%, with total thefts surpassing 1 million in 2022 for the first time since 2007. In the UK, car thefts rose 19% in 2022 alone. That country's National Crime Agency said in July that one factor was a rise in "electronic compromise thefts," a category that covers such actions as a thief removing a headlight, then attaching a device that sends commands to unlock a car's doors and start its engine.

Criminals have also been using a range of devices to intercept signals from keyless fobs to get into cars—and block GPS trackers that would make recovery of stolen vehicles easier. Cybersecurity experts say it's often hard for victims to know whether such devices were involved in crimes, making the extent of the problem difficult to determine. In the US, the nonprofit National Insurance Crime Bureau has been warning for almost a decade about the criminal use of devices that mimic the function of wireless key fobs. In October 2022, Europol, the European Union's law enforcement agency, announced it had arrested 31 people across France, Latvia and Spain in an auto theft scheme using devices that spoofed keyless entry systems.

In the UK, officials are considering banning the sale, purchase or possession of equipment that can be used to hack cars, according to local news reports. Some lawmakers are also trying to compel carmakers to harden their defenses. Last year a law went into effect in the EU that requires all new vehicles to undergo a cybersecurity review and automakers to have a plan for identifying and fixing vulnerabilities before the vehicles are sold.
Look how easy this stuff is:
Some problems can be fixed by requiring vehicle owners to visit dealers for software updates when carmakers discover vulnerabilities, but others are harder to stop. Tindell's company published a report in April that documented the hack of a Toyota RAV4 stolen last year. He worked with the vehicle's owner, an independent cybersecurity researcher named Ian Tabor, to discover how the thieves pulled off an attack that involved removing the car's headlight to gain access to the internal network, through which different parts of the car communicate with one another.

The researchers bought one such tool, a Bluetooth speaker retrofitted with a small piece of electronics loaded with malicious code and grafted onto the speaker's circuit board, according to the report. They activated a special chip hidden inside by pressing the play button, sending the car's system the message to unlock the doors. From there, they could detach the hacking tool, get inside the car and start the engine, according to the report. Canis' researchers determined that a similar hacking tool was used to steal Tabor's vehicle.
It's good to know The Club has a place in our electrified, connected future of cars.
Your Turn
What do you want to see from any of Japan's automakers in this new era of cars? I feel like all of them are a bit behind the curve compared to some these days.