We use a wobbling mountain of old CRT monitors for a view screen here at The Autopian substation to beam in a lot of questionable automotive choices from all over the World Wide Web. But car enthusiasm is a broad church and we're here for all of it—the good, but mainly the bad.
Or rather, the other Autopian staffers are. Someone has to be the voice of reason in this out-of-control bathtub of full of lunatics, and dear reader, I'm increasingly worried that's me. The one who styles himself like he just walked off a Bunnymen album photoshoot and drives both an old Range Rover and an old Ferrari. All right, we're grading on a curve but someone has to try and uphold standards around here, especially when it comes to automotive aesthetics.
Who has pissed in my morning martini this time? Glad you asked. I love American muscle cars. There's just something about stuffing a ridiculous engine in a proletarian body, decorating the whole thing luridly and sending it out the showroom with an affordable purchase price and barely any brakes. They bring a slight warmth to my dead soul like a steaming plate of shower spaghetti.
Were I capable of your human emotions I would have a soft spot for the '71 Mopars, specifically the 'Cuda, Challenger and GTX. They represent the stylistic high watermark of the muscle car era. Do you know what else is good? The current evergreen Challenger, a brilliant example of heritage design done right. Do you know what's bad? Trying to combine the old one and the new, one like some Detroit chimera.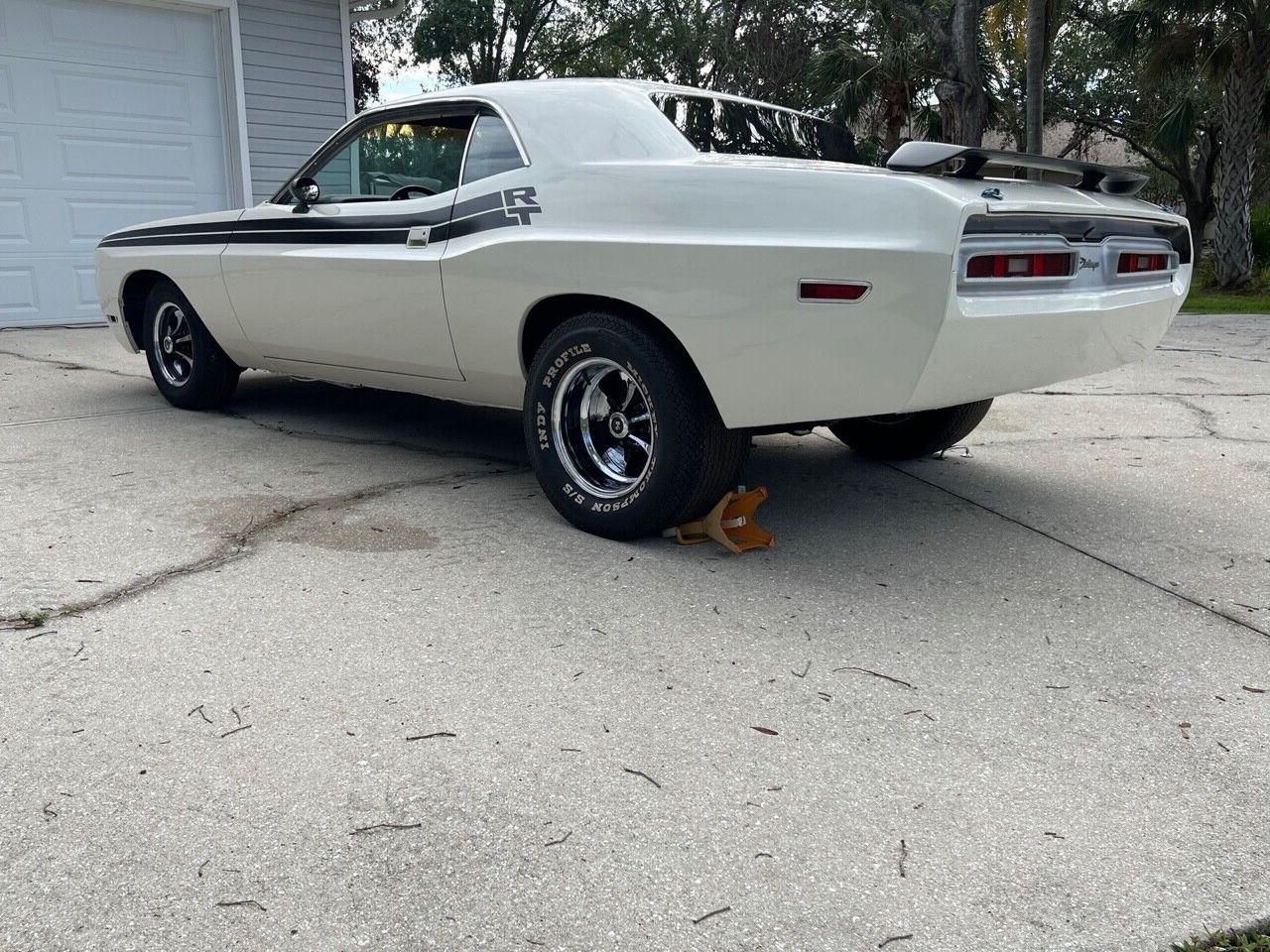 That didn't stop the builder of this abomination, now trying to offload his unholy hosebeast of a creation onto some poor sap without functioning eyesight. What is going on here? A poor '71 Challenger has had its rear bumper removed and a fill panel badly butchered into its place. At the front, it appears the front fenders have been hacked back to allow a new Challenger front fascia to be delicately attached. With a lump hammer. Choices have been made. Did the builder have all the ingredients lying around the yard and after a few cold beverages one evening succumb to a boozy flash of inspiration?
Let's pick through the description for an insight into the insanity:
"This is a one-of-a-kind build." Translation: this is an idea so bad no one else had it. In the entire history of ideas, this is one of the worst.  "An imaginative fusion of the old and new Challenger!" Anyone using the word fusion and not talking about a Ford needs to be flayed with a fan belt. "Front grill assembly was custom fabricated using 1971 grill components – truly a work of art." Yes, the kind of art that requires a visible line of pop rivets to hold it in place. That's a sign of quality craftsmanship. Someone get Rolls Royce on the phone and tell them they've been doing it all wrong.
"Oh Adrian, you're being unfair," you might be saying. "Let someone build the car they want, they're not hurting anyone. You're just pissy because someone has a different opinion to you."
You know what? You're goddamn right I am. You're free to build whatever you want, and I'm free to critique it because my opinion is extremely qualified and my experience and training are relevant. And I love the sound of my own voice. Yet people feel entitled to shit out half-baked eye sores because they don't understand or value creative work or worse still think that anyone can do it. When I don't know how to do something, I enlist the help of experts who do.
Look at how the tape stripe bends sharply as it transitions from the fender to the nose. This is because the surface changes direction too abruptly – the intersection or join between the two panels has no continuity. Think of it like a peak instead of a smooth blend, forcing a jigsaw piece into a place it's not meant to go. Looking at the stripes as a whole, they're about as straight as a $7 bill. There's a definite kink (not the good kind) as the feature line moves from door to fender.
It appears the scoop of a modern 392 has been grafted onto the hood of a '71 without any attention paid to the curve of the trailing edge. The cowl is peeking through like when you did that "pull your lower eyelid" down thing as a kid. The rear windshield looks ready to pop out the first time you mat the thing, which you won't be doing anytime soon as Frankenchallenger doesn't have an engine or transmission.
Trying to clean up the rear to match the front has left a vast expanse of painted metal that falls away to nothing, which looks chinless and weak. Where are the exhaust tips going to go? At least there's consistency in the inconsistent panel gaps, which are as hilarious as the ones around the hood.
A '71 Challenger is a fine-looking car in its own right. If you want to modernize it there are better and more visually cohesive ways rather than throwing on a panel designed for a completely different car. Lower it a touch. Update the lighting. Correct the appalling-from-the-factory panel gaps and fitment. Maybe upgrade the door handles. Subtle changes that don't fundamentally alter the carefully considered overall look. This thing is like wearing Yoji Yamamoto sneakers with a sports jacket; two totally contrasting looks that don't fit together at all.
No matter what OEMs and superstar name designers may lead you to believe, a car's appearance is never the work of one person. I touched on this in the comments of my Midjourney piece, but no creative person, no matter what the discipline, is an island. In the studio, there are lots of pairs of eyes on a design to form a consensus as to what works. And those people have been hired because they have demonstrated a high level of aesthetic sensibility and good judgment in their portfolio work and graduation projects. It's like being a movie director: even auteurs rely on a trusted crew of cinematographers, production designers, scriptwriters and so on. Car design is no different.
Car design teams spend literally years tweaking details and features on full-size models as a car moves through the design process. This is as true today as it was in the '70s. The end result is hopefully something that works as a complete vehicle. Do they always manage it? Of course not, but that should be taken as a reflection on how hard it is to get right, rather than an indication that designers don't know what they're doing.
Do you want to know why Ring Brothers keep wiping the floor with everyone else at SEMA every year? It's because they hire a fucking professional car designer. I'm not saying you can't try and beautifully customize your car your own way; just remember why you might fall short.