Nothing divides the internet quite like a new performance car, and the new Ford Mustang — a thorough reimagining of America's favorite four-seat coupe with new bodywork, a fresh interior, and updated powertrains — is no exception. Some people already love it, some people dislike the styling, and some people are wisely waiting to pass judgement until they drive it. Speculation can be brilliant fun, but cars aren't driven on the internet. Besides, this seventh-gen model is far more important than digital bickering. If the electric push maintains momentum, this could be the last generation of all-combustion Mustang the world will ever see. If you're going for a last lap, make it count, right? To find out how Ford's evolved its pony, we started by grabbing the keys to the fundamentals — the entry-level four-cylinder 2024 Ford Mustang Ecoboost.
The S650 Mustang isn't an entirely new car, but that doesn't make it insignificant. From substantial exterior alterations to a fresh new cabin to updated engines to chassis tweaks, it represents a substantial leap forward from the outgoing model. Think SN95 versus Foxbody and you're moving in the right direction. Oh, and did I mention that the Mustang has been the world's best-selling coupe for the last six years? Thanks to global sales, you'll be seeing this new Mustang on every continent except Antarctica. Funnily enough, Ford wanted to land a Mustang on Antarctica to complete a tour of the continents, but a representative claimed plans were dashed. The 2024 Mustang is a pretty big deal; how new does this new car feel? Let's fire it up and see what's what.
[Full disclosure: Ford flew me out to Los Angeles to drive the new Mustang and put me up in a hotel with a nice view of a park. The automaker also provided sustenance and refreshments, most notable of which being Nerds Rope, a candy that fulfills the childhood urge to eat aquarium gravel stuck to a giant gummy worm. If you have the means to spare, I don't know, $2 or so, I highly recommend picking some up.]
Nip Tuck
Given the nearly 60-year legacy of Ford's pony car, it shouldn't be surprising that the new Mustang looks like a Mustang. Although Ford's dialed back the retro cues in recent years, this new model sports a prominent grille reminiscent of the 1967 model. I'm not crazy about the thick plastic bezel around the upper grille, but I understand why Ford did it. Making that entire area mesh would expose the bumper beam, and shrinking the grille would add more body-color surface to the bumper cover, visually pushing the leading edge of the hood taller (the front end, and thus the hood, are fairly tall, but a wide and tall grille-shape help make it appear lower), which might look weird with how the hood line sweeps downward at the front of the car. You can't really lower the hood much further without risking running afoul of pedestrian safety requirements, so consider the trim piece an interesting area for owners to wrap should they feel like it.
While we're on the subject of the front end, I'm moderately concerned about how the new Mustang will look with a front license plate. The advanced driver assistance system sensor in the lower grille needs to be free of obstruction, and while European plates should be fine, North American front plates may partially cover the upper grille should Ford use a center plate mount. If you live in a front plate jurisdiction and want a new Mustang, you may want to make a tow hook plate mount your first mod.
Side-on is unquestionably the best angle of the new Mustang. In profile, Ford absolutely nailed it. The softer character lines down the flank, the sharper creases atop the fenders, the nifty chevron on the quarter panel — I have a strong feeling it's mostly going to age well. Is the undercut along the lower body edge a bit heavy? Sure, but that's not the worst sin to commit.
However, I'm just not sold on the rear end of this new Mustang. The designers were going for deep shadow on the decklid and I reckon it could work, if not for the strange taillights. Neither dramatic nor beautiful, these plain rectangular elements set in wide swaths of cheap-looking black plastic really take the back of the Mustang down a peg. Perhaps the aftermarket will produce a solution. Still, taillights aside, this is a handsome coupe that's instantly recognizable while looking substantially fresher than the outgoing car, and that sounds like something that shouldn't alienate loyalists. It isn't my cup of tea, but that doesn't make anyone wrong for liking it.
What's Under The Hood?
At the heart of the 2024 Ford Mustang Ecoboost sits a revised 2.3-liter turbocharged four-cylinder engine with some interesting stuff going on. The exhaust manifold is still integrated into the cylinder head [Editor's Note: Integrated exhaust manifolds are HOT these days for a number of reasons including packaging, catalytic converter warmup speed, weight, engine oil warmup time, and reduced engine enrichment necessary to protect the catalytic converter. See my article on the topic. -DT], with the turbocharger bolting directly onto a port in the right side of the head, but the turbocharger itself is smaller. Another neat trick is the implementation of both port fuel injection and direct injection, which should mitigate carbon buildup concerns plaguing DI-only engines. While not a night-and-day revolution over the outgoing 310-horsepower, 350 lb.-ft. of torque 2.3-liter Ecoboost engine, its potency is best acknowledged by taking a step back and reflecting.
Boasting 315 horsepower and 350 lb.-ft. of torque, this base-model Mustang offers the power of a 2010 Mustang GT (that's the 4.6-liter V8) and 25 more lb.-ft. of torque. What's more, the Tremec TR3650 five-speed manual in that 2010 Mustang GT had fourth as a 1:1 ratio, while the 1:1 ratio in the 2024 Mustang Ecoboost's ten-speed automatic is seventh gear (so you've got three overdrive gears). Thanks to all that torque, and short gears in that 10-speed auto (4.70:1 first gear!), you'll be seeing substantially more torque to the ground in the first few gears than in the mass-market V8 from 14 model years ago, especially if you tick the box for the optional 3.55:1 axle ratio. Isn't progress amazing?
Mind you, progress isn't always comfortable. Should you want to heel-toe your own downshifts, it's V8 or nothing for 2024 as the Ecoboost goes automatic-only. Mustang brand manager Jim Owens cites withering, shriveling demand for manual Ecoboost models as the primary driver in this decision, although he also "fought hard" to keep the three-pedal base model alive. Hey, we can't win every battle, and few could've predicted the automotive landscape being a much different place during the early stages of 2024 Mustang Ecoboost development than it is now. Manual entry-level performance cars like the Toyota GR Corolla, Honda Civic Type R, and Toyota GR86 are seriously hot since the joy of rowing your own gears is disappearing. Speaking of disappearing, even Ford seems surprised to be going it alone in the pony car segment. As Owens told us, "We expected the Camaro to stick around." Perhaps if owners and checkbooks scream down hotlines enthusiastically enough, a manual could possibly have a slight chance of happening, but don't hold your breath. Calibration, validation, and homologation are all seriously expensive procedures, so we could be talking millions of dollars to cover development costs.
Given the Ecoboost's monospec powertrain, the optional 2.3L High Performance Package isn't just recommended, it's a must-have option because it lets you have proper control over the ten-speed automatic gearbox. Without it, the Mustang Ecoboost doesn't even get a manumatic mode (the absence of which is pictured above), let alone the convenience of paddle shifters, and that's a problem. I'm not just saying this to be a hardo: The default transmission calibration in normal mode is as difficult to tolerate as a Poli Sci major roommate. While usually smooth, it's an arrhythmic dance partner with shocking low-speed lag. Roll into wide open throttle from 20 mph or so, and the gearbox takes a few seconds to figure itself out. Transmission mapping in sport mode is noticeably sharper, but commanding your own gears makes the turbo motor's hair-trigger response and cornucopia of torque shine at 10,000 lux. It's no CAFE special, but instead a quiet, friendly juggernaut with the flexibility of a Cirque du Soleil performer, and it also happens to return a rated 26 combined MPG (9.2 L/100km) without the performance pack and 24 combined mpg (9.8 L/100km) with.
If that isn't enough for you to pop for the $3,475 High Performance Package, consider the smorgasbord of equipment it comes with. I'm talking about 220-treadwear 255/40ZR19 Pirelli PZero PZ4 summer tires at all four corners, six-piston Brembo front calipers and four-piston Brembo rear calipers with semi-metallic pads, stiffer front springs, a larger rear anti-roll bar, a strut tower brace, a 3.55:1 axle ratio with a Torsen helical limited-slip differential, revised electric power steering, electronic stability control, and ABS calibration, and an exceedingly special electronic handbrake (more on that later). It's such a massive set of actual go-fast bits that you almost can't believe Ford's making any money on this package at all in America. Canadian buyers will have to pay $6,500 in loonies to get all this goodness, but even north of the border, if you tried to price out all the components as aftermarket parts, you'll soon realize this package is worth every penny.
Treadwear Testing
Back to that special electronic handbrake for a second. Co-developed with the tuners and drifters over at Ford tuning firm and professional Formula D drift outfit RTR, the electronic drift brake available on the 2024 Ford Mustang Ecoboost might just be the second-best feature ever invented for a vehicle after the synchronized six-speed manual gearbox because it allows you to enter everywhere completely sideways like you're 18 again without wearing out pesky brake shoes. Just activate it in the touchscreen, rip the electronic lever hard, and the car will lock its rear wheels using the calipers. Intriguingly, because it uses the ABS module for activation, it doesn't flip out if you need to get on the whoa pedal like an inline hydraulic handbrake does. A factory-installed hydraulic handbrake? Sign me up.
Playing around with the handbrake at Irwindale Speedway, the resistance of the handle felt as natural as rip-starting a lawnmower, and the sheer clamping force broke the Mustang's rear Pirellis free with absolute steeze. Flick it in, drag the handbrake, and because the 2.3-liter Ecoboost lump will deliver buckets of torque way down low, you don't need to stay at wide open throttle to gain meaningful wheel speed on tighter corners. Just lock it in a gear, flutter the pedal, and you'll be drifting with an ear-to-ear shit-eating grin on your face. Sure, it may just be an evolution of the Ford Performance Drift Stick available for the Focus RS, but it's still some of the most fun you'll have on four wheels, right up there with extreme downhill Barbie Jeep racing.
Forcing the rear tires to have a treadwear of "no" is an absolute riot, but what if you're more interested in cutting a surgical line through a corner? What if your primary love language contains the phrase "off-camber decreasing radius" and you shriek with delight every time you see accidental pointer cones in the wild? Good news, the Mustang Ecoboost isn't bunk at high performance driving.
New rack innards grant the 2024 Ford Mustang Ecoboost a tighter 15.5:1 steering ratio (shared with all other 2024 Mustangs) and noticeably better low-steering-angle response than its predecessor, although steering weight is on the light side in most drive modes. Once you learn to trust that the front end grip is there, you'll find the Mustang Ecoboost Performance Package as malleable as plasticine, breathing with the road and maintaining utmost composure over camber changes as excellent magnetorheological dampers and well-sized anti-roll bars keep body motions in check through slaloms. It's not the most lithe performance car you can buy for the money, but I'll be damned if it isn't capable. Plus, once you dial back your vigor, the Mustang is still comfy over bad roads, never threatening to decant your coffee or jiggle your ribcage. With bandwidth like this, you'll never want to fly from LA to San Francisco ever again.
Oh yeah, speaking of suspension, since the S650 Mustang is an evolution of the outgoing car, it still gets MacPherson strut front suspension and an integral link independent rear setup. The integral link rear suspension is particularly cool because integral links tie each rear knuckle to its respective lower arm, increasing caster stiffness and aiding packaging over a trailing arm. Translation: It mitigates hub twist under hard acceleration and braking, minimizes axle tramp, and allows for more interior room thanks to not needing a trailing arm attachment point in the rear floor or subframe. How's that for a little bit of pub trivia?
Cabin Pressure
Inside the 2024 Ford Mustang Ecoboost, its makers have thrown out the dual-cockpit interior styling of previous Mustangs for a driver-centric, screen-heavy cabin that's sure to attract some haters. In case your memory is fuzzy on what the outgoing base-model cockpit looked like, here's a brief visual reminder: 
Some of my pictures don't do the new cabin justice because the screen height is actually a very clever optical illusion. From the driver's seat, the top of the upgraded single-frame display setup is almost level with the height of the dash-mounted center speaker, meaning that all this tech doesn't impinge on visibility.
What's more, the center stack is tilted 10 degrees towards the driver, meaning that all corners of the richly-colored, glossy infotainment screen and even the furthest-flung physical controls are still within easy reach. That being said, not everything is an ergonomic success story. To clean up the center stack, Ford moved controls for stuff customers will use fairly often into the infotainment system. Stuff like the heated seats, the automatic climate controls, and every stereo control aside from volume and power.
Mind you, the single-frame screen setup is only on the Premium trim, as the base model makes do with two separate screens (see the one directly above versus the image before that and at the top of this section) that garnered hatred all across the internet when they were first unveiled. Here's a straight-on angle of the base interior so you can compare it to the outgoing car's shown three photos up: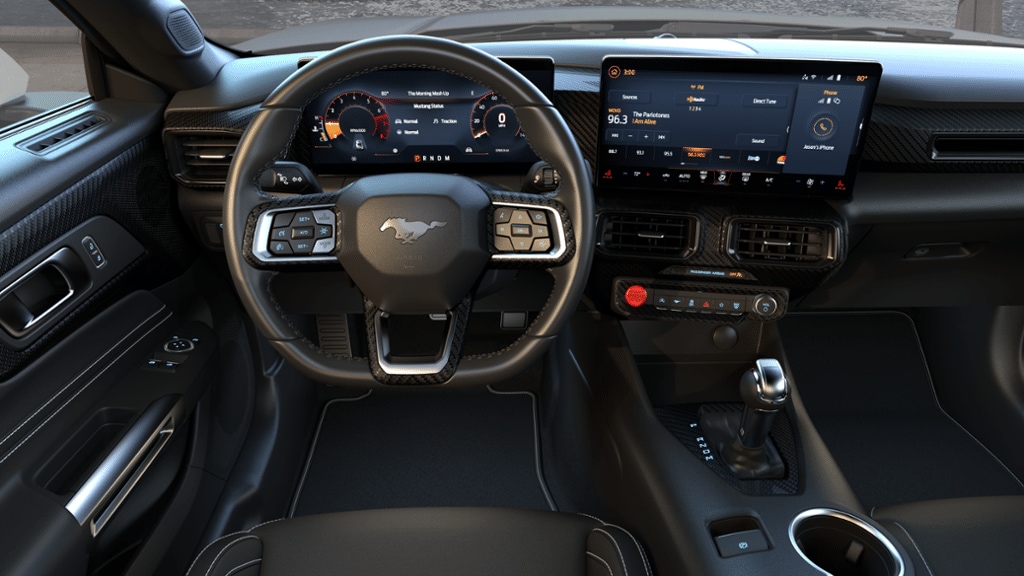 The base interior isn't exactly barbaric. The separate screens still have excellent black levels, respond rapidly, and get wonderful thin bezels. It's a fine setup that doesn't feel like a massive downgrade over the uplevel option. What's more, general fit-and-finish is remarkably good, and the standard base upholstery is this lovely, soft, high thread count cloth that will cosset your cheeks for mile after mile.
Speaking of comfort, don't let identical on-paper rear legroom to a Subaru BRZ scare you. Thanks to an additional four inches of front legroom over the other popular affordable coupe set to last beyond 2024, the rear seat of the new Mustang is surprisingly commodious. I'm five-foot-ten and found myself with room to spare sitting behind the front seat adjusted to my normal driving position. Oh, and each rear position sits slightly inboard of the front seats so that rear passengers still get a nice view out the windscreen. The new Mustang coupe could be a reasonably practical family car for four, provided said four are around average height.
Roominess, tech, and comfort are nice, but what about build quality? It wasn't that long ago when a Mustang felt like getting what you paid for, and Ford's had numerous quality troubles with new vehicle launches as of late. Well, I have some good news: Every car I drove on the launch was a production-spec unit, and every one felt as well-built as pretty much any Toyota. Were there some minor imperfections? Sure. Some of the interior trim on the right C-Pillar of one example was misaligned, leading to a very quiet squeak on California's lumpy freeways, and general paint had typical levels of orange peel, but that's it. While it's possible that Ford paid extra special attention to this particular batch of cars knowing who would be driving them, the one case of trim misalignment gives plausibility to the theory that most Mustangs will come out of the factory feeling pretty solid.
So far, so good, and thankfully, the worst thing in the new Mustang's cockpit is an option. The available B&O audio system is unusually bad, to the point of ruining songs you love. A muddy, heavily V-shaped mess of atonal bass and shrill treble, it's an option best avoided in my opinion. The 12-speaker non-branded stereo offers better imaging, and it will save you a bundle that you're sure to spend on tires and other hooning-related sundries.
What's The Verdict?
Trading in some of the snotty, rip-snorting American Silvia vibes of the previous model, the 2024 Ford Mustang Ecoboost has grown up in most of the right ways. With a vastly improved interior, heaps of equipment, a sleeker profile, and more satisfying handling than the outgoing car, it cranks the dials up on both capability and livability as it prepares for the throne as Detroit's only affordable coupe come early 2024. It's a car that kept growing on me the longer I drove it, a fabulous daily driver that can leap into life or fade into the background, depending on your current mood.
If you're a particularly keen driver, you might compare the 2024 Ford Mustang Ecoboost to a Toyota GR86 or Hyundai Elantra N, at which point you'll likely be disappointed. The Mustang is objectively very capable, but it shouldn't be surprising that it doesn't have the tactility of the Toyobaru twins, nor the focus of the Elantra N. However, this entry-level pony car straddles the line between comfy coupe and tire burner so finely that it occupies another sphere from sport compacts entirely.
Instead, with refinement in spades, the 2024 Ford Mustang Ecoboost feels more like a competitor to the BMW 230i than anything [Editor's Note: This is high praise coming from a BMW fanboy like Thomas. -DT]. Sure, the 230i is more refined and has nicer steering calibration, but it doesn't offer quite the same flavor of stupid, sexy, dirtbag fun this thing does. I mean come on, could you ever imagine BMW building an electrically-actuated hydraulic handbrake into its cars? Oh, and a BMW 230i definitely isn't this inexpensive either. Pricing for the Ecoboost coupe starts at $32,515 including a $1,595 freight charge ($39,195 in Canada) and rises to $38,040 ($45,395 in Canada) for the Ecoboost Premium trim. Should you wish to drop the top, the cabriolet variant is a pricey option, but a unique one. The base Ecoboost convertible starts at $40,615 ($46,095 in Canada), ratcheting up to $43,540 ($50,695 in Canada) for the Premium trim, but once the Camaro bows out, your only other options for entry-level four-seat convertibles all have transfer cases and full frames.
While a handful of hardcore fans will likely be miffed at the mandatory two-pedal layout, the 2024 Ford Mustang Ecoboost does everything right for the bulk of entry-level Mustang owners. The fact that I'm even mentioning it in the same sphere as the BMW 230i shows that it's a true world-class sporty coupe — a testament to how far we've come over the past 59 years. From retirees to young fun-loving parents to rental car agencies, there's a whole world of people out here who'll love how this is unquestionably the best entry-level Mustang yet. Oh, and as for the Mustang GT? Come back Tuesday at 6:00 a.m. ET for something a little more personal.
(Photo credits: Thomas Hundal)
Support our mission of championing car culture by becoming an Official Autopian Member.
Got a hot tip? Send it to us here. Or check out the stories on our homepage.