The Ineos Grenadier is essentially a modern version of the legendary Land Rover Defender, which means that — to many — it should be the ultimate off-road vehicle money can buy. I had a chance to drive a Grenadier on and off-road, and what I learned is that the Grenadier is a true off-road monster that's so close to being perfect. But it's just not quite there.
First, I'll say that there's no such thing as a perfect car, but there is such a thing as a vehicle that is (essentially) perfect for specific uses. The Beetle was the perfect city car in its day, the BMW i3 is the perfect second-hand suburban car, the Jeep Cherokee XJ was the perfect off-road family car of the 1990s, the modern Jeep Wrangler is the perfect rock crawler, a Porsche 911 is the perfect canyon-carver: You get the idea. Oftentimes the vehicles that are "perfect" in one area are compromised in others, and that's just part of the game. It certainly applies to the Ineos Grenadier, though again, it's not quite the perfect off-roader. But it's damn close.
How The Ineos Grenadier Came To Be
The Ineos Grenadier is the brainchild of Sir Jim Ratcliffe, chairman of British chemical company Ineos Group Limited, and a huge fan of old Land Rover Defenders. Ineos's website describes the impetus behind the vehicle, stating on a web page dated February, 2017:
Following the completion of a six-month feasibility study, INEOS confirmed that it's going ahead and building a brand new uncompromising 4X4 off-roader. While the company is one of the largest manufacturers in the world, it will be the first time that INEOS has produced such a vehicle. "This is a fantastically exciting project," says Jim Ratcliffe, INEOS Chairman. "We want to build the world's purest 4X4 and are aiming it at explorers, farmers and off-road enthusiasts across the globe."
Here Ineos mentions that Ratcliffe was inspired by the death of the true Land Rover Defender. He doesn't say anything about the modern Defender, but I'll just say it for him: That's not a true hard-core off-road machine; it lacks solid axles, it lacks a ladder frame, and it in my opinion it leans to far towards luxury to be a true off-road beast.
The project is the brainchild of INEOS Chairman, Jim Ratcliffe, who was a fan of the original Land Rover Defender. When it ceased production, Jim saw a gap in the market for an uncompromising off-roader that stood for adventure and active driving but also had the capability to be a work and utility machine.
The company quotes Ratcliffe as saying the Ineos will take inspiration from the old Defender and improve upon it:
"I'm a great admirer of the old Land Rover Defender and have enormous respect for its off-road capability," says Jim Ratcliffe, INEOS Chairman, "and our new 4X4 has been inspired by it. But whilst our off-roader might share its spirit, our new vehicle will be a major improvement on previous models.
The vehicle, named (with the help of the public) after Ratcliffe's go-to pub in London, Grenadier, was largely engineered in Germany, with Ineos stating on its website:
Our 200-strong team of expert engineers started working full-time on the vehicle from our offices in Stuttgart. Fusing British design with German engineering precision.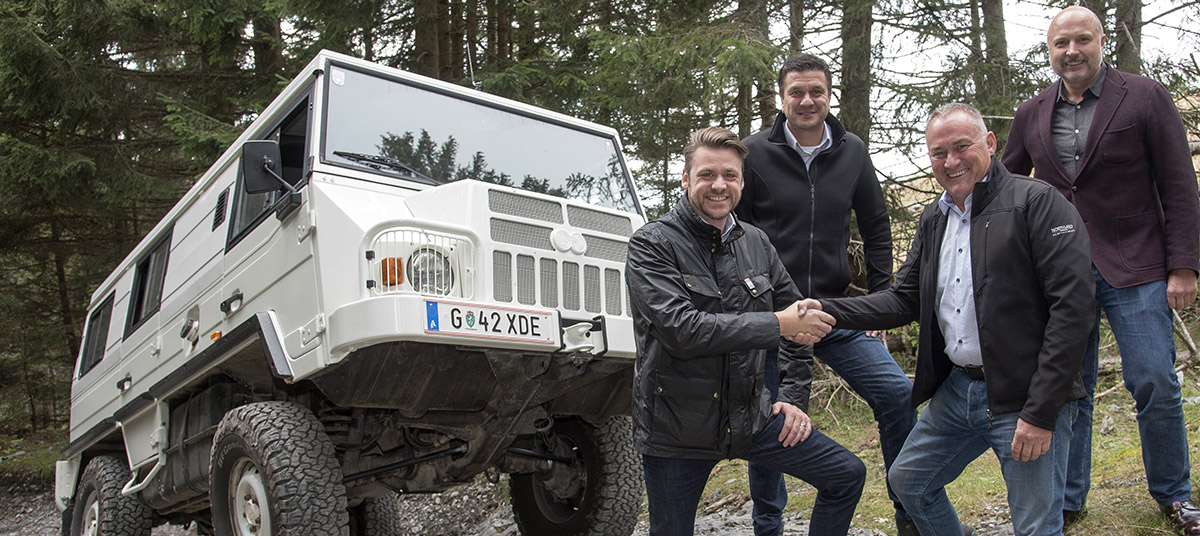 As the vehicle's timeline transitioned from prototype into production-intent vehicle, Ineos teamed up with legendary Austrian off-road vehicle builder (and builder of numerous non-off-road vehicles like my 1994 Chrysler Voyager diesel (5spd!), Magna. From Ineos:
Dirk Heilmann, Chief Executive Officer of INEOS Automotive, confirmed: "The transition from concept to series development is a major landmark in the evolution of the Grenadier. We're pleased to have Magna, with their long heritage and experience in 4X4 development, with us for the next stage of the journey. With our production plans recently confirmed, we now move into all-important series development and start to set our sights on the start of production."
But unlike the Mercedes G-Class and Pinzgauer (shown above), the Ineos Grenadier is not built at Magna's facility in Graz, Austria. No, Ineos acquired an old Mercedes plant in the town of Hambach, on the border of France and Germany (just south of the town of Saarbrücken).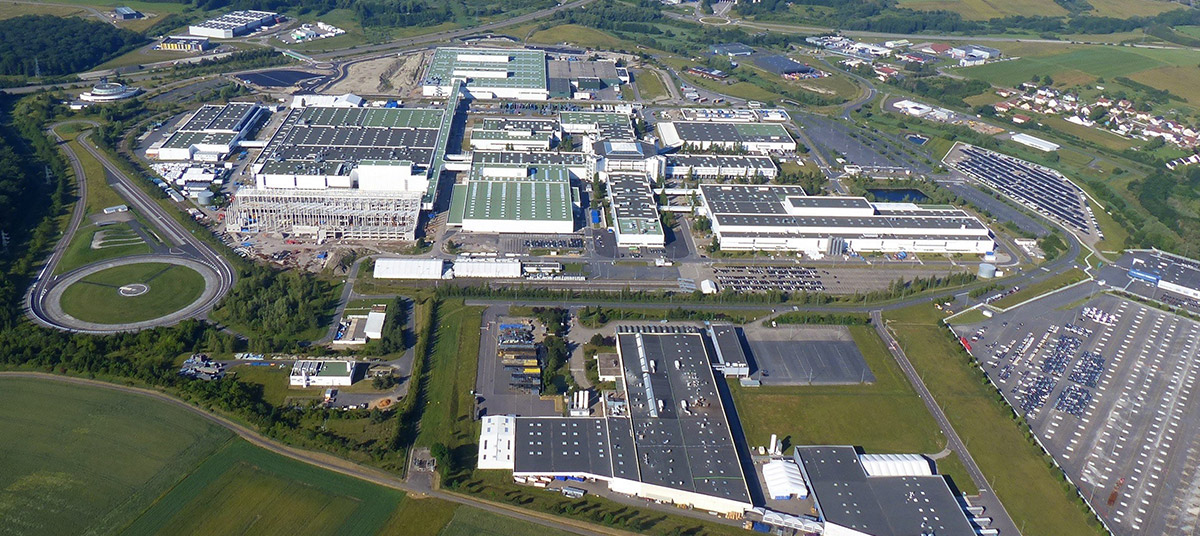 The setup in Hambach as actually quite interesting; Ineos is helping manufacture Smart cars! Here, allow Ineos to explain:
Under the terms of the acquisition, Mercedes-Benz will contract INEOS to continue to produce the smart EQ fortwo and some Mercedes-Benz components at Hambach. When combined with INEOS's plans for the Grenadier, this translates into some 1,300 jobs at Hambach, including commitments to onsite suppliers.
Anyway, enough background, let's get into some tech, and then talk about how this vehicle drives.
Let's Look At The Tech
Ineos's representative is pumping diesel into the Grenadier's 23.8-gallon tank, which feeds a 3.0-liter BMW turbodiesel mated to a ZF eight-speed automatic transmission with a "heavy-duty torque converter." The engine makes around 250 horsepower and 405 lb-ft of torque, while an also-available 3.0-liter turbocharged gasoline inline-six from BMW offers about 280 horsepower and over 330 lb-ft of torque.
From the ZF transmission, the BMW engine's torque goes through a Tremec-built full-time four-wheel drive transfer case with a 2.5:1 low-range ratio and an integrated center differential (and differential lock). From there, torque goes through a pair of driveshafts to solid axles built by Italian tractor-builder Carraro. Yes, you're reading that right: Ineos got axles from a literal tractor manufacturer; that's pretty badass if you ask me. In fact, Ineos's representative told me that Sir Radcliffe visited Carraro, who was presenting an axle to him for use in the Grenadier; per the rep, Sir Radcliffe looked off to the side and saw another axle and said "I want that one." Apparently the man knows what he wants.
The suspension is an off-roader's dream. You can see the solid axle above, with a rather flat center differential housing, which is something I don't think I've ever seen on a production vehicle.  That's nice and compact and high off the ground. Everything appears well protected, with no low-hanging shock mounts (they, along with the lower control arm mounts, appear to be roughly level with the bottom of the differential, which is tucked up high).
You'll also notice that there are no ball joints to allow the wheels to turn left and right; instead, the Grenadier's axle uses kingpins, which were found in old Jeeps (like the 1948 Willys CJ-2A that I owned), and in some of the most hard-core off-road builds ever. You'll find kingpin axles underneath some of the biggest, baddest Jeep builds at Moab, the Rubicon Trail, the Badlands, and many other off-road parks. In fact, Dana offers a kingpin modification for Jeep Wrangler JK axles (see above). Here's a quote from Dana:
Our kingpin knuckles have developed quite a loyal following and now we can provide them with complete kingpin knuckle kits so they can replace the ball joint assemblies to customize their Jeep vehicles, adding strength and stability.
As for the suspension design, what you're looking at above is a significant improvement over the Land Rover Defender's three-link "Radius Arm" suspension, which tends to bind up quite a bit when the axle is trying to articulate as the vehicle goes over uneven terrain. Both designs utilize coil springs, but unlike on a radius arm suspension, the Ineos's five-link design — pioneered by Jeep with the introduction of the 1984 Jeep Cherokee XJ — mitigates axle roll by adding two additional links (upper control arms) to the two lower arms (the track bar that holds the axle laterally is the fifth link).
Radius arm suspensions include only two control arms in total (and also a track bar); each control arm grabs the axle tube in two spots, usually one above and one below the axle tube centerline. This reduces axle twisting (axle wrap) under braking and acceleration, but it tends to want to twist the stiff axle tube under articulation, binding up and limiting wheel travel. Short arm five-link suspensions also bind at a certain point, but they're known in the off-road community as offering the ultimate blend of street-ability and flex. (To be clear, plenty of Radius Arm suspensions flex quite well, but a five link is generally considered an improvement in this area).
The Ineos Grenadier's belly is well protected, with the cast aluminum transfer case housing tucked up above a sizable crossmember/skid plate. The fuel tank also features a ribbed skid plate, and the rear diff also looks well protected with a nice skid plate:
The entire rear end is covered in steel, with the muffler protected and the only remotely vulnerable part being the short tailpipe.
As for the body, it's made of a blend of steel and aluminum.
Hardware wise, the Ineos is an off-roader's dream. It's got a beefy ladder frame, five-link solid front and rear axles, a torquey 3.0-liter turbodiesel, a competent eight-speed automatic transmission, lots of underbody protection, a low-range gearbox, locking front and rear diffs, and a big fuel tank.
It's Not That Bad On-Road, It's Sensational Off-Road
The Ineos Grenadier has an old-school key; throw that into the ignition just to the right of the steering column, and a bunch of lights show up on the dash.
You have to wait a moment (presumably the engine is warming up?), then you can turn the key and the diesel fires up.
Much of the information you'd want to see while driving is actually not just ahead of the steering wheel, but rather to the right on the center stack-integrated infotainment screen. Here you can see vehicle speed and gear position on the right:
Speaking of gear position, the shifter is a typical BMW gear lever:
The shifter works well; the transfer case lever, shown on the right, is a bit chunky and requires some getting used to, but it does allow for shifting from full-time four-wheel drive to part-time (i.e. it locks the center differential) while driving. You simply yank the lever to the right, and boom, your front and rear driveshafts are locked together.
Aside from the slightly dainty shifter, the rest of the interior is chunky, and gives off a "mobile command center" vibe. The push-buttons and toggle switches up top (notice the front and rear differential lock switches) — protected by little metal bars to prevent accidental activation — are just cool. As are the simple pop-open windows up top:
You sit up high in the Grenadier, and visibility over the hood is good.
Looking out the rear is a bit more challenging due not only to the spare tire, but especially to the split rear door design.
As the Ineos representative told me, that split rear door allows for quick access to some rear cargo without having to swing aside that big spare. It's clever.
You'll also notice in the image before the previous one that the larger section of the rear door includes an accessory holder that doubles as a table. This accessory is a common one that Lexus GX owners add to their vehicles, so it's cool to see it integrated here.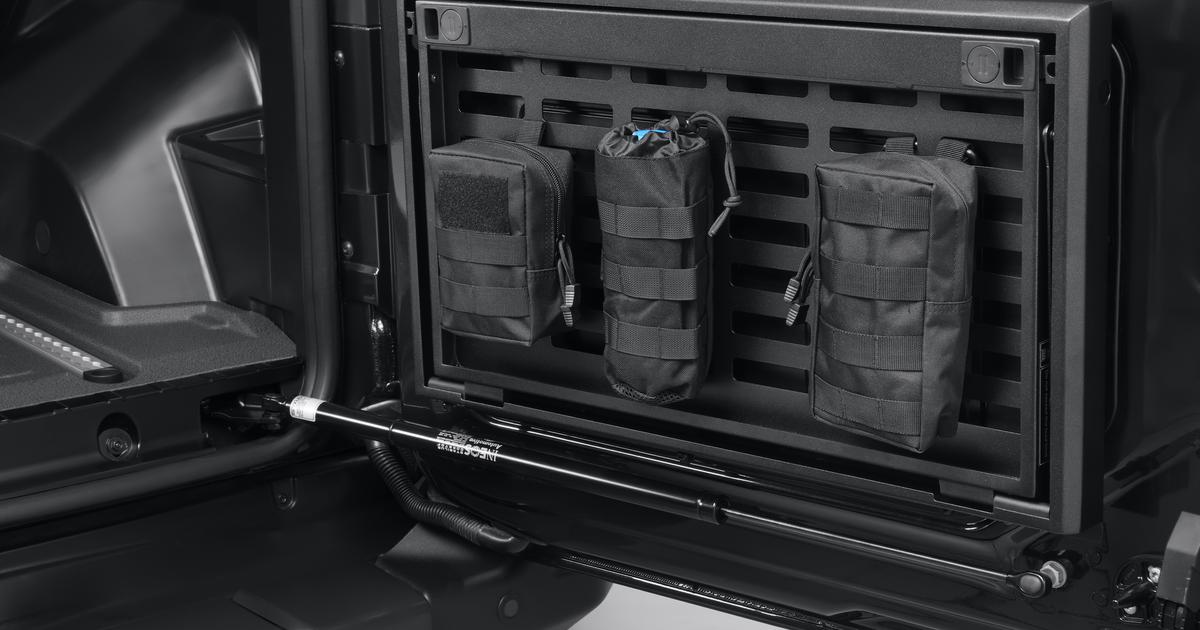 Punching the rightmost pedal quickly puts distance between the truck and whatever was in that split rear window, but not too quickly. The Grenadier weighs nearly 6,000 pounds, after all, so 250 horsepower isn't going to leave any rubber stripes on the pavement, but the 405 lb-ft of grunt made it clear that the machine was going to go where that nose is pointed, no matter how steep a grade. The power comes in a wave, forcing the vehicle ahead with confidence, even if the whole event is a bit more gradual than it is exciting.
If I had to guess, I bet most car reviewers are saying the on-road handling is atrocious, but as a seasoned off-roader who drives vehicles with pretty much this exact same suspension setup, I'll say the Grenadier's on-road ride is acceptable, all things considered. Body roll is a little less than you'd expect, but the old-school recirculating ball steering box pushing those knuckles via a drag link and tie rod yields a bit of wandering. So you have to make some steering corrections every now and then to keep the truck going where you want it. It's something I'm long inured to, but something that the layperson would definitely have to get used to.
The ride, no doubt aided by the long 115 inch wheelbase that means a bump doesn't force the whole SUV to pitch up and down, isn't bad. It handles expansion joints and cobblestones just fine, and overall, comfort of those Recaro seats seemed good. I also found the Brembo brakes adequate during my short drive; nothing weird going on there.
The wandering steering could maybe be dialed in a bit better, but in some ways it's just a byproduct of a solid front axle design, which pays dividends off-road. The Ineos Grenadier is a top-tier off-road beast. Its suspension is tough, and allows for solid wheel articulation over uneven terrain. What's more, the vehicle's short overhangs yield excellent approach and departure angles of 35.5 and 36.1, respectively. Over 10 inches of ground clearance and, specifically, the way the transfer case and exhaust are tucked high up into the frame, mean the breakover angle is great given the vehicle's size: 28.1 degrees. For reference, the Wrangler Unlimited Rubicon has a better approach (about 43 degrees), a similar departure angle, and a worse breakover angle at less than 23.
The BFG all-terrains gripped the dirty trail in the countryside outside of Frankfurt. The steepest ascent spun out a rear tire, but a quick push of the transfer case lever to the right locked the center diff, and sent power to the front axle, and the Grenadier climbed like a mountain goat.
I couldn't see a damn thing as I crested the hill, though:
Obviously, my phone holder shown in the image didn't help, but the big issue with a rather large vehicle like the Grenadier — which does have decent forward visibility, but still has a high hood — is that seeing ahead of of the vehicle as it crests a hill is extremely difficult. Modern off-roaders combat this issue by offering a camera somewhere on the front fascia; this should be standard on the Grenadier.
What I'd also like to see as standard equipment is a disconnecting sway bar. The Grenadier's axles articulate well enough, but I have no doubt that an electronically disconnecting sway bar would increase that flex markedly. Were I to buy a Grenadier, I'd just make some sway bar quick-disconnects; Jeep folks have been doing that for years. It's easy enough, and results in a setup that disconnects the sway bar with nothing but the pull of two pins.
The Grenadier's overhead switchboard includes an "offroad" mode, which turns off electronic nannies and lets you take your seatbelt off without the vehicle beeping at you! This is just awesome, as sometimes you need to hop and and out of your vehicle numerous times as you navigate terrain.
The wading mode shuts off the vehicle's cooling fans so you can hit some deep water without those fans bashing against the dirt fluid, possibly over-stressing the fans, and splashing water onto underhood components. Clever!
I won't pretend that I reached even 10 percent of the Grenadier's capability, but as an experienced off-roader, I can tell you that it had a lot left in the tank. The open center diff means the large vehicle can make tight turns off-road (well, tight-ish, as the steering radius isn't amazing — its 44 foot turning circle is about 5 feet larger than that of a four-door Jeep Wrangler), the underbody is incredibly well protected, the overhangs mean you can get up and down steep obstacles, and the tucked-up belly means cresting steep hills is no trouble. The axles flow beautifully over the terrain, the transmission works beautifully in concert with the torquey diesel to just walk the heavy beast up and over whatever is in the way.
The Grenadier is an incredible off-road beast. But it's not perfect.
Getting in on the passenger's side is no trouble thanks to a grab handle, but that's not there on the driver's side, and using a steering wheel to get in is awkward and fairly useless if the car is on (since the wheel will spin). Also worth noting is that the rear camera quality is not great:
My old off-roaders don't have any cameras up front and out back, but my vehicles have much spindlier pillars. Plus, it's 2023; it shouldn't be hard to get some good cameras in there to improve off-road visibility, which is quite important.
So ingress, visibility, and lack of a sway bar disconnect are definitely areas where the Grenadier could see some improvement, but the biggest issue is unsolvable at this stage in the vehicle's development: It's just too damn big. Here, I'll paste in that graphic again that showed the vehicle's dimensions:
It's not just the fact that the Grenadier weighs almost 6,000 pounds, making it more prone to being stuck and remaining stuck, it's also its dimensions. The Grenadier is 193 inches long, 81 inches tall, and 76 inches wide. That's almost five inches longer, over seven inches taller, and over two inches wider than a four-door Jeep Wrangler.
My biggest issue with the Grenadier is the distance between the rocker panel and the top of the roof. Ten inches of ground clearance is decent, but for a vehicle this long, I'd want to get those rocker panels a little higher off the ground. Look at the image above, and it doesn't quite look ideal. The vehicle needs about a two inch lift and and slightly larger tire than the 265 70R17 (32-ish inch) tire on it. A small lift and 33s would be an improvement in my eyes, and given the Grenadier's solid axle setup, a lift wouldn't be tough to do, but because the roof is so high, I'd be concerned about making an already tippy vehicle even tippier. I've mentioned this critical rocker-to-roof dimension before:
If you look at the Ineos side profile, especially in the brochure image showing the vehicle's dimensions, you'll notice that the rocker panel has been blacked out. Maybe this was done to minimize scratches to blue paint while off-roading, but I suspect it was done to reduce visual "weight" of that side profile. My colleague Jason Torchinsky raised that rocker panel a bit and modified the bumpers to fit, and in my opinion, I think it makes the vehicle looks tougher and definitely more capable:
There seemed to be a few minor bugs with the Grenadier's electronics (some of the lights on the panel just ahead of the steering wheel didn't turn off when they should have), and there's that footwell issue on the right side that I'm sure every journalist — especially in the UK — has mentioned:
Legroom in the back is also not great, and the seat is basically upright, making the bench quite uncomfortable.
This, the Ineos rep told me, is the case only on the cargo model, which — in order to avoid heavy taxation in certain European countries — must have a giant cargo space. This reduces second-row room. Ineos offers a non-cargo version that improves second-row comfort.
So the Grenadier is a bit big, a bit heavy, its steering radius isn't amazing, it could use a front camera, its rear camera could use some improvement, I wouldn't mind a sway bar disconnect function, there are a few bugs here and there, and getting in isn't particularly easy for the driver, but I just don't care.
View this post on Instagram
The Ineos Grenadier is an off-road dream. It's built exactly how an off-road enthusiast would build an overlanding machine. It has a ladder frame, solid axles, a great five-link setup, a torquey diesel engine, tons of underbody protection, and just clever features throughout (see above). It's imperfect, but I'm glad it exists. The fact that one can buy one of these things for $85,000-ish is just awesome.
I drove the Ineos Grenadier at the German Car of the Year event.