The process of ordering delivery pizza hasn't changed much since its inception probably over 100 years ago. You order a pie, someone makes it, and someone else delivers it to your watering mouth. Vehicles have allowed deliveries over longer distances but aside from some notable occasions, your driver will be in some normal car, scooter, or perhaps bicycle. Note that I said "some" there, because some pizza retailers, like Domino's, haven't been afraid to experiment with the pizza delivery vehicle. Back in the 1980s, the pizza chain commissioned the ultimate pizza delivery vehicle from a small Michigan firm. The Tritan A2 is a trike that promised a thrifty 80 mpg thanks to a rotary engine and a slippery 0.15 coefficient of drag. The trike didn't revolutionize pizza delivery, but you can buy one of the 10 built today!
This find comes to us from reader Hugh Crawford, and it's making my weird piece of history meter read off of the charts. Domino's Pizza started off as a single shop in Ypsilanti, Michigan, in 1960. That first shop was called DomNick's and over the years, the brand has grown into a chain pizza giant. In recent years, Domino's refined its recipes, though for a rare hot take you'll read from me, I think the peak Domino's taste was in the mid-2000s. Anyway, back in 2015, Domino's unveiled the DXP (Delivery Expert) car.
Developed with Local Motors and built by Roush, the Domino's DXP was a Chevrolet Spark with a pizza oven where the backseat used to reside and a drink carrier where the front passenger seat would normally be.
Most recently, the company partnered up with robotics company Nuro to create an autonomous pizza delivery robot. Both of these ideas are supposed to get you a pizza as quickly as possible and as hot as possible all while being a good marketing exercise. But these two vehicles aren't Domino's only attempts to make pizza delivery faster and more glamorous. Back in the 1980s, Domino's once saw the future of pizza delivery happening with extremely aerodynamic trikes with rotary engines.
A Practice Over A Century Old
Before I continue, I should talk about why Domino's seems to care so much about pizza delivery. The history of pizza delivery goes back well over a century. It seems like there isn't a definitive "first pizza delivery," but an often-told legend is that of when King Umberto I of Italy and Queen Margherita of Savoy visited Naples in 1889. Apparently, the Queen fell ill to some bad food and requested some local Italian cuisine. Of course, there's no way the King and Queen were going to a restaurant; the food was to be brought to them!
Reportedly, Chef Raffaele Esposito took on the mission, baking a pizza with mozzarella, basil, and tomatoes. Together, they resembled the colors of Italy's flag. This was the birth of the Margherita pizza and Chef Esposito delivered the pizzas himself.
At any rate, takeout pizza took off after World War II. Soldiers wanting their own pizzas could visit pizzerias and find that they could take a pizza home in a box. Bigger cities like New York City and Los Angeles even offered delivery to the immediate surrounding areas. As the Atlantic reports, dozens of inventors have tried perfecting the art of boxing and transporting pizzas. Domino's made a corrugated pizza box in the 1960s, but allegedly didn't patent it. The Domino's box was a leap forward with its stackable flat-pack design.
Pizza delivery by car began to take off in the 1960s along with a rise of car ownership. This is reportedly where the promise of a pizza in "30 minutes or less" originated. And in the 1990s, the internet once again evolved how people ordered pizzas.
Tritan Ventures
There is limited information that can be easily found out there about Tritan Ventures. If you search the business, your first result is a cosmetics and refrigeration company based in the Philippines. Dig a little deeper and you'll find a Tritan Ventures, Inc. incorporated in Ann Arbor, Michigan in 1984 by Douglas J. Amick. According to an owner of a Tritan A2, Amick was an aeronautical engineer and had been experimenting with trikes for years. In 1969, Amick asked his father, James L. Amick, for an ice boat. Amick's father came up with a trike with a rigid airfoil sail on it, making a wind-propelled vehicle. This vehicle had runners at first, which were eventually swapped out for wheels. Allegedly, the "Windmobile" could travel up to five times the speed of a crosswind.
A later project was the Tritan Aero 135, an 800-pound aerodynamic trike powered by a 390cc 14 HP Tecumseh riding lawnmower engine. Apparently, this one-off vehicle sported a coefficient of drag of just 0.135 and scored 75 mpg. The Tritan Aero 135 was tested by Car and Driver and published in a November 1982 issue of the magazine. Allegedly, Car and Driver billed it as "An Answer to a Question That Nobody's Asking," though I could not find a version of the issue uploaded online.
According to the Dayton Daily News, Douglas Amick was once stopped by police in the Tritan Aero 135 after the sheriff received reports of a plane landing on an expressway. At the time, Amick targeted a price of $6,400, or $20,640 today. Two years later, the younger Amick was still at it, dreaming up a super aerodynamic and efficient vehicle.
The Tritan A2
As Hemmings writes, the design goals of the A2 called for a vehicle so light and so aerodynamic that only a small engine was needed to propel it. The lack of drag combined with a tiny engine would translate to fantastic fuel economy. Remember, this was the 1980s, so fuel efficiency was very much in vogue.
At the heart of the Tritan A2 is a fiberglass monocoque shell. Under it, you'll find three wheels, which help make the vehicle compact. At the rear is the Amick Arch, a sort of wing said to increase stability. The Amick Arch is also supposed to help move the Tritan A2 along by acting like a sail in a crosswind. The sleek body–which you'll note doesn't have any doors–slices through the air with its 0.15 coefficient of drag. To illustrate how huge of a deal that was, Hemmings compares the Tritan A2 to the day's Toyota MR2, which had a Cd of 0.35 while a C4 Corvette nudged out a Cd of 0.33. Toyota says that one of the new hot Prii have a Cd of 0.27 and the best Lucid Air is a slippery Cd of 0.197.
Going back to the lack of doors for a moment. Getting into and out of a Tritan A2 involves sliding the upper portion open and closed like an aircraft canopy. A standard A2 was supposed to come with two seats in a tandem arrangement.
Powering the Tritan A2 is a Savkel SP-440 single-rotor 440cc Wankel engine produced by Savkel Ltd (also known as Syvaro), an Israel-based company that produced industrial engines. This engine produced 30 HP and it reportedly returned up to 80 mpg when housed in a Tritan A2. In terms of performance, an A2 can hit 62 mph in about 17 seconds and reach a top speed of 95 mph. Power is delivered via a belt-driven CVT. Given the vehicle's low weight of 899 pounds, that's believable. That weight figure is on par with a touring or cruiser motorcycle.
The Tritan A2 design was enticing to Domino's, which reportedly ordered ten of them for testing at select locations. The pizza giant was apparently planning on rolling these out nationwide. Some sources report that all ten examples had their rear seats replaced with pizza warmers, and that those pizza warmers were removed at the end of Domino's testing. Archived photos show those ovens installed. If you're curious what it sounds like, click here to hear it. Sadly, the video won't embed on our site.
In theory, these trikes would have been great pizza delivery vehicles. A pizza delivery vehicle doesn't need to go fast, but excellent fuel economy means you can save a bit on expenses. Plus, a customer is absolutely going to talk about watching their delivery driver hop out of something that looks like a hovering spacecraft. The trike configuration also meant that the Tritan A2 would be classified as a motorcycle in many jurisdictions.
Domino's ordered each A2 for the price of $15,000, or $43,240 today. It's not known exactly why Domino's canceled the program, but the 10 A2s would end up in the hands of various museums, starting with VIN 001, which ended up in the Pioneer Auto Museum in 1986. As for Tritan Ventures, it dissolved in 1988.
This 1984 Tritan A2
What we're looking at today is VIN 005, located in Arroyo Grande, California. It's up for grabs on eBay in an auction that has 7 days remaining. As of writing, bidding is at a very affordable $4,545 with 22 bids in. The seller states that this Tritan A2 has been restored and its original Savkel rotary is running.
The odometer in the cockpit shows 158 miles and the VIN plate states that it's classified as a motorcycle. Sadly, there is an empty space where the rear seat should go, so this is strictly a single-seater.
Keeping this trike alive is bound to be a challenge. Given the fact that Tritan has been dead for at least 35 years, I wouldn't expect to find replacement parts. As for the engine, Savkel's assets were sold to Freedom Motors a long time ago. Those assets, among others, were used to create the company's Rotapower series of engines. So, I suppose in a worst-case scenario you could get an engine that's close enough to original. You even get a custom trailer with the purchase of this A2.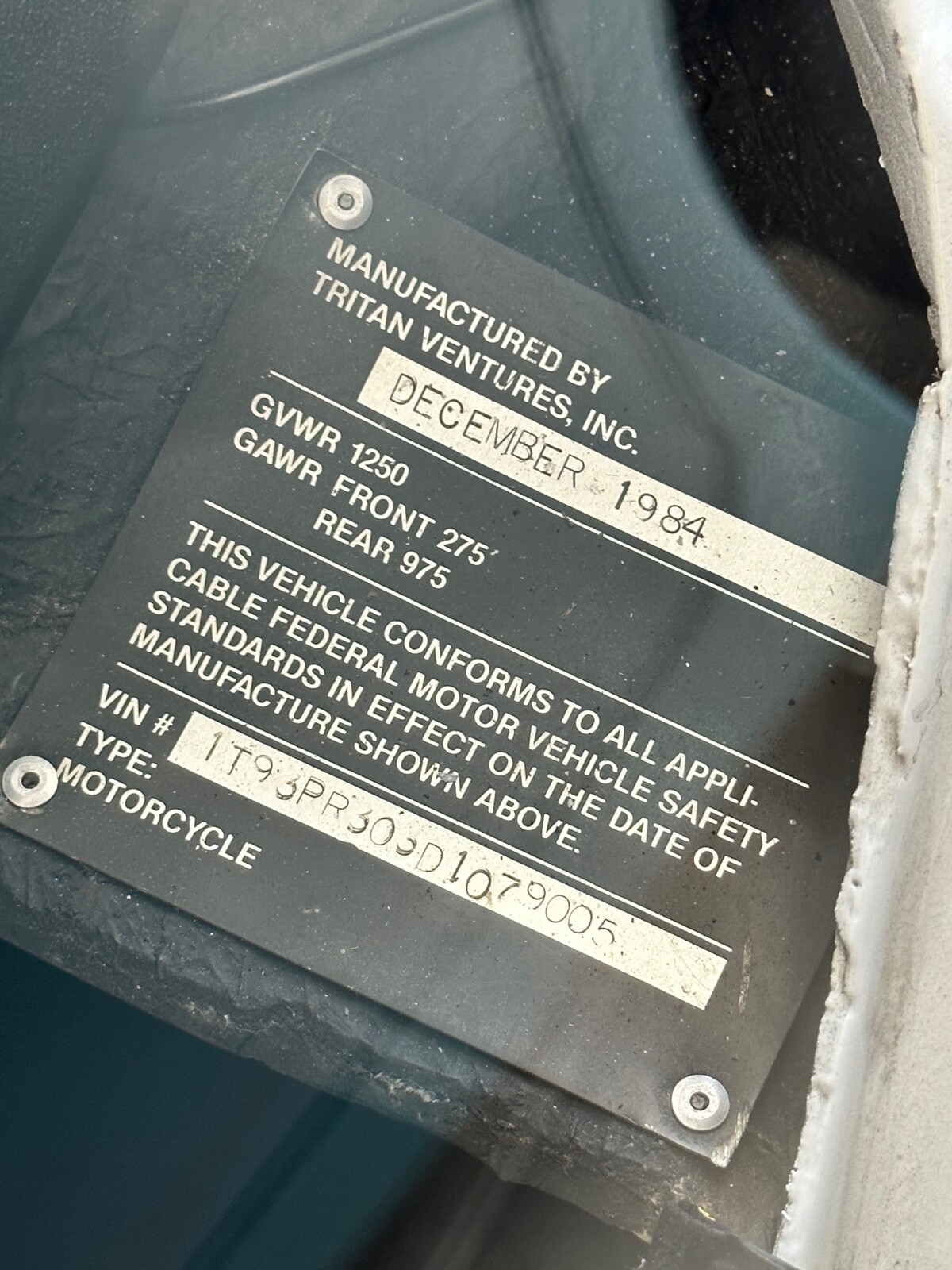 Either way, in buying this Tritan A2, you're getting both a weird piece of pizza delivery history alongside a rare and very obscure piece of vehicle history. It's one of those vehicles you can roll into a Cars & Coffee in and nobody is going to know what it is. If that sounds alluring to you, head over to eBay and place a bid on it. If you buy it, we would love to drive it!
Support our mission of championing car culture by becoming an Official Autopian Member.