The strike between the United Auto Workers union and the "Big Three" American car companies — Ford, GM, and Stellantis — has been underway for 41 days, with workers picketing in front of major manufacturing plants demanding immediate wage increases, cost-of-living adjustments, an end to a "tiered" system of employment, a better retirement package, and more. Now, finally, just after the union began the most aggressive phase of the strike — picketing in front of Stellantis and GMs' most profitable plants, the pickup truck plants in Sterling Heights, MI and Arlington, TX, respectively — Ford has come to a tentative agreement with the UAW, apparently to avoid a similar fate as its two competitors. Here's what we know about the agreement.
As UAW president Shawn Fain and VP Chuck Browning say in the clip below, the tentative agreement is all about ensuring that "record profits mean record contracts" — a reference to the Big Three automakers raking in cash over the past few years. ""We told Ford to pony up, and they did. We won things nobody thought… possible. Since the strike began, Ford put 50% more on the table than when we walked out," Fain says. "This agreement sets us on a new path to make things right at Ford, at the Big Three, and across the auto industry. Together, we are turning the tide for the working class in this country."
"Thanks to the power of our members on the picket line and the threat of more strikes to come, we have won the most lucrative agreement per member since Walter Reuther was president." That was over 50 years ago. Here are some of the details, per the UAW's press release:
The gains in the deal, as outlined by Fain and Browning, are valued at more than four times the gains from the 2019 contract, and provide more in base wage increases than Ford workers have received in the past 22 years. The agreement grants 25% in base wage increases through April 2028, and will cumulatively raise the top wage by over 30% to more than $40 an hour, and raise the starting wage by 68%, to over $28 an hour.

The lowest-paid workers at Ford will see a raise of more than 150% over the life of the agreement, with some workers receiving an immediate 85% increase immediately upon ratification.
Note that the "lowest-paid" workers refers to temp workers. All Ford workers, the UAW execs say, will receive an immediate 11 percent wage increases at ratification — a figure nearly equal to all contracts since 2007 combined, Browning says. In addition, the wage increases over next 4.5 years are more lucrative to workers than wage increases incurred over the past 22 years combined, per Fain.
Beyond wages, the tentative agreement offers workers cost-of-living adjustments that were apparently lost in 2009, it gets rid of the tier-system at certain plants (more on the tier system in a bit), and it offers more to folks with pensions and 401K retirement plans. Plus, now UAW workers have won the right to strike over a plant closure, for the very first time ever; "They can't keep devastating our communities and closing plants with no consequences," UAW Vice President Browning says. From the UAW's press release:
The agreement reinstates major benefits lost during the Great Recession, including Cost-of-Living Allowances and a three-year Wage Progression, as well as killing divisive wage tiers in the union. It improves retirement for current retirees, those workers with pensions, and those who have 401(k) plans. It also includes a historic right to strike over plant closures, a first for the union.
Record profits mean record contracts. We have a tentative agreement at Ford. #StandUpUAW pic.twitter.com/Z00T5CfQJN

— UAW (@UAW) October 26, 2023
Here's a look at some of the terms of the tentative agreement, in graphical form:
So it's a 25 percent wage increase over the 4.5 year-term of the contract, with 11 percent happening immediately after the contract is ratified.  The lowest-earning temp workers at Ford will get a 150 percent increase in wages, with some at Sterling Axle and Rawsonville getting an 85% increase in wages as soon as the contract is ratified (and wage tiers will be gone at these locations). Over the 4.5 years of the contract, starting wages will jump 68% and the highest earners will see a 33 percent increase, with those figures including cost-of-living adjustment, which itself was a win for the union. Plus, there's now a three-year wage progression which (I think) replaces an eight-year process that full-time employees go through before reaching top pay. On top of these, the tentative agreement "improves retirement for current retirees, those workers with pensions, and those who have 401(k) plans."
We'll have more details soon, but for now, Ford workers are heading back to the plants to build cars as the UAW National Ford Council prepares to meet in Detroit to review the deal on Sunday the 29th. Why? As President Fain puts it: "We're going back to work at ford to keep the pressure on Stellantis and GM."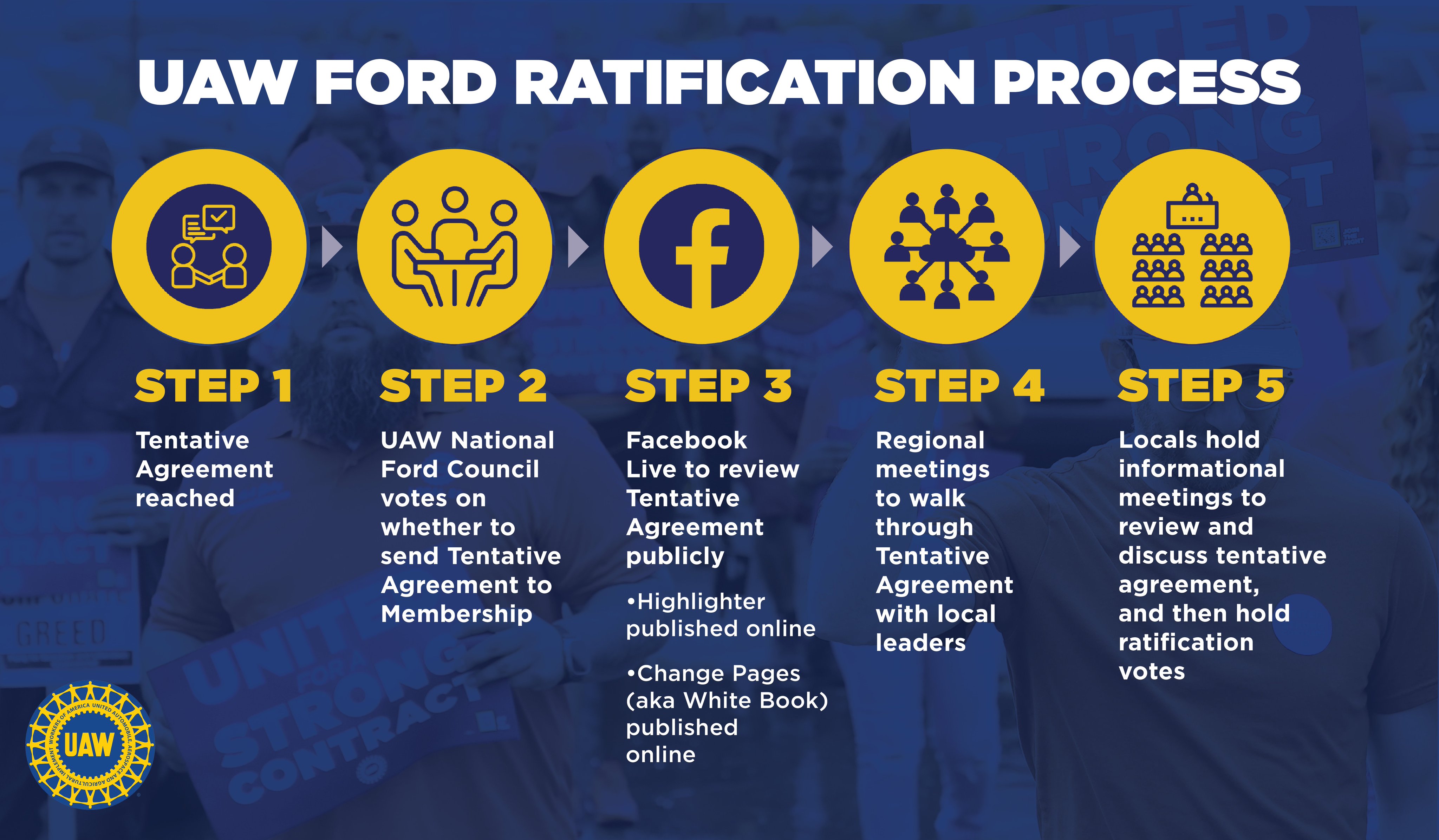 If leaders like the agreement, they'll hold a Facebook Live session to introduce it to members, and then they'll walk through the terms to local leaders, who will talk with members about the specifics of the contract. Regarding the terms of the contract, Fain says: "Our goal is to have those ready and available digitally following the FB live on Sunday night," Fain says in the clip above.
Shortly thereafter, members will vote on whether to ratify the agreement.
View this post on Instagram
The UAW's initial demands included a 40% increase in wages, cost-of-living adjustments, a 32-hour workweek with 40 hours of pay, better retirement benefits including retiree healthcare, the right to strike over plant closures, and the end of a tiered pay system, which I described in my article "I Talked With UAW Workers On The Picket Line In Front Of The Ford Bronco Plant. Here's What They Had To Say." Here's a look at what UAW spokesperson Jim McNeil told me for that story:
He mentioned that one of the key things the Union is fighting against is the tier system. He broke it down for me:

Tier 1: Pre-2007 full-time employees. These folks got a pension and retiree healthcare.
Tier 2: Post-2007 full-time employees. These folks have to make do with a 401K, not a pension plan. These folks, when hired, don't reach a top pay bracket for eight years, and could do the same work alongside a more senior peer while being paid significantly less. Most employees, McNeil told me, fall into this Tier 2 bracket, and therefore lack retirement security.
Tier 3: "Temp" workers. They make $15.78 an hour at Stellantis and $16.20 at Ford, McNeil told me. This is too low, he believes, especially given that "temp" workers could remain "temp" for years. This type of job, McNeil told me, is not secure, and does not include profit sharing.

McNeil also pointed out that, around 2008, when both Chrysler and GM went into bankruptcy and Ford staved it off by smartly getting loans before they became impossible to get, the UAW made significant sacrifices. Now that the Big Three are doing so well financially, the UAW wants a piece of the pie.
Fain and Browning are clearly thrilled that the union was able to win a significant portion of what they initial set out for.
Per the UAW, Ford's offer's value rose 50 percent since the strike began, with the takeaway to UAW members and to the U.S. at large being: Strikes work.
Here's what Ford CEO and president Jim Farley has to say about this new tentative agreement:
DEARBORN, Mich., Oct. 25, 2023 – We are pleased to have reached a tentative agreement on a new labor contract with the UAW covering our U.S. operations.

Ford is proud to assemble the most vehicles in America and employ the most hourly autoworkers. We are focused on restarting Kentucky Truck Plant, Michigan Assembly Plant and Chicago Assembly Plant, calling 20,000 Ford employees back to work and shipping our full lineup to our customers again.

The agreement is subject to ratification by Ford's UAW-represented employees. Consistent with the ratification process, the UAW will share details with its membership.
This article is breaking news, and is thus being updated as we hear more.
All images via: UAW