Holy crap. HOLLLY CRAP. I cannot believe what I just experienced in Munich: The greatest hotel in the history of humankind. It's called "Motor World," and it's a reasonably-priced, nice hotel embedded inside an incredible automotive universe that is accessible 24 hours a day. I'm legitimately in awe that such a place exists, because it was the most fun I've ever had in a hotel by far. Here, let me show you.
I was just in Germany driving cool cars for the German Car of the Year showdown, and also hanging out with my parents, who live just outside Nürnberg. It was a great time. I met an amazing Jeep fan in the Alps, and stopped by his incredible alpine restaurant. I spotted some beautiful cars on the roads. I got to drive my diesel, manual Chrysler Voyager Minivan. I did some great hiking. It was nice. And one of the highlights was Motor World.
Motor World was actually recommended to me by Kathrin Buchmann, who — together with her husband Rainer — are the genius minds behind the incredible Porsche tuning house bb-Auto. I'd just met the duo at a great car museum/storage area/event venue called Klassikstadt in Frankfurt. Here's a short peek at that, if you're curious:
I met the Buchmanns while hanging out with Autopian cofounders and the folks who run Galpin Motors Beau Boeckmann and Jeff Skobin (also, a friend who wants to remain anonymous):
Frankfurt Schnitzel ain't Munich Schnitzel, but it ain't bad! (In my opinion, Jaegerschnitzel shouldn't be breaded, but, again, it ain't bad!):
Anyway, I followed Mrs. Buchmann's advice, and booked a night at Motor World in Munich for 103 Euros — honestly, a great price for a not-crappy hotel.
The location was actually clutch, as I was driving my diesel manual Chrysler Voyager — a vehicle banned from Munich's "Umweltzone" or "Environmental zone." Also called a "green zone" in other cities, this part of Munich requires a special emissions sticker/permit, which my old diesel van is ineligible for due to its rather NOx-y and soot-y nature.
The Outside of Motor World isn't the prettiest. The grass isn't in amazing shape, and the parking lot has lots of weeds growing between the bricks. The building itself, an old train depot, is vast, but far from an aesthetic wonder. Still, if you're looking for a beautiful hotel, you need only to walk through those doors and behold this:
Lovely aroma emanates through the air as bakeries and high-class restaurants sit adjacent to car showrooms, car merchandise shops, automotive displays, car-themed conference rooms, and on and on. A beat put on by a DJ set the tone for what may be the real-life Autopia:
Right away, I noticed a desk made out of the front end of a truck:
In the lobby I saw some vintage gas pumps:
Here's a car-themed merch store:
There was some great automotive artwork just as I entered:
Oh, and the dining establishments inside were amazing:
Check out these little chocolate Fiat 500s, Mercedes AMG GTs, Porsche 911s, and Lamborghinis!:
If you need sugar for your coffee, you grab it out of an old oil can:
Or you can grab it out of a VW Bus:
Anyway, before I explored much more, I checked out the room, which was on the second floor (labeled as first upper-floor, or 1, in Germany), requiring use of the greatest elevator ever:
View this post on Instagram
That's right; when the elevator lifts or lowers, a sport-car engine can be heard revving over the loudspeaker; can anyone identify that engine note?
Upon exiting the elevator, I was greeted with the nice photo of a Porsche 356.
The hallway to my room featured F1 cars, arrows, and stop signs.
The room itself featured a small motorcycle picture on the wall (shown in the Insta clip) and a huge car-themed mural behind the television.
Otherwise, the room was fairly standard, though quite nice in my opinion given the price I paid.
Now, before some of you get too disappointed, I'll reiterate that this was the cheapest room at the property, and that you can get much, much cooler rooms, including one that allows you to see your vehicle on the other side of a pane of glass! Check this out!:
If if you're into Motorcycling, you can also park your bike within sight of your bed:
Would I pay $400 to look at my diesel, manual Chrysler Voyager while I sleep? Umm, maybe? It's pretty awesome, but what's even more awesome — and something I'm sure many of you were going to ask about — are car-themed beds. While these are not available at Motor World in Munich, they are available at Motor World in Stuttgart. Check these out!: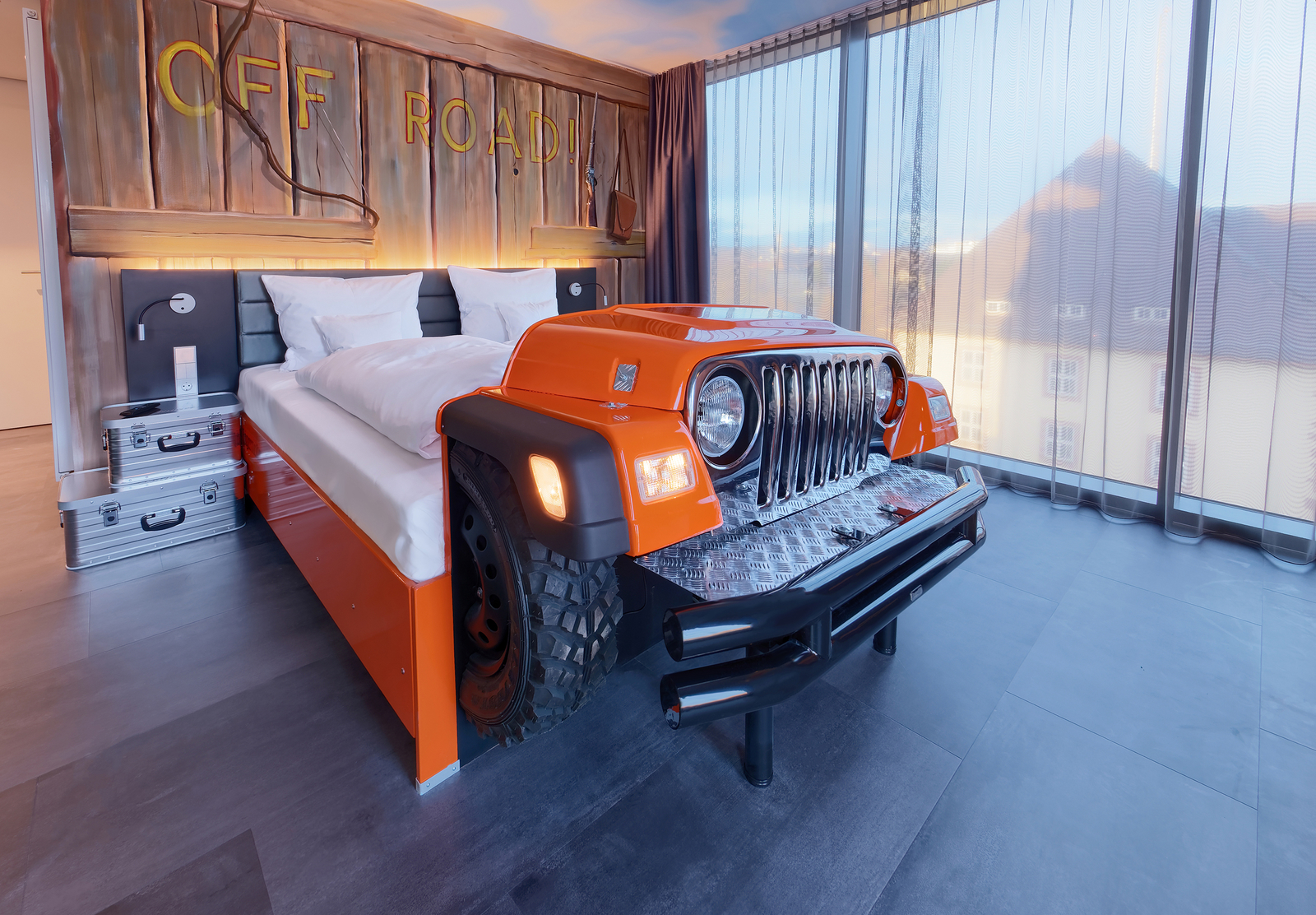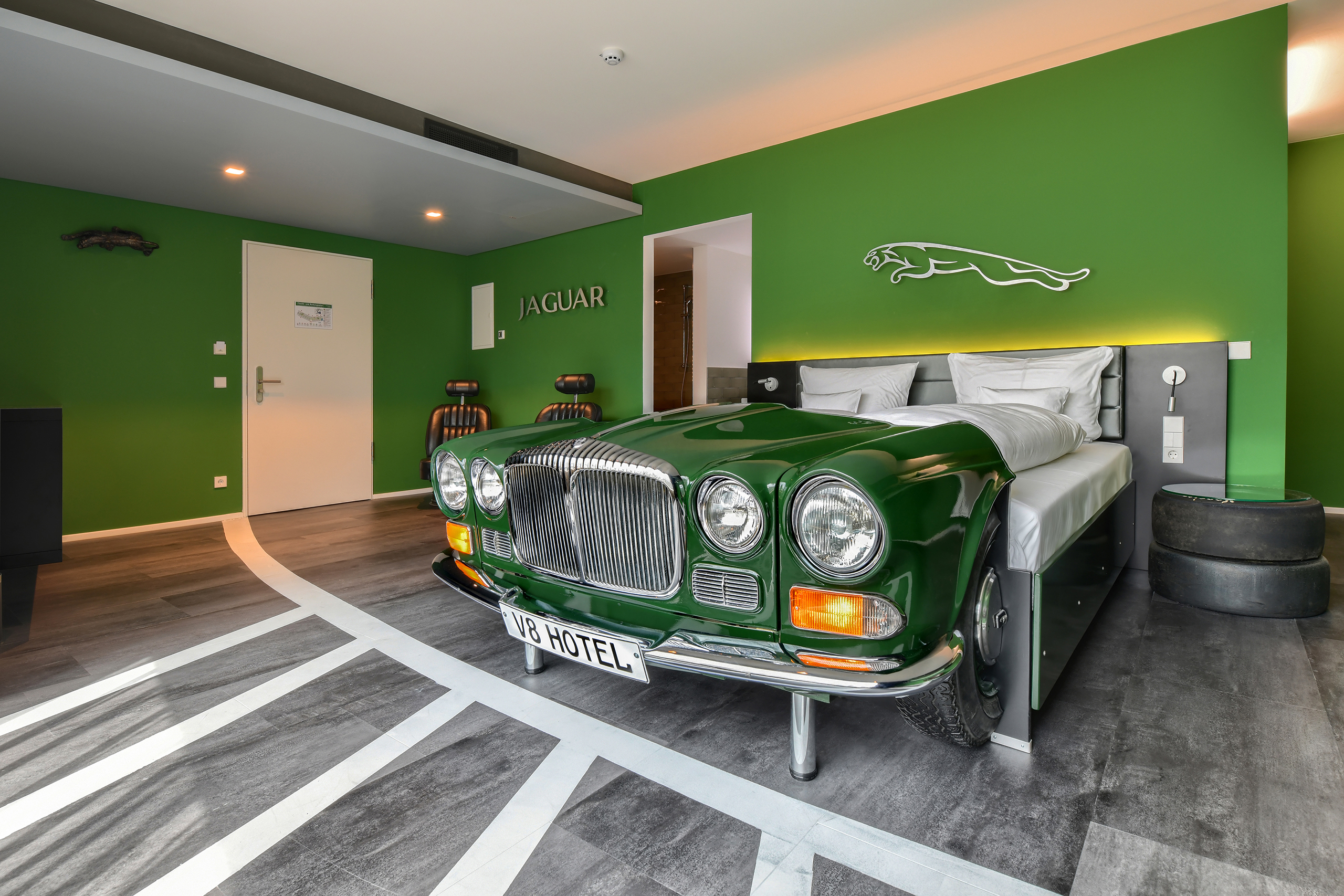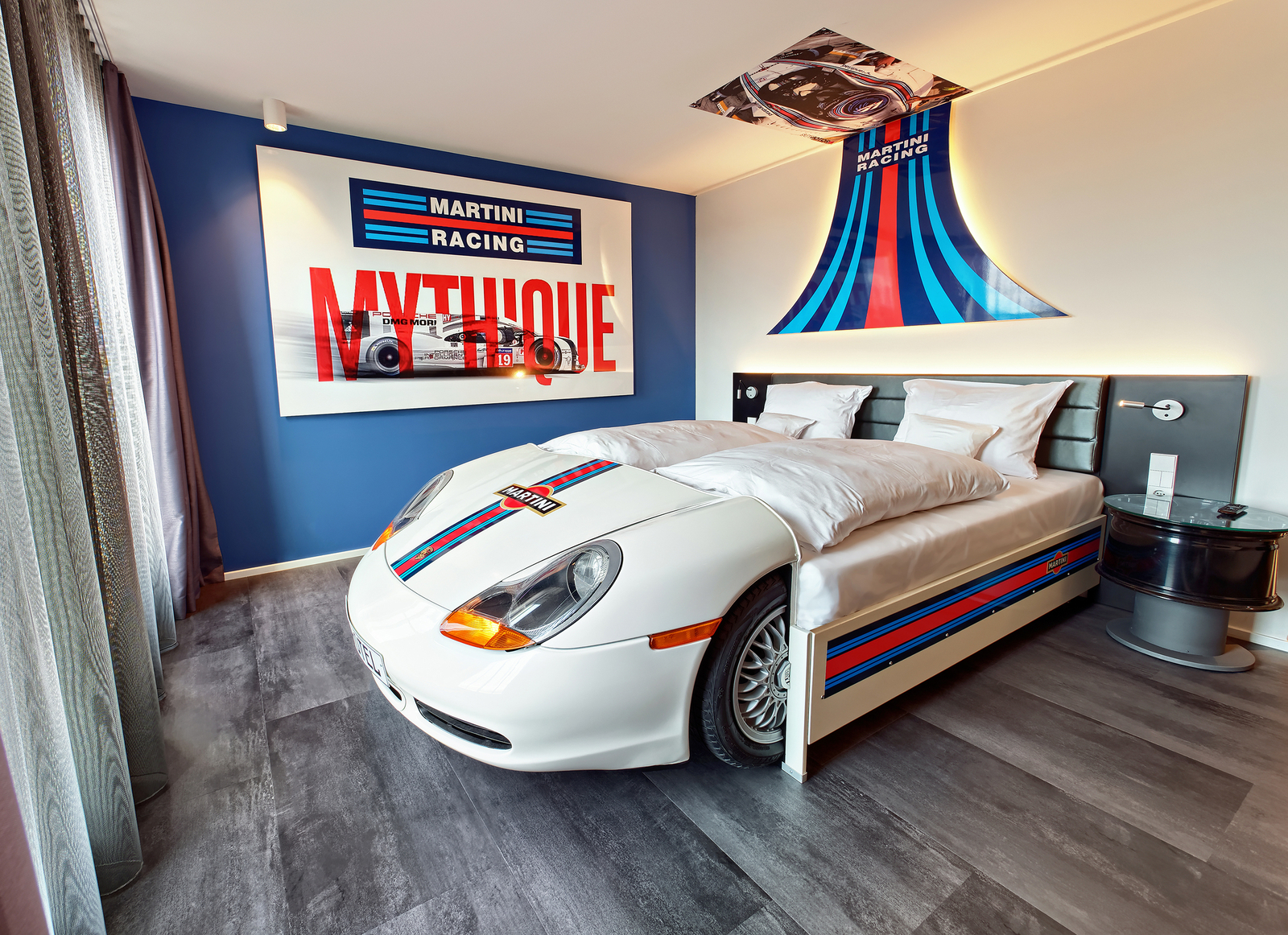 What's wild is that a night in one of these rooms is only about 155 Euros, or about $180. Not terrible!
"Wait, there's more than one Motor World?" you ask? Yes, indeed. There are Motor Worlds all across Europe, it turns out!:
Anyway, let's get back to the one I stayed at in Munich.
View this post on Instagram
View this post on Instagram
The way it was set up was, the hotel was on one side, up high, while cars sat down below and also in a tall glass storage area that I'll show in a second. You can see the hotel on the left side of the image below:
Here's another vantage point, with the hotel at the top right of the image:
Notice how the hotel is meant to look like a train. That's because, as I previously mentioned, this building was once a train depot:
Here you can see some old photos of the location, with the hotel in the background:
Exploring a bit, I found conference rooms with racing seats:
This one's themed after some kind of train depot control center:
I found helmets from famous racing drivers:
Here are some autographs from famous drivers:
The public bathroom is checker-flag themed, with race car photos and a sink wrapped in a literal car tire:
I found an oil dispensing machine:
I sat on a wrench-bench!:
The bench itself is made of gears, brake pad backing plates, vice grips, bolts, and more hardware. The adjuster screw is a coil spring!:
Plus there were car-themed quotes all over the place:
Above all, there were cars — wonderful, quirky, rare machines, and they were accessible 24 hours a day! I show many of them in the Instagram videos I embedded above, but here are some stills:
That car on the left is a German microcar called the BAG-Spatz. Our friends at The Lane Motor Museum have some info on their site about this magical little car:
The original design of the Spatz was penned by German automaker Egon Brütsch. He was one of the world's most prolific microcar engineers and designed eleven different car models between 1952 and 1958, such as the Mopetta—but he hardly sold any. He relied mostly on selling licenses to produce his designs. He built the Brütsch 200 Spatz (German for Sparrow), a diminutive, smooth space saucer-like open three-wheeler he'd presented at the Paris Salon in 1954. It was attractive and stylish, made mostly of fiberglass without a chassis. This was in the early days of fiberglass and its strengths were often over-estimated! Inevitably, the Spatz cracked in many places.

Harald Friedrich, co-owner of the German machine tool company, Alzmetall, purchased the license to produce the Brütsch 200 Spatz in 1954. However, the car proved to be unroadworthy. Friedrich hired Tatra engineer Dr. Hans Ledwinka to redesign the car. In Ledwinka's hands, the new model was restructured with a much needed central backbone tube and a more stable four-wheel layout, instead of the original three. The front wheels hung on a separate subframe and the rear wheels were on swing axles. Strut suspension and hydraulic brakes were also added. The 191cc single cylinder Fichtel & Sachs engine was retained, but relocated in front of the rear wheels, which gave it great balance. The new model possessed a similar look, except the Plexiglas windshield had been replaced with split glass. By then, the original car had been altered so much Friedrich believed they were free from paying any licensing fees, though Brütsch would later take them to court. Friedrich prevailed.
Yes, that's a World War II Jeep (Willys MB) glistening beautifully in the sunlight:
The Rolls Royce was decked out with Muhammad Ali paraphernalia. The Greatest used to own one of these; I'm not sure if it's this one, but I doubt it:
Then there are the huge car-storage elevators:
Holy crap, what is that?:
As my colleague Patrick George pointed out, this is a Cizeta! That's a hyper-rare car built by an Italian engineer in the U.S. Our pals at The Petersen Automotive Museum have a whole writeup on this car. Here's a little snippet:
The Cizeta-Moroder V16T was the brainchild of former Lamborghini test driver Claudio Zampolli and his business partner, composer Giorgio Moroder. The two sought to build an even more audacious supercar than Lamborghini, and Zampolli called on some of his former Lamborghini colleagues to make it happen. The design was a collaboration between Marcello Gandini, who had penned the Countach, and Zampolli himself. The aluminum body was mounted to a tube chassis and fitted with one of the more ambitious engine designs of any automotive startup. Based on Lamborghini V-8 architecture, a cast-aluminum V-16 block used four cylinder heads, eight cams, and displaced a rather modest 6.0 liters. Still, the output was an impressive 540 hp at 8000 rpm. Mounted transversely with a five-speed transaxle, the engine made for a wide bay. Considering the power on tap, however, a wide body was required to fit over the V16T's ample tires.
Seriously, the idea that you can walk out of your room at midnight and then just tour this vast museum-like Autopia is just awesome. In fact, that's exactly what I did:
What a magical place.