The Jeep Wrangler YJ — which many of you know from the Jurassic Park movies — is known as the "redneck Jeep" for a reason. It has the distinction of being the only open-top Jeep in the brand's 82 year history that, once lifted even slightly, becomes a vehicle that would look a bit out of place at a fancy establishment. Seriously, imagine an old Jeep CJ-5 or even a Jeep Wrangler TJ or a modern JL — any of those would look great out front of a country club; this is one of Jeep's greatest strengths — it's a great equalizer, loved by folks of all social classes. And yet, for some reason, this doesn't apply to a lifted YJ, which is why I've vowed to keep my YJ in the only form that allows it to look just as classy as its siblings: stock form. As such, I've actually downsized my tires last weekend in order to go off-road without breaking off my fender flares; I bought the cheapest all-terrain tires I could find at Walmart, and then hammered on the bone-stock Jeep alongside a Ford Bronco Sport. What I learned is that a stock YJ isn't easy to off-road, but it's incredibly rewarding.
To drive home my point, just imagine you're being dropped off at your fine accommodation in a limousine, and you see this vehicle parked out front:
"That thing is cool," you'd probably say. Vintage!
Or imagine if, instead of that old CJ-5, you saw this Jeep TJ Rubicon:
"Oh man, a Rubicon! Badass!" you'd probably chirp to someone who couldn't care less.
Or what if there were this modern JL Wrangler there, parked prominently:
That'd probably fit in quite nicely, I bet.
And finally, what if you opened up your Lincoln Continental limousine's door and saw this near the front door of the Ritz?: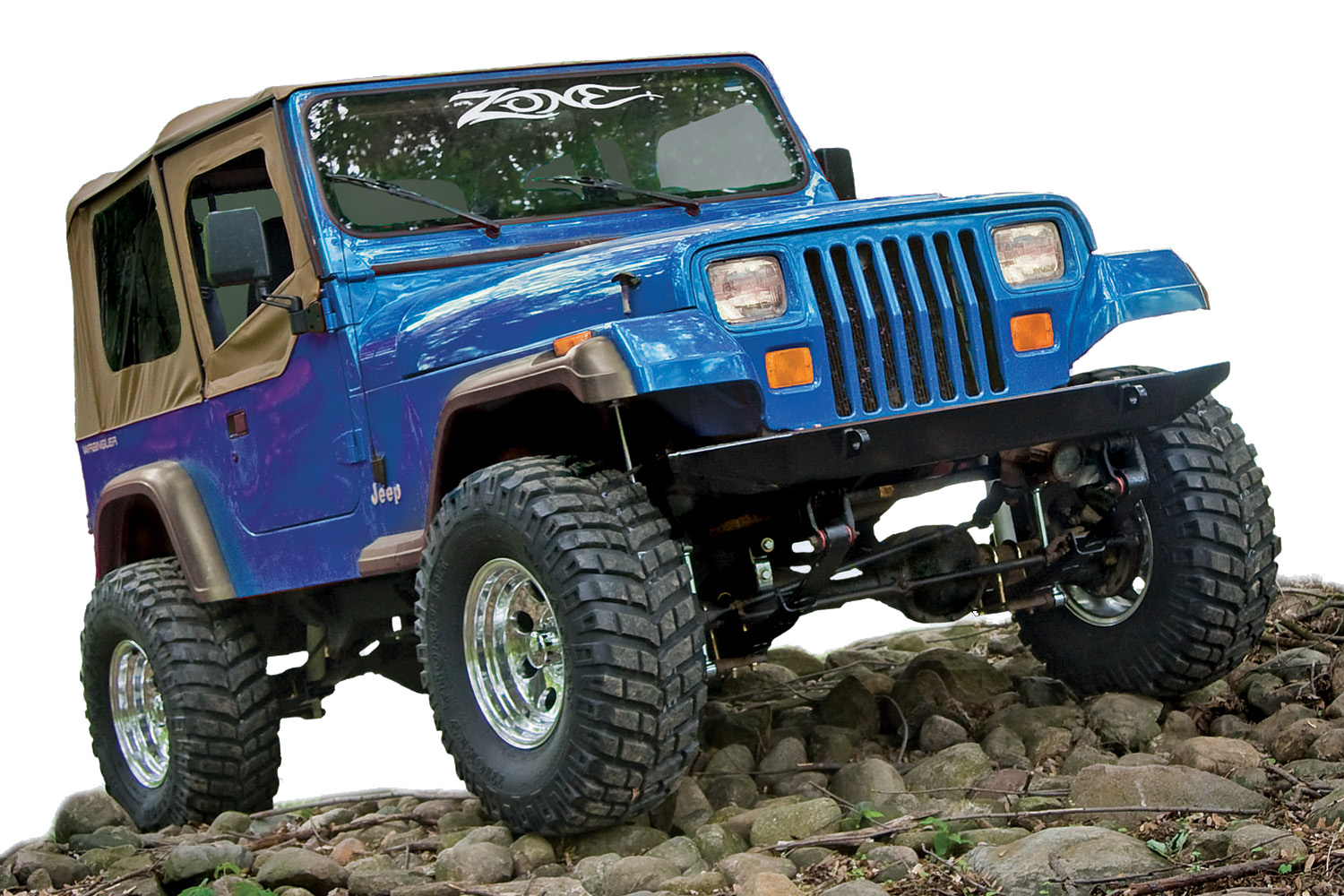 Something about that just doesn't work, at least for me and quite a few others. Even ignoring the difference in paint color, that lifted YJ looks a bit like a Tonka truck. There's something about how that creased grille and those square headlights interact with the big, now prominent leaf springs — it just looks childish. The Jeep CJ-5 shown before also has prominent leaf springs that aren't particularly pretty, but I think they're offset by the gorgeous bread-shaped grille and rounded front fenders. An old CJ is classy. A lifted YJ can never be.
In the Jeep world, the YJ has a reputation as a "redneck" Jeep not just because it's the cheapest Wrangler money can buy, but because there's just something about its looks, particularly once it's been jacked up, which is something almost all owners do. And owners lift their YJs for good reason, too, as the stock suspension doesn't articulate very well due to a strange design that includes both leaf springs and a track bar — a seemingly redundant setup. And while I plan to write more about this suspension in an upcoming article on how the Jeep Wrangler came about and why the CJ name died, my point here is that most YJs look a bit…off, since most have been lifted.
An unlifted YJ, though, is a whole different animal. Despite still having a creased grille and square headlights, and despite having leaf springs that one can see fairly easily (but that are not as prominent as they'd be were the vehicle lifted), the stock YJ is beloved by most, having garnered much of its public adoration in these scenes from Jurassic Park:
The sequel Jurassic World, includes this scene of two kids discovering and fixing the old 1993 Jeep Wrangler YJs that captured the world's hearts in Jurassic Park:
Here's a behind-the-scenes look at the above clip:
Look at that stock Jeep; it's small, it's loyal, it's tough, it's reliable, it's nimble. It's just lovable.
Anyway, it's for these reasons that instead of lifting my Jeep to accommodate the stock 31-inch tires that would have rubbed while off-roading…
…I simply bought some smaller 29-inch tires, which I realize may sound like blasphemy to you diehard off-roaders:
Then I headed to Rowher Flats off-road park with my friend Chris Rosales, author at The Drive and Ford Bronco Sport pilot for that weekend. First, I aired my tires down to PSI in the staging area:
Then I met with Chris and his particularly-nice-looking Ford Bronco Sport:
The park consists of a bunch of steep, rocky dirt roads that climb beautiful hills and that are fairly challenging.
Chris and I spotted an abandoned $1 Million RV on the trail (you can read more about that here):
The biggest issue that I noticed right away in my YJ was traction. Because the trail featured so many rocks and so many deep dirt ruts, the YJ had trouble keeping all four wheels on the terra firma. Here's a spot where I got stuck, as the Jeep's open differentials mean that if one wheel from each axle is up in the air, the vehicle cannot move forward (my rear clutch-based limited slip differential cannot transfer enough torque to the opposite wheel help in this situation):
Here you can see how stuffed my passenger-side rear tire is into my wheel well. Boy am I glad I downsized those 31s, or that black fender flare would be destroyed:
You can see two images above that the front axle doesn't articulate much (due in part to its sway bar being connected), but as the photos above and below show, the rear's flex isn't awful:
Here's a look at the right rear suspension, which is resting on its bump stops:
Because its open differentials mean lifting a single tire on each axle yields no forward movement, the YJ relies heavily on suspension articulation to keep its tires on the dirt. Typically, a dual-solid-axle design like the YJ's will articulate quite well, but the YJ is different from all the CJs (and the WW2 "MB") before it and all the Wranglers after it because the YJ is the only open-top Jeep ever to include a track bar with its leaf springs.
The track bar is the metal bar that runs from the frame down to a bracket on the axle; you can see the torx bolt that holds one end of the track bar to the axle here:
And here you can see the torx bolt that holds the bar to the frame on the passenger's side:
The track bar's job is to make sure the axle doesn't move side-to-side relative to the frame, and I only mention it because it's what makes the YJ so unique, suspension wise, compared to any of its forebears or successors — and not in a good way. The track bar swings in an arc as the axle articulates, but the leaf springs only want to go up and down. So you end up with a situation where the track bar wants to swing, but the leaf springs  don't want to bend, so they prevent that motion, thus limiting articulation. Pair that flex-limiting setup with open diffs, and as you can see, there's a problem with forward motion:
Not helping things is the fact that the front leaf spring shackles reach fairly far down below the front bumper, reducing approach angle to about 32 degrees. (not horrible, but not amazing).
The rear bumperettes significantly affect departure angle as well; you can see my passenger's side one digging into the dirt here:
Here's a look at the Jeep from another angle. I'm stuck:
This situation, like all other times that I got stuck, required me simply backing up (Chris gave me a little push from the front in the situation directly above), and then adjusting my "line" (i.e. the path I'm going to take) and using momentum to launch the Jeep past the places where I had no traction due to limited articulation.
I've been off-roading open-differential vehicles my entire life, so I've developed a "feel" for when to apply power to get just enough speed to make it past the point where my tires have limited grip, and through an obstacle.
The Bronco Sport offers an entirely different approach than the Wrangler. Its articulation is even more limited than the Jeep's, but it has a few tricks up its sleeve: traction control and a better clutch-based rear axle "lock."
The Bronco Sport was able to leverage this technology to continue moving forward despite raising its wheels in the air. Its main problem, really, was its lack of a low-range gear like the Jeep's, meaning it had to rev the engine to make enough wheel torque to overcome the tougher obstacles. In fact, you can see what I'm talking about in this video:
You'll notice how the traction control system makes sure power gets to all wheels, but you'll also notice that the engine seems to be straining itself trying to make enough power to get up the grade (Chris has his foot deep on the pedal). Ultimately, the Bronco Sport was unable to make it over this obstacle, as an engine-overheat warning popped up on the gauge cluster. (I think we could have gotten the vehicle up had we tried a few more times).
I won't elaborate further on the Bronco Sport's performance, as Chris is writing an article on that. But I will note that, way back in early 2021, just before the Bronco Sport went on sale, I had a chance to drive a few off-road in Michigan. As a former cooling system engineer, I had enough experience to call out my concerns about the vehicle's thermal system; it didn't seem robust enough to handle log durations of loose, steep off-road driving. Check out my article "Multiple Ford Bronco Sports Overheated Off-Road. Let's Talk About It" for more on that topic. (To my surprise, though, it was engine cooling and not four-wheel drive system cooling that was the problem this time around, but nonetheless it's all exacerbated by the same issue: lack of adequate gearing and thus a requirement for the engine to rev up to create enough wheel torque).
To be sure, the Bronco Sport exceeded my expectations in many ways. Its approach and departure angles, as well as its traction control system, mean it's well-prepared to tackle some awesome obstacles, but doing so over a long duration in high-ambient temperatures isn't something the vehicle excels at.
Anyway, both vehicles did make it to the top of the trail and down the backside overlooking a beautiful reservoir. Oh, and Chris nearly ran over this beauty:
I shooed the snake off by getting uncomfortably close to it. It was the second time in a week that I had to move a snake off a trail; the week prior I'd had to shove a rattlesnake off a hiking trail with a long stick. Check it out:
That thing had a loud rattle, but it was no big deal to me.
When I was a kid, my brother and I would go "creeking" almost daily in our local creek in Leavenworth, Kansas. We'd look for snakes, and Michael would catch them; all he used were some leather gardening gloves and a stick to pin their heads. We had some amazing close-up looks at some truly beautiful specimens. I think all that exposure to snakes is why I don't fear them (unless they surprise me up-close, of course).
Anyway, what's the takeaway, here? Is the Jurassic Park Jeep good off-road? The answer is: Absolutely. But, perhaps more than any other two-door Jeep Wrangler or CJ (not including longer CJs like the CJ-8, and not including the CJ-10 — I'm talking only the YJ's true predecessors), the YJ requires a skilled driver. With no traction control system or locking differentials, limited suspension flex/articulation, and low-hanging front shackles, the driver has to be able to precisely maneuver the Jeep to get the front tires up onto an obstacle, then the driver has to accelerate at just the right rate to get the vehicle over the obstacle and past the points where a wheel on each axle might be up in the air.
There's plenty of torque, the vehicle is lightweight, and the belly is small and well-protected with skidplates; the YJ has a lot going for it, so in the right hands, it can be a formidable off-road weapon. But with an unskilled driver behind the wheel, the thing isn't getting too far past the parking lot.
As an avid off-roader who enjoys a challenge, I love the YJ's off-road performance, and actually, I think it handles on-road better than I'd have expected. Those track bars that limit off-road suspension flex keep the vehicle planted nicely through corners. The ride isn't amazing, but it's fine, and that five-speed manual coupled with the 190 horsepower 4.0-liter straight six makes the YJ a true joy. And that's with the top on.
I suspect that once that lid is off, the YJ is going to quickly become my favorite vehicle in my fleet.