With last week's introduction of the new Toyota Tacoma pickup and the previous week's introduction of the new Ford Ranger truck, we have now seen two examples of manufacturers who are offering both coil and leaf spring rear suspension versions of their vehicles. The two suspensions are very different and require very different frames to attach to, so why would any manufacturer choose to offer both? Why not just offer one and call it a day? Let's look at the differences between leaf springs and coil springs to find out.
Leaf Springs
It's hard to pinpoint the first use of leaf springs in history because if you think about it, a bow and arrow is really a leaf spring turned vertical, but the leaf spring as we know and love it first showed up in 1804 in a patent by British inventor Obadiah Elliot. Prior versions had been in use since around 1750 on carriages used by the French aristocracy, and since they provided such a superior ride, by the end of the 18th century, most carriages had them. At that time, the springs were fully elliptic, meaning they were essentially two leaf springs stacked on top of each other like this:
Many different variations of leaf springs were tried. Here is one that has a 3/4 elliptical spring:
Look closely and you'll see that the end of this leaf spring is attached to the end of another leaf spring that spans across the carriage. These guys were throwing anything out there to see if it would stick. Today's leaf springs are semi-elliptical:
There's a single bolt that goes through the spring "eye" on each end. One bolts one side of the spring directly to the frame, the other bolts the other side of the spring to a "shackle," which allows the fore-aft length of the spring to change as it flattens under load and bows back when the load lets up. Here's a look at a shackle, via our friends at Quadratec:
The spring is fastened roughly at its center to the axle-tube via U-bolts shown in silver here:
As the industrial age progressed, leaf springs would find their way into many other applications. Trains used them, for example, and still do today. When automobiles first came on the scene at the end of the 19th century and early 20th century, they started out as simply motorized carriages, including the leaf spring suspensions you'd expect to find on a typical carriage. Henry Ford's Quadricycle used fully elliptical springs on the front axle as did the Benz patent wagon for which Carl Benz filed a patent in 1893 (see below). Leaf springs would be ubiquitous for the next 50 years for both front and rear axle applications before slowly being replaced by coil springs on front axles starting in the 40's and 50's. Leaf springs stayed popular in rear axle applications and are still used today in most pickup trucks (that's the new Tacoma's rear axle above).
So, what made them so popular and why is a 250+ year old technology still being used today? The simple answer is that leaf spring suspensions are cheap and they work. In the basic leaf spring suspension used on so many pickup trucks today, known as the Hotchkiss suspension, the leaf springs form the entire suspension aside from the dampers. The springs locate the axle as well as hold the vehicle up.
This makes a Hotchkiss suspension, like the one above on the new Ford Ranger, extremely cheap. There are no linkages, ball joints, or control arms. Everything is contained within the springs themselves, and the springs are made of simple strips of steel clamped together with U-bolts. There are two bushings on each leaf spring and two leaf springs per axle. It doesn't get much simpler than that.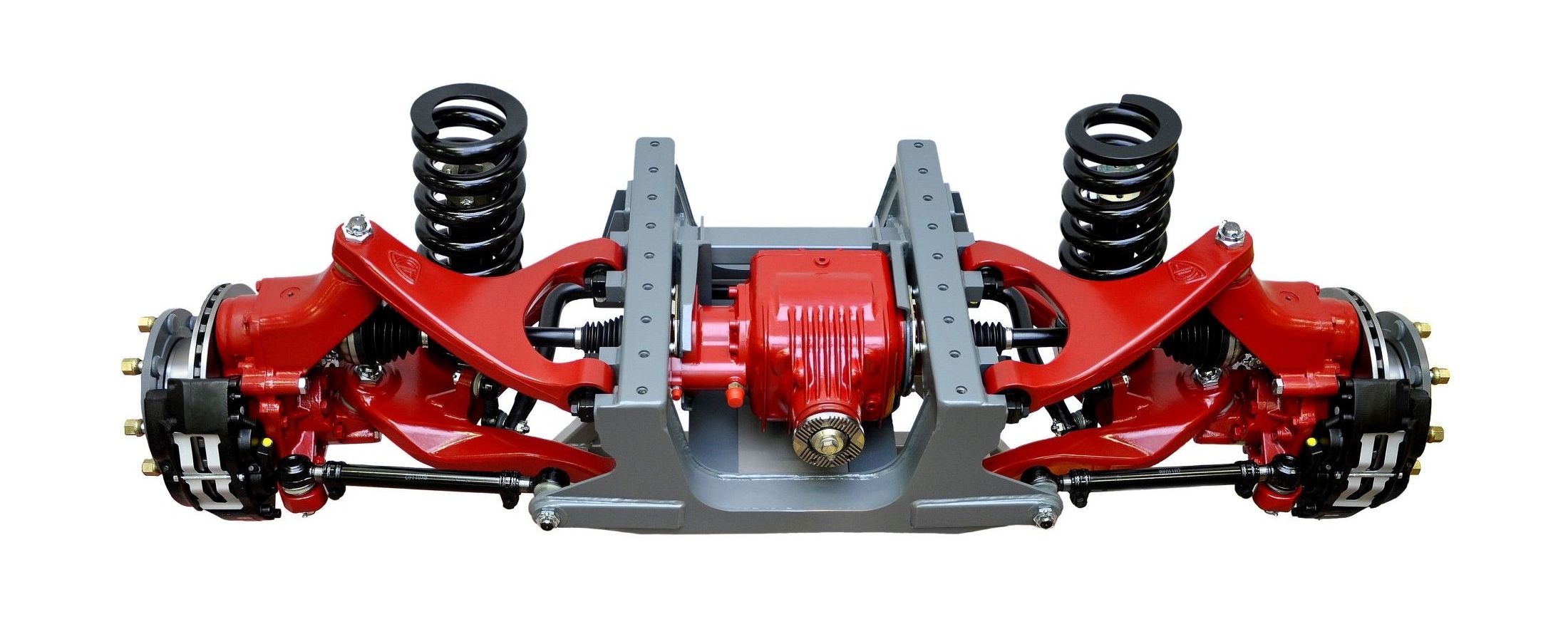 While an axle held together with leaf springs may be simple and cheap, it doesn't offer the suspension designer much flexibility when it comes to ride and handling. Leaf springs take up a lot of space, and as cars developed in the 30's and 40's to include independent front suspensions (a basic example of which is shown above), the use of leaf springs in the front slowly stopped. There just wasn't room for these long springs up there and there wasn't a good way to attach leaf springs to these newfangled independent suspensions. That's not to say it wasn't tried. Mercedes used a pair of transverse leaf springs in 1938 to act as both springs and upper and lower control arms.
And the classic Fiat 500 did something similar with the lower control arm:
Oh, and just for fun, here's an Autobianchi: You can see that the spring isn't really taking place of the lower control arm (the ends of the spring are clamped to each lower control arm), but it is acting as the spring for both the rear wheels: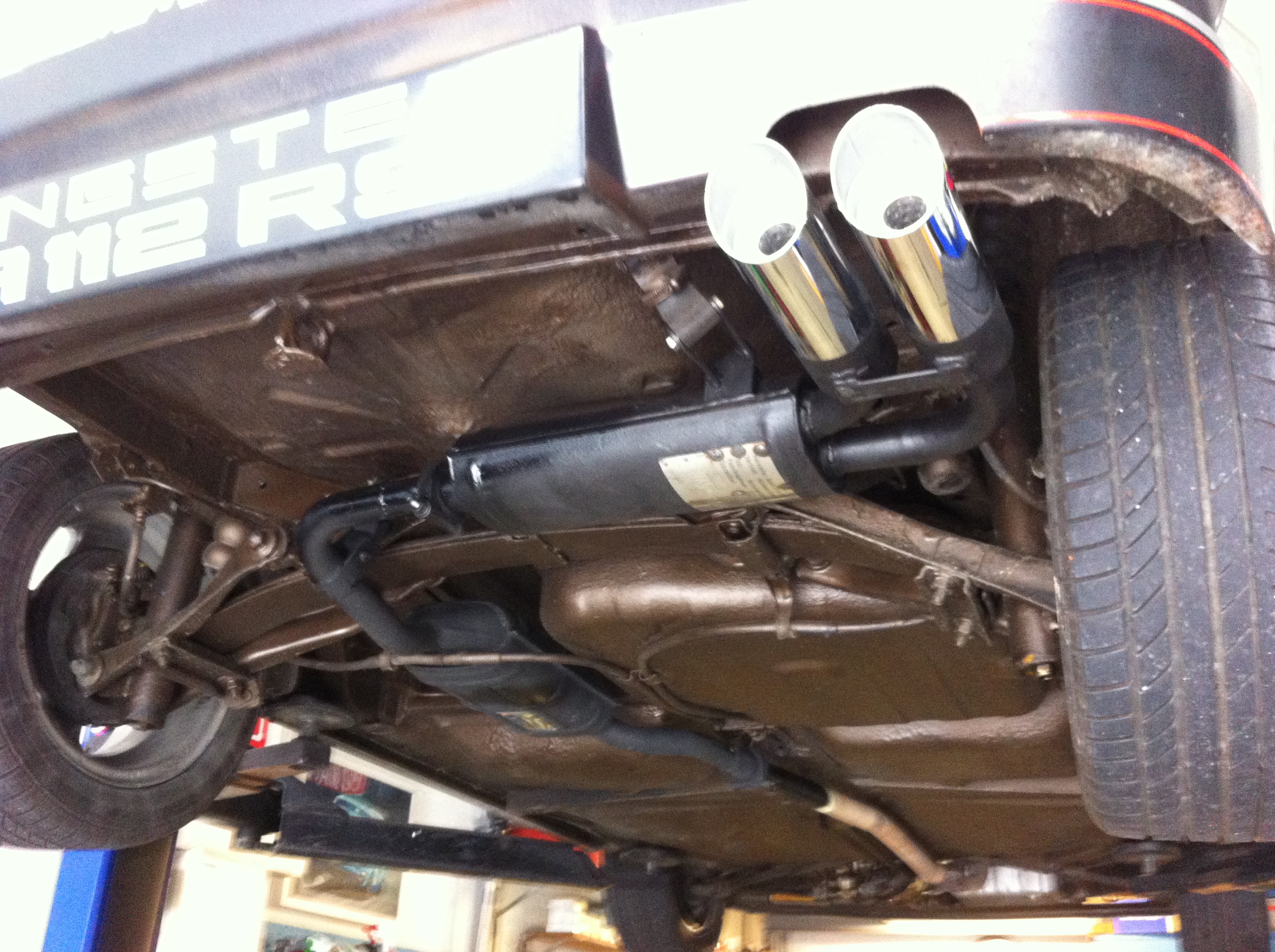 This type of setup didn't last long though. Over the years, the typical upper/lower arm front suspension with coil springs came to dominate the industry due to that setup's versatility and tunability, and soon leaf springs were relegated to rear axle use only. Then, as independent rear suspensions became more prevalent, leaf springs were phased out of cars altogether. There were some exceptions: the Corvette used a transverse leaf spring in the C2 through the C7 and Volvo still uses one in the XC90 today. Check out the Volvo's here:
The main difference is that the later Corvettes and Volvo use springs made not from the usual steel plates, but from various composites. This change was done to combat the biggest problem leaf springs have which is friction.
Leaf Spring Friction And Stiction, And How It Affects Ride Quality
A leaf spring is just a bunch of bowed steel plates stacked atop one another with a pin (bolt) near the center holding them together, with little friction pads between the plates at the ends. It's not really important to this discussion, but here's a look at those friction pads:
As a leaf spring flexes, the steel plates that make up the spring have to slide against each other. This sliding causes friction, and any time you have friction, you also have something called stiction. Friction has an odd property which is that the amount of friction between two objects is different when the objects are stationary vs when they are moving. When two objects are sitting stationary against each other, there is what is called static friction between them. But when these same objects are moving against each other, the friction is called kinetic friction. The odd thing is that kinetic friction is always lower than static friction; this means that the force required to start an object sliding is greater than the force needed to keep it moving.
How this impacts leaf springs is that when the spring is sitting still, the plates are locked together by static friction and the spring doesn't want to bend. Once a force big enough to break through the friction comes along, the plates will start to slide against each other and allow the spring to bend. Once bending (and sliding) starts, it takes less force to continue bending the spring. This translates into a kind of stickiness in leaf springs. They tend to "jump" instead of deflecting smoothly. You can feel this in a slightly jerky ride that leaf springs have. Not a problem for the back of a pickup but not good for a luxury car, for instance. Also, all that movement between the leaves will eventually mean squeaks and groans develop. The aforementioned leaf spring pads/isolators at the end of leaves are there to help reduce this.
Volvo and Corvette solved this problem by using a spring made out of a single leaf, called a mono-leaf, which avoids the sliding issue.
Axle Wrap
There is another thing that we need to discuss when it comes to leaf springs: axle wrap. When engine torque tries to accelerate a vehicle by rotating its axle shafts, it at the same time tries to rotate the axle housing in the opposite direction. Since the axle housing is being held in place by the springs, the torque twists the springs into an "S" shape like this:
Here's a video of it in action:
If the engine has enough torque to break traction, the spring will then snap back straight. When the tire regains traction, the process starts over again. In bad cases, this cycle can happen several times per second and cause a massive vibration or "hop" in the axle. Drag cars want to avoid this.
The exact same thing can happen under braking but in the opposite direction.
Coil Springs
Invented back in 1763 by British inventor R. Tradwell (yes, those Brits were clever, weren't they), coil springs didn't really show up in cars much at all until the late 30's and 40's. With the advent of independent front suspensions, it became clear that leaf springs wouldn't work, so an alternative was needed, and coil springs fit the bill perfectly. They are easy to make and don't take up a lot of space. On top of that. It is easy to make a coil spring softer or stiffer or longer or shorter to suit your needs.
Coil springs don't suffer from the same friction issue that leaf springs do since there aren't multiple pieces involved. As a coil spring compresses, there aren't parts of it sliding against each other. This means they provide a much smoother ride.
The downside is that coil springs can only do one job. They provide a force when compressed or stretched. That's it. Nothing more. They cannot also be used to locate an axle so if you want to use coil springs in a suspension, you have to provide some other means to keep the axle in place. Control arms and links provide this function, but this means more parts and that costs money.
Ride and Handling
Before we can decide which of these is better, we need to know how each affects the way the vehicle rides and handles. I've already mentioned the effect of friction in leaf springs on ride but are there other things we need to consider?
Since leaf springs do the job of locating the axle, their stiffness is a factor in the lateral stiffness of the whole axle, and lateral stiffness is very important to good handling and steering response. A softer spring will be able to bend more in all directions which means less lateral stiffness, although there are things we can do in the design of the spring to partially offset this. In a coil spring suspension, the lateral stiffness is a function of the links, especially if there is a Panhard rod or Watts linkage, and is completely independent of the spring stiffness.
When the body and frame of a vehicle with leaf springs rolls in a turn, or when the axle rolls over a single wheel bump, the spring has to accommodate the angle difference between the axle and the body/frame. Since the spring is rigidly attached to the axle (via the U-bolts shown earlier), it wants to stay at the angle of the axle (i.e. it wants to remain clamped flat against that axle; see oversimplification below), but since the ends are attached to the frame, they want to stay at the angle of the frame. The result is a twisting of the bushings at each end where the springs bolt to the frame via the spring "eyes" and a twisting of the spring leaves where they are thinnest.
This twisting resists the body roll and puts additional stress on the rubber bushings in the leaf "eyes" that the two bolts go through. Bushings can be designed to accommodate twisting but these same bushings have to provide the lateral stiffness of the axle as well and these multiple functions mean compromises have to be made in their design.
When the body of a vehicle with coil spring suspension rolls in a turn, there is a similar angle difference between the axle and the body but coil springs can more easily bend and flex to accommodate the angle. Think of the spring from a ball point pen and how easy it is to bend it. A car spring is of course much harder to bend, but you get the idea. The bushings in the links can also be a simpler design since they only have to resist twisting and compression. There is never any force on them trying to push the bushings sideways.
Separate The Functions
In my life as a suspension designer, I have always been a proponent of separating functions and giving each part as little to do as possible. When you ask suspension components to do many different things, compromise becomes inevitable. If you can separate functions into specific components, you can design each component to more optimally perform those functions. For that reason alone, I prefer a coil spring suspension because I am not asking those springs to be more than just springs. Let the links do the job of locating and controlling the axle. That's what they are good at and it gives the designer much more flexibility in how the axle performs.
Back to Real Life
Now let's get back to what started this discussion in the first place. Both Toyota and Ford have decided to offer their new mid-size pickups with both a leaf spring and a coil spring rear suspension. In the case of Ford, coil springs are only available on the top end Raptor version while it looks like Toyota is offering it as an option although it is not yet clear if that option will be available across their range.
Pickup trucks have historically been extremely profitable for manufacturers, and they will do anything to protect those profits. In fact, if you took the Ford F-series line and made it a separate company, it would be one of the largest and certainly one of the most profitable companies in the world. Anything that adds even a few pennies of additional cost to these trucks must be fully justified and shown to add to the profitability of the company in the long term. Dodge made this calculation many years ago when they made a coil spring rear suspension standard in their pickups. They knew they needed to compete on a different level with Ford and Chevy and decided this would set them apart. So far it's been successful for them.
Ford and Toyota don't need to set themselves apart though. Toyota has dominated the mid-size pickup market for years and Ford is no slouch with the Ranger lineup. They must have had good reason to offer a more expensive suspension in their vehicles and I think those reasons are twofold. First, they know a coil suspension offers better ride and handling and they can advertise that to their customers. Second, these suspensions are either optional or part of a more expensive package so they can charge extra money for them. This takes the profitability issue off the table. Make an option desirable to the customer by offering them some additional value + charge them extra cash for it = money in the bank.