Perhaps one of the more satisfying things to discover is when a car's purpose matches its name. A Smart Fortwo seats two, and a Chevrolet Celebrity definitely makes you feel like Clint Eastwood (okay, maybe the second example doesn't work). In the 1980s, tuning house AMG built one of the world's coolest cars and gave it a fitting name: the Mercedes-Benz AMG Hammer Coupe. Its ferocious performance delivers the blows its title promises. To add to the name's appropriateness, one of these machines is about to go under the hammer, but it'll cost you north of $320,000 to bring it home.
If you look at a Mercedes-Benz today and think that it needs to be a lot faster and look a lot more sinister, the brand's AMG division is where you'll probably spend your money. AMG is known for taking an already fast Mercedes and turning it into a vehicle that sounds like an Eldritch monster with ridiculous speed. But AMG wasn't always known for making vehicles like the Mercedes-AMG GT, Mercedes-AMG C 63, or a Black Series car. In the past, AMG wasn't even a subsidiary of Daimler.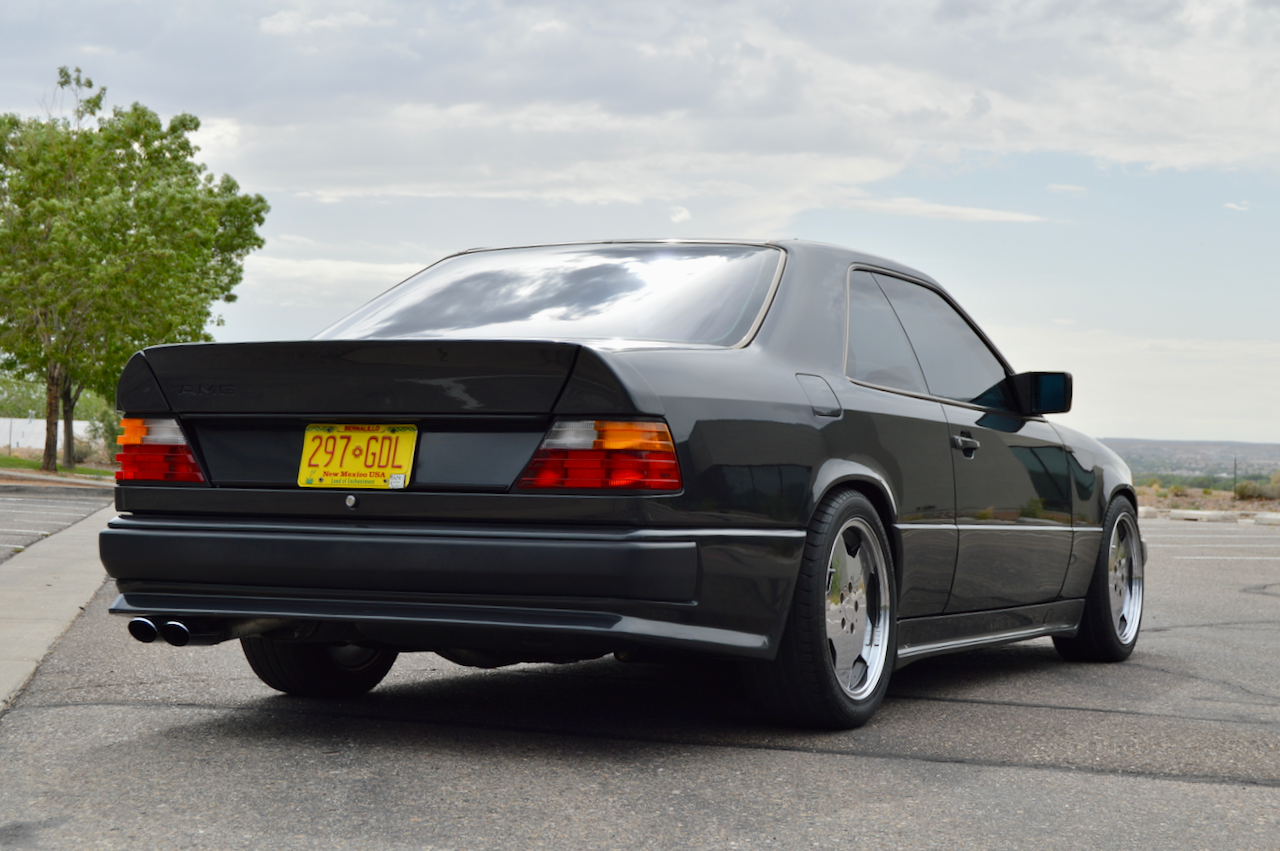 In 1967, former Mercedes-Benz engineers Hans-Werner Aufrecht and Erhard Melcher opened AMG Motorenbau und Entwicklungsgesellschaft mbH (AMG Engine Production and Development Limited). The German company in those early days was focused on racing engine development.
The company gained fame in 1971 when its AMG 300 SEL 6.8 crossed the finish line of the 24 Hours of Spa in second place, winning its class. The Red Pig, as it was nicknamed, was a big luxury sedan competing in a field of lighter, sportier cars. But the V8 under the hood (originally a 6.3-liter making 250 HP, bored out to 6.8-liters and making 428 HP) allowed it to blow the pack out of the water. You can see the company's future in the works, here.
AMG's early work on road cars involved unofficial upgrades. You could get anything from an AMG body kit and wheels, to upgraded seats, a sportier steering wheel, manual transmissions, and even mild engine upgrades.
In 1984, Melcher–no longer a partner in the operation but still an employee–developed an independent cylinder head with four valves per cylinder. AMG began engine manufacturing that year. Just two years later, AMG would drop an engine into a Mercedes and create the legendary Hammer Coupe.
It started with a W124 E-Class, and AMG initially dropped in the 5.0-liter V8 from a W126 S-Class. And if you paid AMG more, the tuner was happy to give you a 5.6-liter V8. And if you paid even more, you could get it with a 6.0-liter lump of a V8.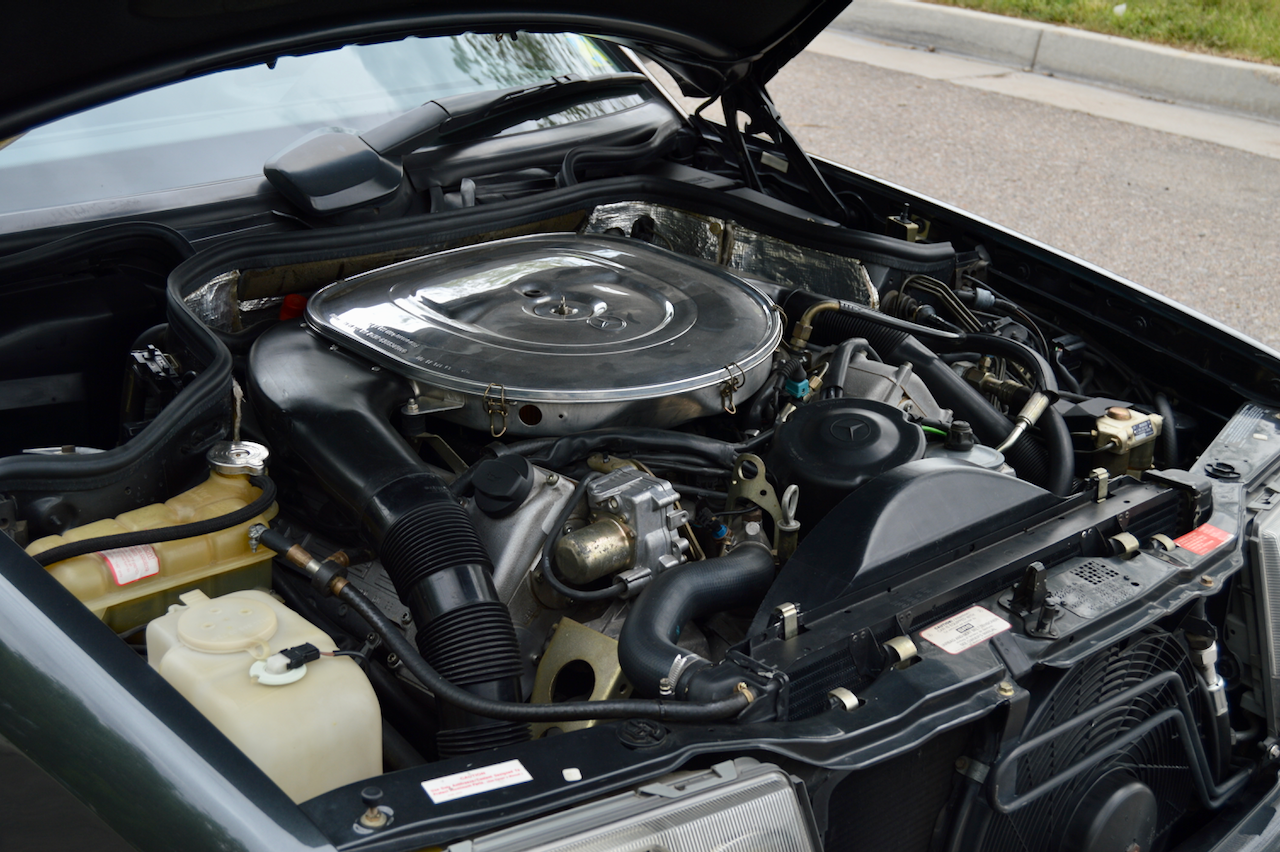 These were cars that had a starting price of about $39,000 in those days, or $105,439 in today's money. A Hammer like this 300CE-based car set its buyer back $165,000 ($422,569 today) or more. AMG custom-built each car to customer specs so each one is a little different from another.
These cars–regardless if they had four doors or two–blew car magazines away. Even modern reviews give it glowing praise. We're talking 385 horsepower and 417 lb-ft torque, a healthy boost over the base car's 3.0-liter six's 177 HP. This gave the car an acceleration time to 60 mph in about five seconds. It wasn't the fastest car on the planet, but what wowed reviewers was that it had supercar performance without the supercar downsides. I mean, check out the sub-headline on this period Car and Driver review on the sedan:
Don't ask, "What's in a name?" Hammer means in German precisely what it means in English, and this car's name says exactly what it is: a hard-hitting tool. AMG crafts it to pound everything else flat.
Canada's the Globe and Mail summed up the interior in a rather amusing fashion in a modern review:
Inside, it's pure decadence. Imagine the analog cockpit of an old 747 but swathed in wood veneer and perforated black leather with a pair of La-Z-Boy recliners. There are so many buttons and it's not clear what most of them do, but they look important. The seats are infinitely electrically adjustable, sculpting to cosset every size and shape of buttock.
There was no folding yourself into a cramped and uncomfortable cockpit. This was still very much a luxurious Mercedes, but now with supercar power backing it up. With how hard the power reportedly hits, the name Hammer is fitting.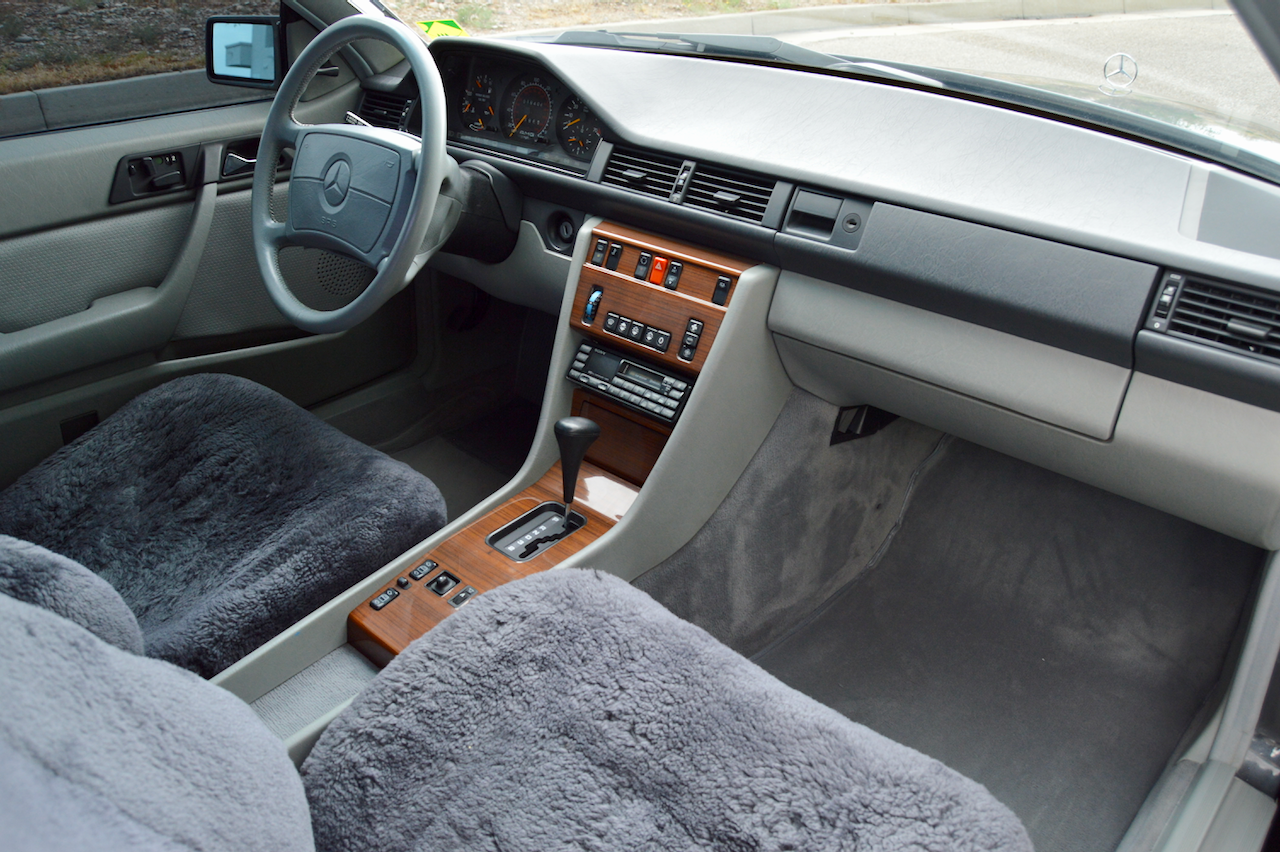 Oh, and top speed? North of 170 mph.
Exact production numbers aren't known, but it's believed that just 30 of these exist. Of the 30, 13 of them were built by AMG North America in Westmont, Illinois. And of those 13, just five are coupes.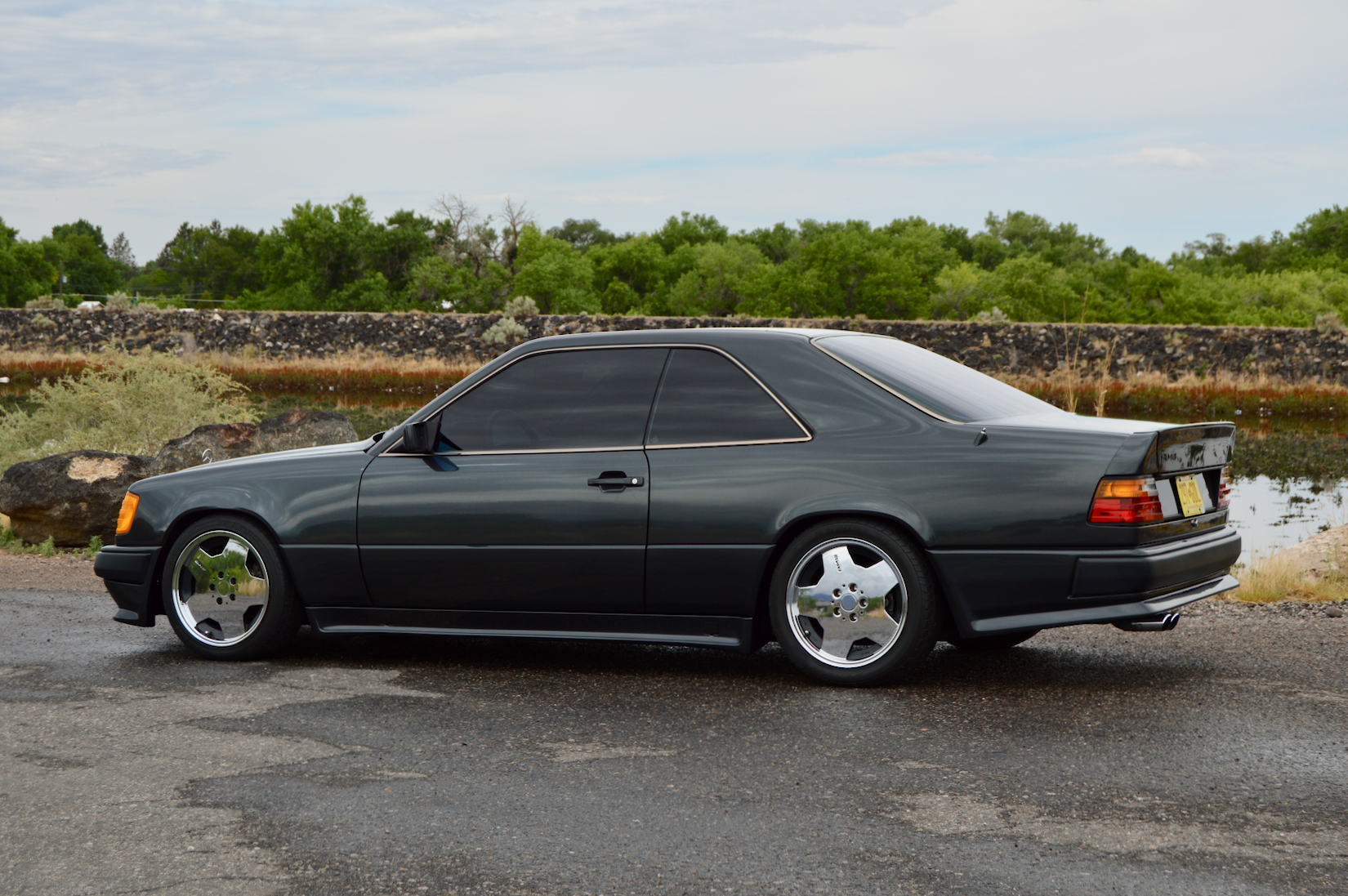 This particular example is a 1988 and reportedly had a short life with its first owner. As Ed Bolian of VINwiki explains, the first owner loaded the car up with cocaine and Quaaludes then took off for Vegas. The owner got busted by the DEA and their new Hammer got seized.
It somehow racked up an additional 1,500 miles in federal custody (more than the original owner drove). Then, it was auctioned off and purchased by baseball player Rob Deer.
Despite the vehicle's vivid early history, it became like many super expensive, super rare cars, and wasn't driven a whole lot. Today, it has just 19,417 miles.
The car appears to be in almost perfect condition, serving as a great example of not just what a Hammer looks like, but an excellent W124. This listing is incredible and features over 455 photos.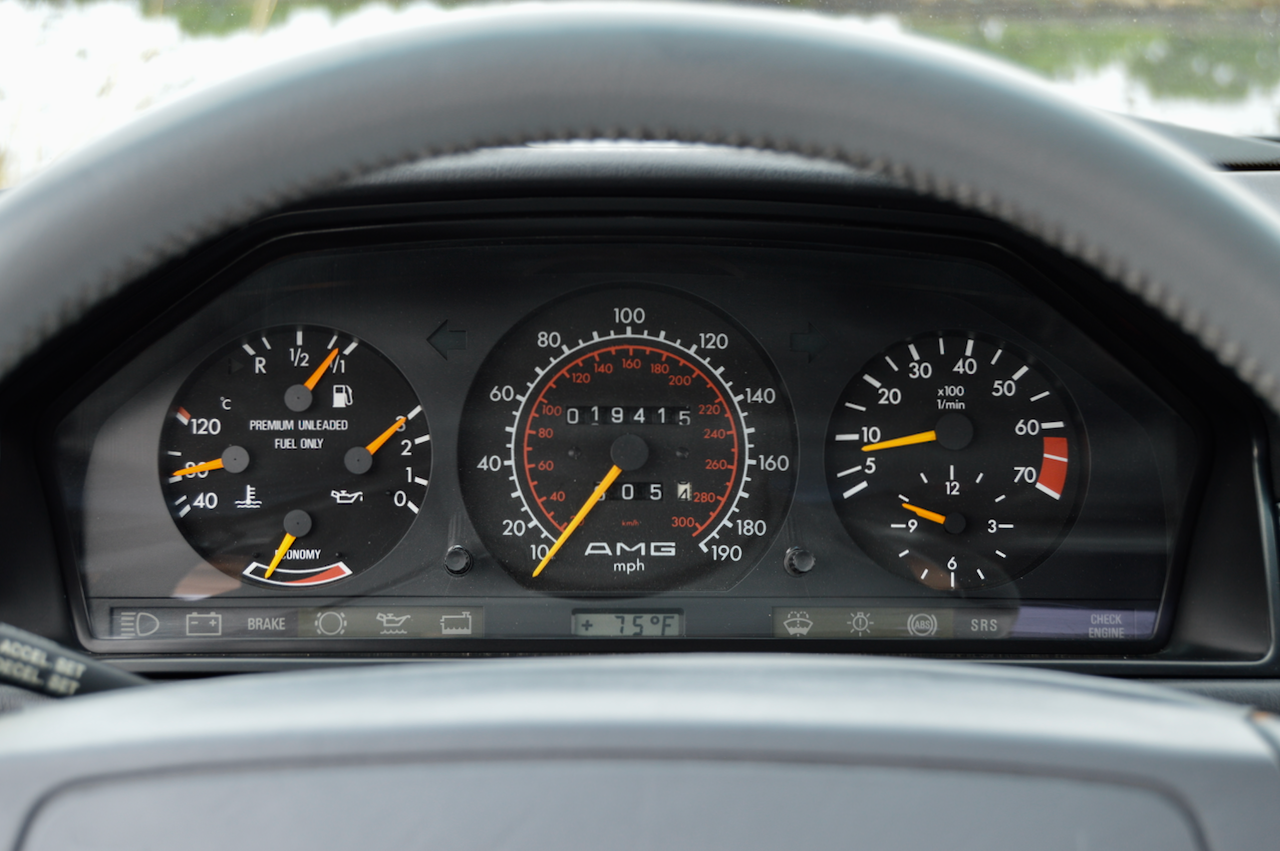 I think that's more photos than I've ever seen for any auction. Sadly, with a current bidding price of $320,000 on the MB Market, I know that a lot of us can't afford this beauty. However, there are plenty of photos for you to drool over. I make no promises that you won't get lost looking at them.
This car is also noted to be one of the last "pre-merger" AMGs. As noted before, AMG was an independent tuner. That changed in 1999 when DaimlerChrysler purchased 51 percent of AMG before getting the rest in 2005. The company today is now a subsidiary renamed to Mercedes-AMG GmbH.
(All photo credits to the seller unless otherwise noted.)