We took Presidents' Day off yesterday so we could spend the day on Midjourney trying to make the perfect AI-generated image of Teddy Roosevelt driving a Mark III Toyota Supra. Unfortunately, this request caused a glitch in the Matrix and proved once and for all that we are living in a simulation. Still, a life lived in a simulation is still a life, and for us, that means the car news must be delivered unto you, our beloved readers and (hopefully) subscribers.
Today, we're talking about the latest round of Ford quality woes; the updated Cadillac XT4; and lowriders. It should be a good mix of stuff to ease you back into your work week.
Some F-150 Lightnings May Have Faulty Batteries
Ford, and its costly quality challenges, were both back in the news last week after a report emerged that an F-150 Lightning's battery caught fire during an inspection. Now, Phoebe Wall Howard at the Detroit Free Press reports that another, unrelated issue may affect as many as 100 trucks already in customer hands, and it actually makes a decent case for connected car technology.
To be clear, again: this is not the fire issue. It's a different thing, that could prevent the pickup truck from shifting into "drive " or it could cause the truck to lose power during operation. From the Free Press:
"We monitor vehicle data to help ensure our vehicles are performing as expected in the field. We have identified that (in) some vehicles, their high-voltage battery is not performing as intended, which could result in performance degradation," Martin Gunsberg told the Detroit Free Press.

The automaker is aware of an estimated 100 vehicles potentially affected but Ford cannot definitively say how many more may have a faulty battery because these issues are detected through vehicle data monitoring, Gunsberg said.

Customer vehicles are linked through cellular connectivity to Ford, as designed, and that signals data that detects emerging problems so they may be addressed without delay, Ford CEO Jim Farley has said.

"In this case, a driver may receive an alert in the vehicle through a message display system on the dashboard, and the vehicle will begin to reduce power to allow the customer to drive to a safe location," Gunsberg said.
CNBC, which first reported this story, notes it's not a recall yet but a "customer service action" where they're still investigating things:
"This not a safety recall. This is a proactive investigation to help prevent customers of the identified vehicles from experiencing a degradation in battery performance and to obtain field parts for evaluation," Ford spokesman Marty Gunsberg said in an emailed statement.
If you own a Lightning, I suppose keep an eye on this matter and bring the vehicle to your dealer if you experience the problem. The electric truck has been a groundbreaking product for Ford, but not without its quality issues so far.
Ford's Quality Cleanup
Amid all of last week's Ford news—which was not the sort of image the Dearborn automaker wants to project—I wrote about the company's challenges with cleaning up its quality and reliability while also investing heavily in EV and battery tech for The Verge. The thing is, I do believe Ford's working on this. Specifically, CEO Jim Farley is.
Farley has been incredibly candid about the cost issues involved with recalls and the challenges of pivoting to EVs while fixing manufacturing issues, more so than your average meat-sack CEO tends to. Maybe it's his personality; maybe it's because he knows that botched launches and quality problems have helped cost past Ford CEOs their jobs. Either way, everyone I have spoken to inside the automaker swears up and down that things are different now and that the culture's shifted.
The proof will be in the cars themselves, of course, and it could take years before we see the results of whatever changes are being pushed now. But here's Automotive News on how Farley is trying to execute this plan:
It's a big ship to turn around, for sure. Can Ford pull this off? People are used to weird issues on their newcomer startup EVs, like Tesla. But I don't think they'll take it from a company with deep roots and experience in manufacturing like Ford.
Cadillac XT4 Gets A Lyriq-al Upgrade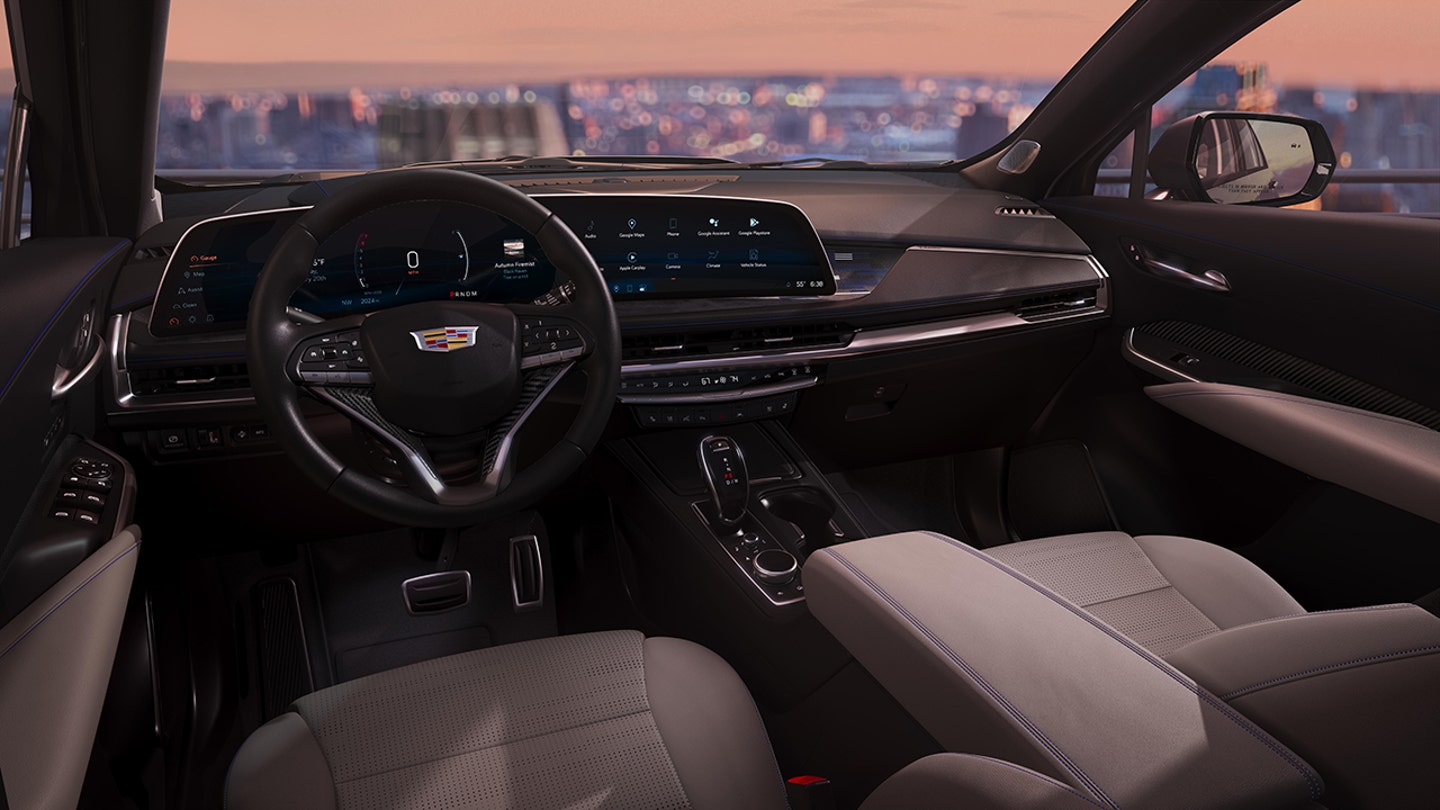 You can be forgiven if you haven't thought much about the Cadillac XT4 in a while, or ever. It's the little one — the crossover that runs against the Acura RDX, Audi Q3, and BMW X1 and others. But it's not super popular compared to those or the rest of Cadillac's lineup; GM's luxury brand still sold about four times as many Escalades last year as the XT4. (What expensive gas prices, right?)
But for 2023, the aging XT4 gets some nice upgrades, including the sweeping all-digital dash to replace its functional but quaint gauges. That comes straight from the Lyriq EV, which feels much more like the future of Cadillac than this, so maybe it's meant to ease people into tomorrow's technology today. Here's
Motor Trend
on this exciting news:
The Cadillac XT4 suits up for battle in one of the fastest-growing, most competitive segments in the U.S.: small luxury SUVs. It faces more headwinds there than, say, its big brother the Cadillac Escalade in the full-size SUV class, though. Since its introduction for 2019, the original XT4 is far from class-leading, but know this—that really pisses off leadership at Cadillac. Global Cadillac Vice President Rory Harvey is not happy with third place in the segment, and wants a higher spot on the podium.
But let's be realistic here. While the Escalade is a storied nameplate that's built a legacy of dominance over its more than two decades of service, the XT4 is much newer, with a harder-to-remember name. It's also now dated, so General Motors is giving the crossover a refresh for the 2024 model year to try to boost its sales over the next decade as Cadillac transitions to an all-electric brand by 2030.
One thing it doesn't get yet is Super Cruise, GM's semi-autonomous driving assistance system that's generally one of the better examples out there. That's a shame, but it may have pushed the price tag beyond what was considered tenable.
Let 'Em Cruise
Lowriders don't get a ton of coverage in the enthusiast press, but they should; they're an extremely unique and important part of American car culture. But did you know that several cities in California—the heart and soul of this country's car culture—actually banned lowrider cruising decades ago? I did not.
Thankfully, that may soon be changing, reports the Wall Street Journal:
Beginning in the 1980s, San Jose and many other cities passed ordinances that banned cruising on favorite lowriding streets, after some were disrupted by shootings and other violence.

Now lowriding is becoming legalized again in California, amid protests by enthusiasts that they have been unfairly targeted on racial grounds. San Jose and Sacramento in 2022 repealed their bans. Earlier this month, a bill introduced in the state assembly would repeal remaining bans statewide, by stripping away a 1988 California law that allowed local governments to pass anticruising ordinances. Such ordinances can be applied to cruisers as well as lowered cars.

That bill was co-authored by Assemblyman David Alvarez, who represents the San Diego suburb of National City, where the city lifted a cruising ban last year—and then restored it after unexpectedly large crowds attended a sanctioned event.

"We feel this ordinance is targeting the Black and brown community," said Jovita Arellano, president of United Lowrider Coalition, a San Diego group formed in 2020 to seek the repeal. The bans don't target more upscale areas frequented by high-performance cars, she added. "The hot rods don't get pulled over."
That story's worth a read in full, but here's what happened when the bans were put in place in the 1980s:
San Jose banned cruising in 1986. Lowriders continued to ride, but not in big groups, and always with the fear they might get pulled over by police for an infraction, said Doug Vigil, 59 years old and a member of a lowrider club started in the 1970s called New Style.

"They would look for problems to give you a ticket," Mr. Vigil said.
Kudos to the Journal for highlighting this story and the bias-related problems tied to the original bans. Let these dudes (and women) cruise. I figure these days, the cops have bigger problems with sideshows, street racing and street takeovers, and I have to assume the lowrider crowd is significantly more chill than those folks are.
Your Turn
Are you deterred by Ford's quality woes in recent years? Would they put you off buying from the Blue Oval brand?
Support our mission of championing car culture by becoming an Official Autopian Member.