Every day, one of our wonderful contributors, Mark Tucker, finds listings for two cars that are really past their prime, slathers them across your screen, and gets you to vote on what's the best. Often, these cars aren't just your nightmare, but somewhere, a mechanic probably wakes up in a sweat after a Shitbox Showdown gets posted. But sometimes, a gem is hidden in a Shitbox Showdown and you might not even know it.
Take today's 2003 Lincoln Town Car Signature Series as an example. Now, as one of the Autopian's serial cheapskates, $4,000 is a bit too rich for my blood. I remember when you could find an old Panthers for $1,000, drive them into the ground, then buy another for $1,000. Of course, the car market is a bit nutty right now so maybe $4,000 is the new $1,000.
Anyway, to the untrained eye, a Lincoln Town Car may be the vehicle for someone running an airport car service. Maybe you associate this big boat with elderly drivers. Well, today's COTD winner MustangIIMatt says not so fast, because there's beauty hidden underneath that chrome trim:
This isn't even a contest.

Lincoln, hands down.

Look, it's got the 4.6L V8, in it's plain jane 2V glory, that makes enough power to move this barge, and do it with surprising efficiency and smoothness. It's also reliable. How reliable? Toyota fanbois can't talk shit about it levels of reliable. The damned things just don't break when taken care of. They have a lighting control module that may fail eventually, and if it has the rear air suspension, it'll eventually do what all airbag suspensions do and wear the bags out, and that's IT.

Too slow for you? A 4.6 4v, 4.6 Terminator, 5.0 Coyote, and all of the rest of the Ford modular V8 family are bolt-in swaps, or the original 2V mill doesn't mind a bit of boost. Bam, now it's not slow, but it's still reliable.

You need to venture off the beaten path? Go on Youtube and look at the stock Crown Vic (this car's platform-mate) conquering MOAB like a damned Jeep. Look at all the lifted off-road builds of these out there. Why is this happening? Because the Panther platform these are built on is full-frame and every bit as rugged as a pickup, they even have 1/2-ton pickup towing capacity for crying out loud. There's a gentleman in my town that tows a tandem-axle flatbed trailer with his lawn care equipment with one. Yup, all those dummies riding around in jacked up 3/4-ton diesels to tow a couple of lawnmowers? They could be riding in luxury and saving a ton on fuel instead.

Then there's the trunk space. You open the trunk on this and you'll find two amazing things:

1. A full-sized spare.
2. As much cargo room as many modern crossovers.

What? You don't want a big luxury sleeper? You don't want the correct answer to "which truck should I buy?" You don't want a crossover SUV alternative with the sweet sounds of a V8 and the same gas mileage as a buzzy 4-banger brick-on-wheels?

What about a lowrider? What about a super-comfortable commuter? How about a comfortable mobile office? These cars are so roomy, so well built, and so comfortable that you can adapt them for nearly anything.

The Infiniti is cool and all, but the Lincoln has WAY more going for it.
I happen to agree. I've never owned a Panther before, but throughout my travels I've been able to experience just how epic these cars are. Ford's Panthers are a staple of the Gambler 500 and HooptieX. You'll see them doing endless burnouts, crawling their way up rocks, fording rivers, and being used like trophy trucks.
Don't believe me? Watch this LS-swapped Ford Crown Victoria: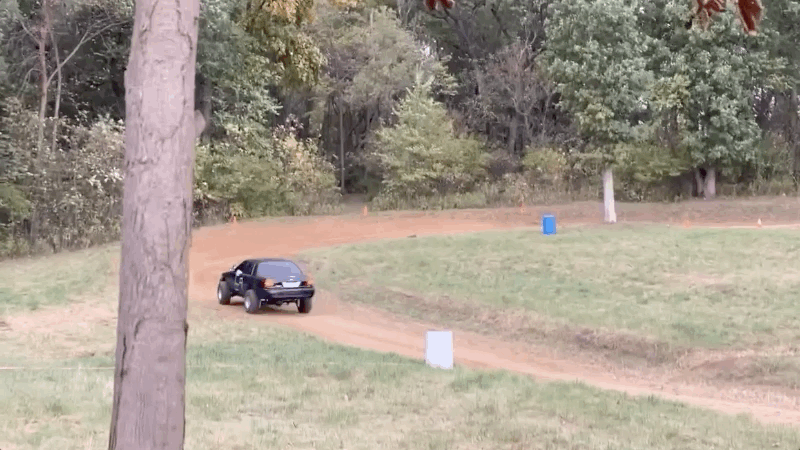 Hell yeah, brother! Click here for the full video.
If you don't need your car to take flight, Panther platform cars still have good news for you. These things will run forever, even if you treat them like they owe you money. I've seen Crown Vics and Town Cars banging off of their rev limiters for 30 minutes straight and they still ran and drove.
What I'm getting at here is that you could definitely buy a Mercury Grand Marquis, Ford Crown Victoria, Lincoln Town Car, or any other Panther variant and just let your freak flag fly!
What other hidden gems do you think are hiding out there?