Happy St. Patrick's Day Weekend, Autopians. Yes, it fell on a Friday this year, so we know at least some of you will take this one into your off-days.
While driving to class yesterday, I passed a green Kia Soul, the butt of all "ugly car" jokes. I flinched a little bit. I then passed a brand new Lexus NX in a forest-green color and fell in love.
In our world of silver, gray, black, white, and that new "gray-blue" color I am seeing more and more of, green is an underdog among them. Not super bright, not super dark. Looks great in certain angles, shadows, and light rays. So that got me thinking. What are my favorite green-colored cars?
British Racing Green
British Racing Green is by far my favorite shade of paint on any car, let alone just green. As a self-proclaimed Land Rover enthusiast, I fall in love with any JLR product painted in this gorgeous color. Over at Mini, they've done a great job keeping this national tradition alive too.
British Racing Green has a deep and lively history, as Mini USA writes:
Ask someone what colour they would choose if they won a MINI and the immediate response is often "British Racing Green". Why is it that this dark green colour seems to be just as inextricably linked to MINIs as teatime is to England?
Interestingly, there is no one specific green known as British Racing Green. Rather, there are a variety of shades of green that carry the name. British racing stables in particular used variations of this colour. BRG really became well known owing to Formula 1 World Champion Jack Brabham. In 1959 the Australian brought the prestigious title home in a Cooper T51, and then the following year in a Cooper T53. His champion cars sported two white racing stripes down the front, on a green background.
How cool! A beautiful color, or shall I say "colour," with an extensive history. No wonder why everyone enjoys them. In fact, I should point out my favorite car painted in British Racing Green. It's a 1997 Land Rover Defender 90 NAS, one of the ultra-exclusive final year Defenders imported to the United States.
A four-wheel drive convertible with room for six? Yes, please! I'd love to sip my tea in one of these tanks. Would anybody like to lend me $100,000? I'll pay you back… in gratitude.
Rivian's Earth Tones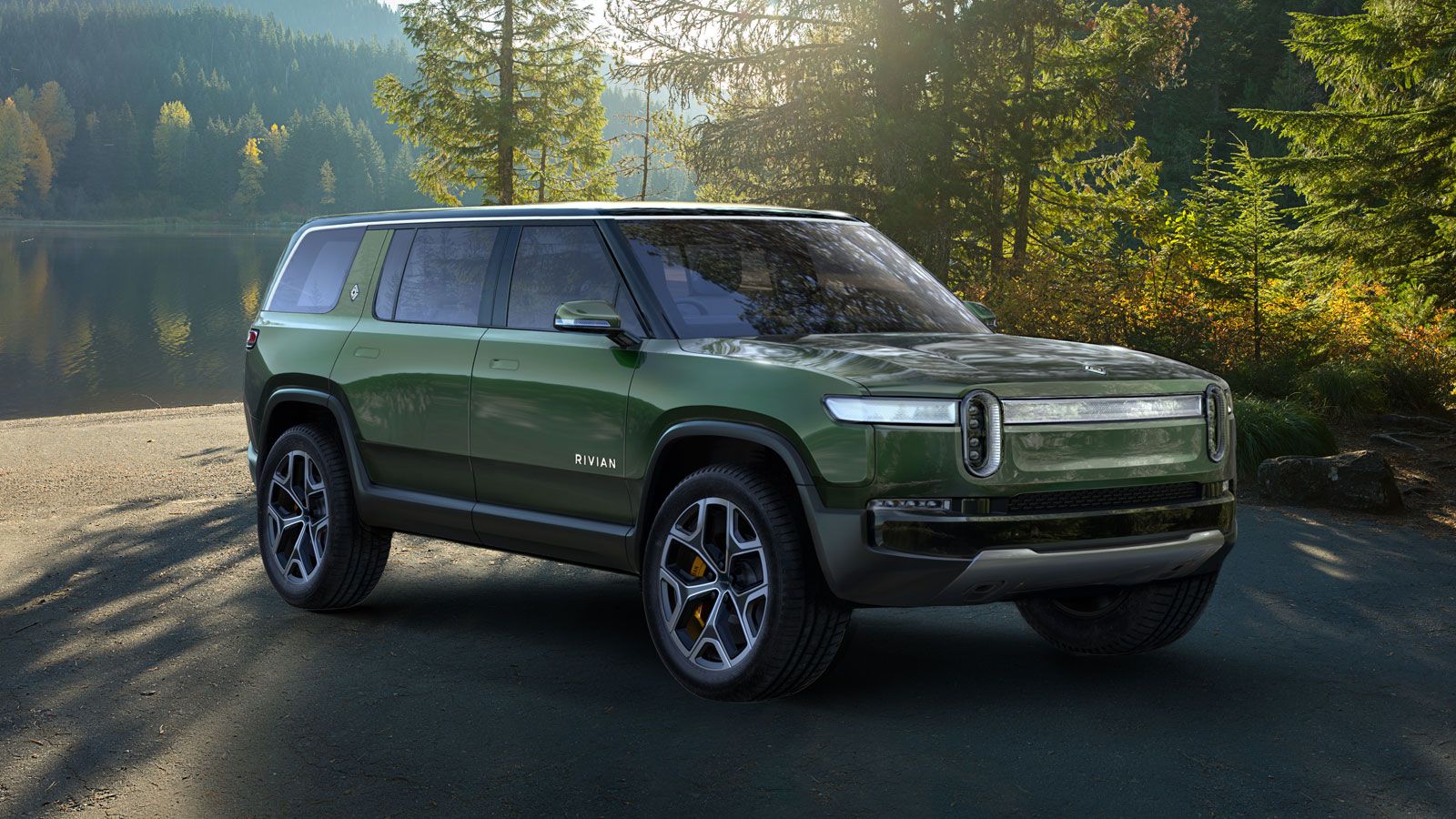 I am a fan of Rivian. I think that the R1T and R1S are fantastic models that exhibit a promising future for capable, efficient, and practical vehicles. I am also a big fan of their colors. I am fond of the sharp, but warm yellow, referred to as "Compass Yellow," but especially fond of the two green colors offered: the more gray-ish "Launch Green" and the deeper "Forest Green."
On Rivian's official "Stories" webpage, Aileen Barraza, senior manager for Rivian Colors, Materials, and Finishes, writes:
Our paints were designed to change with the light and reveal new depth as our vehicles bring people on journeys to new places. There isn't one color where we didn't push for more iterations, until we knew we got it right. We went outside to find the source material that would lead to Rivian's dynamic tones: greens from Pacific Northwest forests, reds and oranges from Colorado hills and canyons.
Launch Green was the official color of the first Rivian R1T, and it is actually the undercoating color applied to every Rivian before painting over with another special color. So technically all Rivians are green when you think about it. Good job, Rivian. Save the green!
But by far, my favorite Rivian color is referred to as Forest Green. I can just imagine all the wealthy Portlandites traversing the Pacific Northwest in their Forest Green R1Ts listening to the Lumineers. Wow, that was a very millennial statement.
Subaru Crosstrek
Subaru. The brand that prides itself on outdoor adventure, travel, and living the "granola" lifestyle. Naturally, they have to offer some sort of green, right? Well, they do! Sort of… I'll let you decide. Let me explain my discrepancy.
I spent a summer working at my local Subaru dealership. For those unfamiliar with the Subaru Crosstrek, there is an available color known as "Plasma Yellow." Take a look:
It's yellow, right? Well, not everyone agrees, even though it's in the name—literally. Back in the summer of 2022, Subaru dropped us off a Crosstrek to use as a loaner in this color. A fully loaded Limited, with all the bells and whistles. In fact, it hardly saw any usage. Why so? Our customers refused to drive it, with one gentleman saying, and I quote, "that green makes me want to throw up and never drive a Subaru ever again."
Needless to say, he went home in a different-colored loaner. My coworkers and I also took a poll, and if I remember correctly, we were split down the middle in whether or not the "Plasma Yellow" was actually a dark yellow or a light green. There were also about 40 of us who responded. Either way, the green-yellow-puke-colored Crosstrek did not receive a great deal of popularity, which is a shame. I like it! It's unique.
Anyways, those were a few of my favorite green cars. Now, Autopians, tell me. Do you like green cars? Do you own one? Should the leprechaun take them all and bury them somewhere far, far, away? Tell us!