Look, I get BMW's point of view. When you're a company that currently makes six figure vehicles that rival or exceed machines with three pointed stars on their hoods, you don't necessarily want to be reminded of motorcycle engine-powered things that barely qualified as cars that you made in austere post-war times. It's like some Academy Award winning actor being reminded of some stupid sitcom they were on decades before. Still, what if people really like the sitcom?
Such is the case with the BMW Isetta. Here is a four wheeled little car that appears to have three wheels, wrapped in a body that looks like a giant snail with a refrigerator door strapped to its face (and that door is how you get in the damn car). This is hardly part of the Munich firm's current image.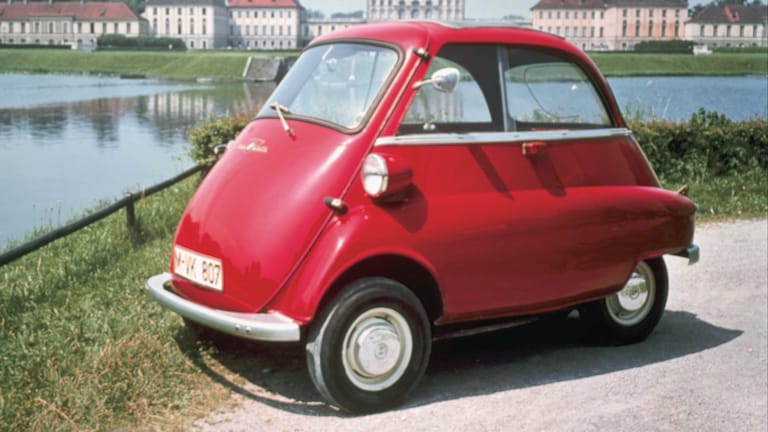 Here's the problem with ignoring this nugget of history, though: Most people think it's damn adorable. There's a tremendous amount of love for this silly little car. How about $95,000 worth of love for something that maxes out at around 50 mph? Crazy as it seems, that is what a restored no-celebrity-tie-in Isetta recently sold for (though most admittedly go for between $20 grand and $50 grand). This is the kind of adulation that most carmakers would kill for and immediately want to make a retro version of to capitalize on the popularity. Still, BMW remains unmoved.
There is, however, a Swiss company that couldn't let the modern Isetta concept rest. The Microlina was released last year as an EV interpretation of the little BMW, complete with the classic front opening door and sunroof. With a short range and a top speed not much higher than the original Isetta, it's strictly a car for the city, and one that the NHTSA will likely ban from the shores of the US.
It's not like BMW has totally ignored the city car market, of course. The recently discontinued i3 was, according to them, the best selling premium compact EV of all time, though that sounds a bit like my "Best Green Car On My Street" fabricated-award. The only real competition I can think of in that "category" is the slow-selling Lexus-branded Prius (and that was a hybrid only), and the 250,000 i3s sold was accumulated over nearly a decade period of time. Those numbers are still commendable, especially considering the car's somewhat limited range, "unique" appearance, and the inability for the public to fully grasp exactly what it was.
Much of the staff at the Autopian (including recent buyer David Tracy) and I really like the design and looks of the i3; the fact that it matches our eccentric tastes (Yugo, Nash Metropolitan) likely explains why it never sold in massive numbers.
My colleague Jason Torchinsky commented that the i3 is surprisingly similar in concept to little postwar BMWs in profile, and honestly in overall concept as well. Just for shits and grins, what would it look like if BMW's first EV were modeled after the Isetta in a Mini Cooper/New Beetle sort of way?
Well, not exactly an Isetta. If we were to stay true to the little old BMW's two seat design we'd be limiting our market to the same one as a Smart, and we know that wasn't exactly a gold mine. What we'll use as a basis is the later BMW 600, a sort of "Isetta stretched limo" if you will, which featured a rear seat accessible from a conventional door on just one side of the car.
This 1956-59 car was a notorious sales failure against more conventional cars of the time (the Beetle), but it has the look of the earlier car everyone is enamored with. Using the 600 as our inspiration and adding i3 design sensibilities, the result is the 2013 BMW iS:
source: Zanchin Automotive Group
Like the Isetta and 600, the shape of the car tapers down at the rear with a slightly reverse staggered track, though not nearly as drastic as on the originals. The Isetta's funky headlights that stick out of the side of the car are retained, except in this case they are actually headlamp-looking turn signals that double as the side mirrors (hence the odd dip in the beltline to actually see them). The real headlamps are sunken into hockey-stick shapes that echo the old car's bumper. Two tone color combinations are offered with subtle details like the arched roof trim to pick up on the cues from the original car.
Also note the rear side marker light and logo mimic the 600, and the Roundel logos front and back cover up the pivot point for the single arm wipers. Like the New Beetle and Mini Cooper, even if you've never seen the inspiration of the iS in real life you'll still see it as something funky and instantly recognizable as a European city car. It's certainly a polarizing look; many will hate it but I believe there are plenty of buyers that will think it's the cutest thing they've ever seen and need to own it right now.
From a practicality standpoint, it would be hard to argue. The front opening door that almost certainly won't pass safety regulations in many nations, so we'll have to go with somewhat conventional doors. However, all is not lost: the frunk lid of our EV will be accessible by a side opening door.
I'm showing two center opening doors but I'd also like to consider two doors on the passenger's side while the driver's side gets one longer door to allow you to dump your briefcase or bags in the back seat.
The inside of the original car was painfully spartan but well crafted, while the i3 featured the top-drawer materials you'd expect from what is now a premium brand. The i3 interior is pretty striking visually but DAMN there's a lot of shapes and forms going on around the driver's side, as well as the stuck-on flat screens that I don't like. There's also a decidedly overstyled shifter growing out of the steering column.
I've tried to combine the two looks, keeping the materials of the i3 with a simpler shape including a single piece display panel. The zig-zag shape of the i3 is kept, and I've gone Ford retro here with buttons on the steering wheel like a 1958 Edsel for gear changing (or whatever we call it in an EV).
The seats are a rather odd "egg" shape, with a cantilevered center console featuring the i-Drive controller and cup holders between them, above an open 'purse nook' below (and a storage bin under the padded armrest behind).
In back, there's a two-piece tailgate to access the cargo area. This tailgate design allows for the iS's true party trick to give you maximum cargo space while preserving its small size; that party trick is the optional Kabuze. Quickly install the Kabuze panels to create a sort of "bay window" to cover the opening. Now you've got over twenty extra cubic feet or so of indoor cargo space, creating the mid-sized SUV that you might need occasionally without requiring you to buy a car that's bigger than you want 95 percent of the time. We know of one BMW i3 owner that, if given the iS instead, would likely love the ability to carry, say, a whole set of Jeep XJ door panels, an XJ transmission, and a few used tires that only leak a little bit. The end panels open up like the existing two-piece tailgate, and the lower panel features built in repeater rear lights and CHMSL which, combined with the flip-down plate, keeps you street legal.
The plastic Kabuze parts are flat, relatively lightweight, easy to carry, and able to be stored in your garage, home, apartment, or on the roof of the iS when not in use (maybe in a zip-up Kabuze Kase that could feature wheels like the baby seat bag we used to drag it through airports).
I'm well aware that nostalgia is something that can easily be overplayed; the overabundance of boomer-era muscle car reboots is a perfect example. However, I think this one would have been worth the while; it was possibly a missed opportunity for BMW to not look into their own rich past when they were trying to invent a new category of car. There are very few of us who can look at an Isetta or 600 and not grin from ear to ear, so this stupid-looking-but-practical car would hopefully have the same effect on people. Isn't that what fun, stylish urban transportation should be about?
all illustrations by The Bishop
Here's What A '50s Nash Metropolitan Would've Looked Like In 1985 – The Autopian
Watching An Electric BMW i3 City-Car Drift Is Hilarious And Here's The Secret To Doing It – The Autopian
I Bought A High-Mileage Electric Car With A Bad Battery. Here's Why That Was Actually A Stroke of Genius – The Autopian
A Daydreaming Designer Images An iMac G3 Inspired 2001 Apple iCar – The Autopian