I feel like for a certain segment of the population, which may include myself, the announcement of a new Wes Anderson movie is a little stab of pastel-colored, symmetrical delight that rends a little tear in the gray tarpaulin of reality that can blanket daily life. It's fun and visually engaging, and while I know the filmmaker and his films certainly have their critics, that's fine and all of you in that camp should feel free to hang out in the back of the bus and say hard things and smoke clove cigarettes or whatever. I don't care. What I do care about are the cars shown in the trailer for his latest movie, Asteroid City, because the whole thing seems to be a reason to construct environments around early '50s American station wagons. And I'm all for that. Let's dig in.
Here, you can watch the trailer, which is both in color and a talkie:
Lots of Cold War Southwest happening in there, though it seems a bit more fun than the Cold War 1950s that we were served here in the actual universe, because in this one it appears that death rays and jetpacks actually, you know, work:
Seems pretty fun to me, even in the likely shadow of nuclear annihilation. What a way to go, though, right? Let's take a look at these cars, starting with what seems to be the hero car:
This lovely wagon looks to be a Mercury Monterey woody wagon, a 1953 or 1954, I think, and while it seems to be having some pretty significant issues to, I suspect, set the plot in motion, it still looks charming and handsome, even on that lift. I especially like that strange \-shaped strake of light wood Mercury's carpenters decided to put in to help define some character on those wood sides.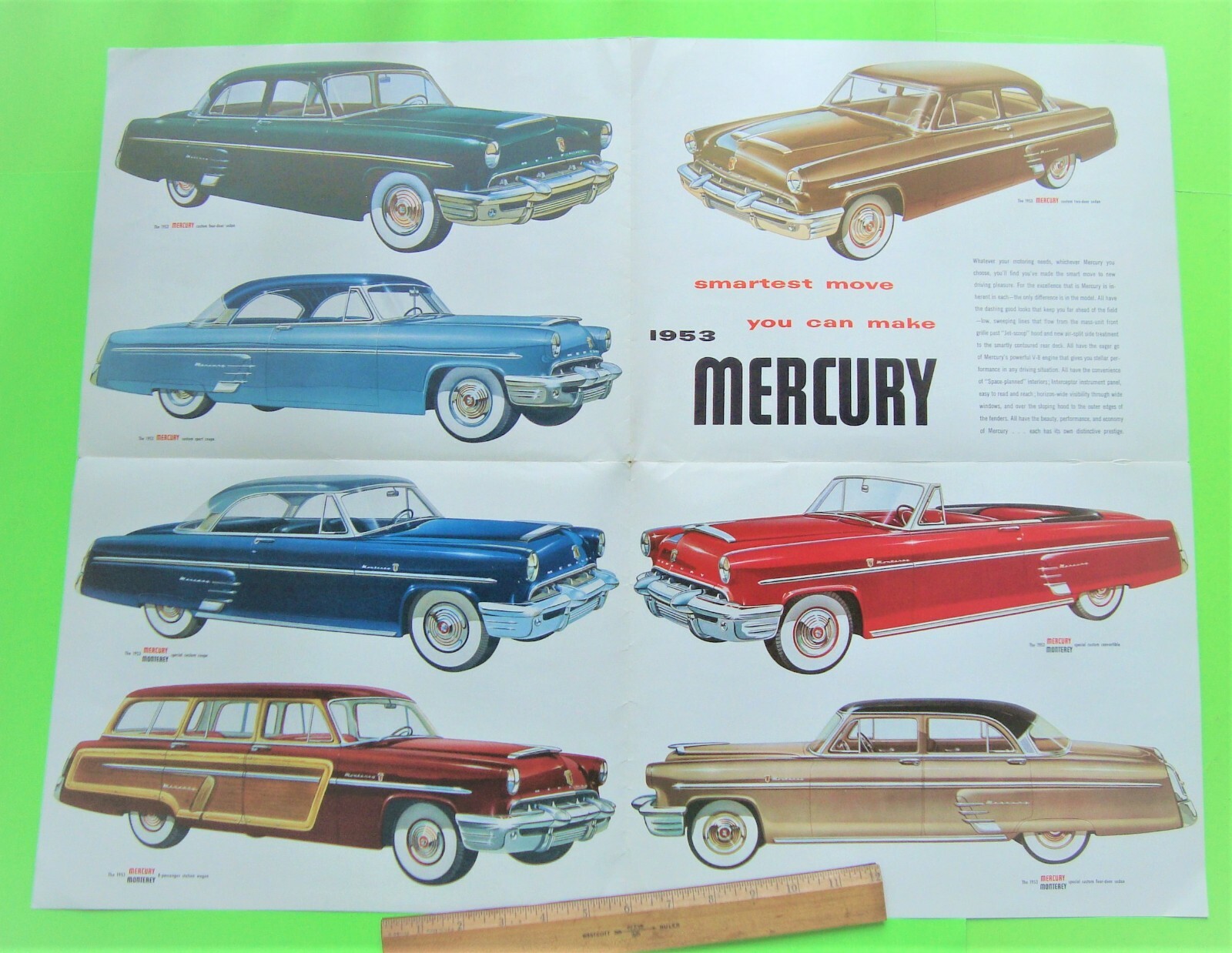 You can see it there on the bottom left of the Mercury brochure above.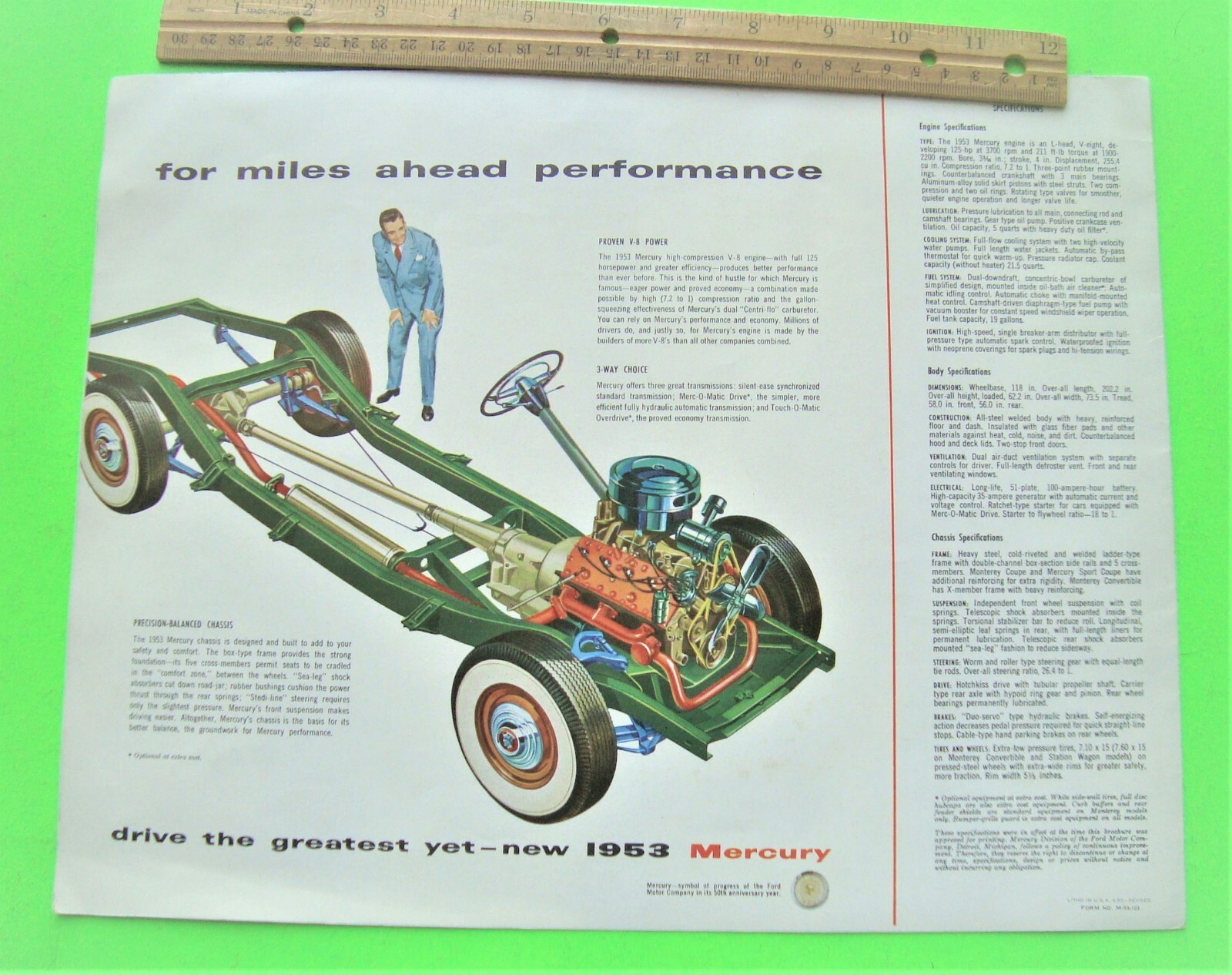 Since I'm sure you absolutely need to see the chassis, powertrain, and drivetrain of the Mercury Monterey featured in this Wes Anderson movie, I've provided it above.
Over there on the far left of the scene above we see the tail end of a Chrysler Town and Country Station Wagon, though this could also be one of that car's Mopar-family siblings, like a DeSoto or Dodge.
But I think it's a Chrysler, based on some of the chrome trim placement. It's got very prominent hinges on that fold-down tailgate there, some small, understated, hyphen-shaped taillamps, and I think is overall a very tidy-looking wagon. I think this one is a '53.
This one is especially interesting, I think. See that TV station van on the right there? That seems to be a Studebaker R10 Panel Van, from about 1950 or so. I tend to remember Studebakers like the Avanti or the Bob Burke/Raymond Loewy Starliners and Hawks, and tend to forget the fact that Studebaker made utility vehicles like panel vans and pickup trucks with the longest name on the tailgate ever (well, tied with Volkswagen, I suppose, oh, and as commenters have pointed out, International). These R10s seemed roomy, with high roofs and I think feel like a good choice to haul around a lot of '50s television broadcasting equipment.
That panel van there isn't an exact match for the type being shown, but it's close. The one being sold here looks to match completely, though.
I've identified most of the cars in this shot, but I'm not totally sure on the orange one in the middle there. Also, I think the woody behind the '49 Ford may be in the Mopar family, but I'm not certain. I bet you kooks can figure it out, though!
The car in the lower left in the picture above brings me to my one main complaint about the car casting I've seen so far, and it can be seen more clearly here:
So, the junked car there looks to be a 1955 Ford Ranch Wagon. Sure, it's a car that fits the time and place, but not in the condition or context that it is shown, which is a rusted-out junker. That's a new car in the timeline of the movie! Newer than even the hero cars! Why would it be all rusted out and abandoned? Maybe if it was, say, severely burned or something, but this just looks like the ravages of time and nature.
The other cars seen in junked contexts of the movie seem too new as well. These should be cars from the 1920s to 1940s or so, not mid-'50s cars. I get that the lifespans of cars weren't as long as they are in modernity, but, again, that Ford there would be effectively a new car in this movie, unless we're dealing with some kind of time-portal shit or something. I mean, it looks like there's UFOs in here and at least one strange meteorite:
…but unless the hypothetical planet Magnavox-27 has time-warping properties, this feels like an unusual oversight for as careful a scene-crafter as Wes Anderson tends to be. Maybe he was just picking the cars to fit his visual aesthetic as opposed to what may make the most sense; if so, I guess I can't be too surprised by that.
This temporally-confusing issue aside, the movie looks crammed full of fantastic old cars, and I'm sure they'll all be placed in carefully-crafted scenes with incredible attention to detail, and I'm all for sitting and watching that.