Was it just last week that we all had Taco-mania? When the new 2024 Toyota Tacoma came out? Maybe two weeks ago? I think I was so flabbergasted by the wildly complicated, shock-absorber-enhanced seats that I forgot to talk to you about something else that caught my attention: the shifter. The manual shifter, the stick shift. It caught my attention because it was a perfect example of a strange phenomenon in the shifter zeitgeist right now: modesty. As in, like, the Puritanical sense. There seems to be a strange trend where, bafflingly, the actual stick of the stick shift has been deemed to be something that must be hidden at all costs, and, as a result, we get these strange, huge shift boots. Why? This looks weird? What the hell is going on?
Let's have a look at this thing:
That's a tall shifter. That makes sense, it's a pickup truck, and the geometry of it all means you'll need a tall shifter if you want to be able to comfortably shift the transmission without having to have a set of gibbon arms grafted on in place of your stubby human arms. Tall shifters have been a staple of trucks for decades and decades, and somehow, we never used to mind seeing the, you know, shifter. Look at this Land Cruiser shifter, for example:
Long shift lever, nice rubber accordion'd boot (which I actually prefer to these scrotal leather ones everyone uses now) and that shifter shaft is just out there, loud and proud, and looking fine. The Tacoma has one, too, under that leather tent there, of course, it's just all hidden:
I'm not the only one to notice this; over at The Drive they found the shifter to be awkward and weird looking, so they asked a Toyota engineer, which was a smart idea. Here's what they were told:
"We had to change, of course, the bell housing and so the mechanical attachment to where that goes to the transmission is a little bit longer. We have just a little bit longer throw, so, therefore, we had a little bit longer shift lever and the boot is just there to match that."
Really, all that means is that it's a long shift lever, which we all knew. But it doesn't explain why the whole damn lever has to be covered with the boot!
Why do we need the boot to go all the way up to the "neck" of the shifter? It looks weirder like this! It looks like the Sorting Hat from the Harry Potter series, stuck there in between the seats, ready to tell you you're a Slymeron or Ravenclams or whatever:
When I look at it, what I actually see is something strangely ecclesiastical, like the shifter is a medieval Jesuit monk or something like that:
Want to shift from third to fourth? Just grab Brother Theodore there by the head and drag him down. Easy!
When did this happen, exactly? Does this image make anyone feel uncomfortable, really?:

I'm just going to come out and say it: this total-boot/hide-the-stick business is not healthy. The strange, conical results of the shaft-modesty boots are bulky and clumsy things, and provide no real benefit to anyone. Let your shifter be a shifter. There's nothing to be ashamed of. Free the shaft! Free your mind! It's called a stick shift, dammit, not a leathern-gown shift! Enough is enough! To the streets!
{Editor's Note: I noticed this on the Jeep Wrangler JK, as well. Early JKs had shifters that looked great: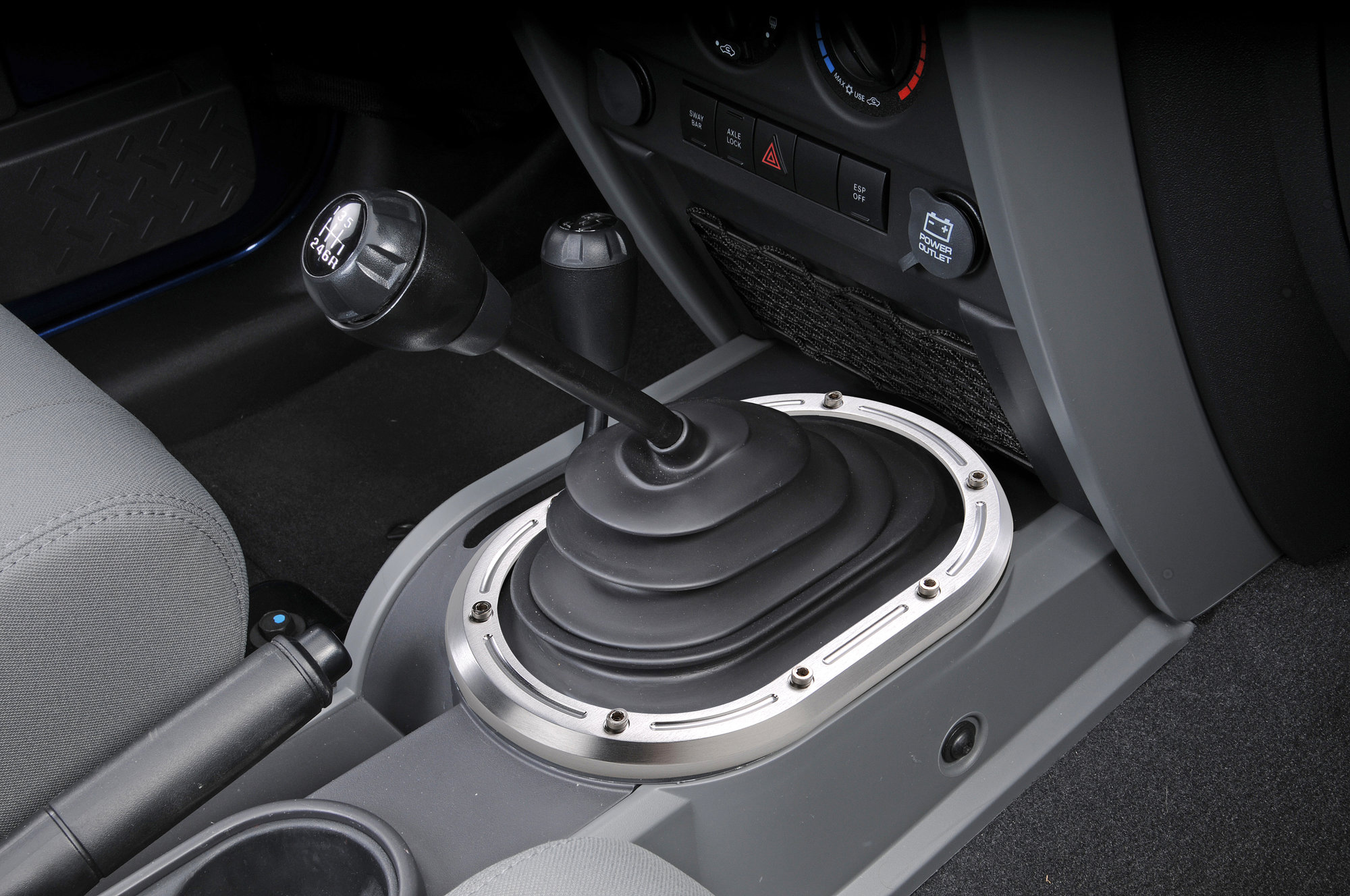 Then in 2011, the shifter turned into this:
Come on. Clearly that's a step backwards! -DT]