If you go to a campground today chances are you'll spot giant rolling hotel rooms that cost as much as some houses. But if the high prices of these rigs or their often boring swoopy graphics aren't for you, there is still a huge market of vintage campers with loads of character. I found a few that look just perfect to camp out the rest of the summer in. This is the Airstream Flying Cloud, an aluminum-bodied camper sized just right to be towed by darn near anything on the road.
Today, Airstream is known as one of a handful of brands that still builds a quality RV. The company's trailers usually come famously wrapped in shiny aluminum and are designed to stand the test of time. It's no wonder that they command a ton of money big or small.
But Airstream's campers weren't always aluminum beauties. Company founder Wally Byam grew up living in a wooden wagon towed by a donkey. And in the early 1920s, Byam and his first wife were big into camping. But, like many people of today, Byam's wife wasn't fond of tents. Yeah, I know how she felt!
This led Byam moving from his career in the writing world to making early campers. The first was a complicated tent structure on a Model T chassis and the second a teardrop trailer built out of hardboard.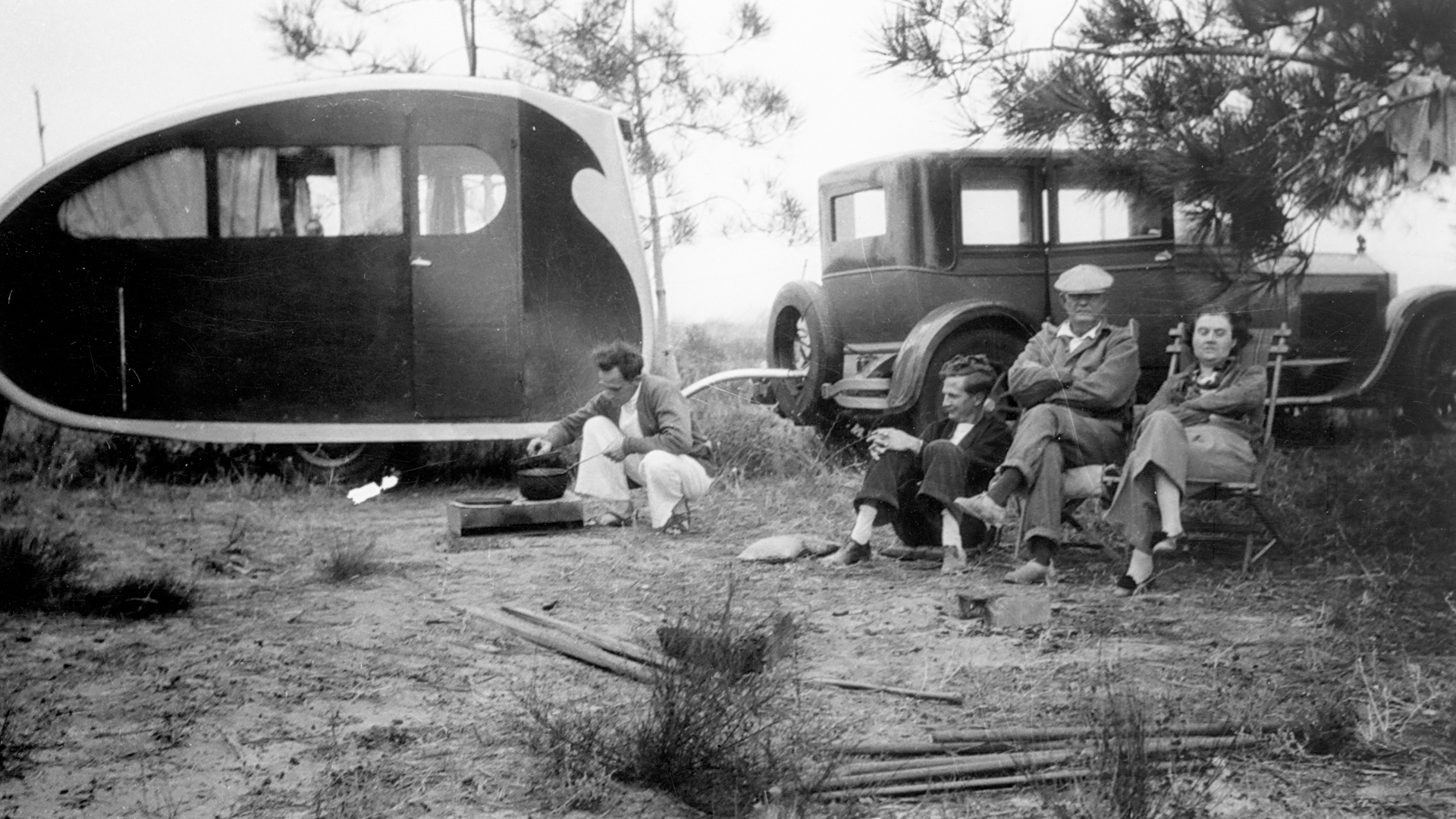 People loved the trailers so much that Byam sold plans for others to build their own. Then in 1931, Byam opened his first factory.
In 1934, Byam would get his inspiration to build the first aluminum Airstream. Aerospace engineer Hawley Bowlus–known for his work in bringing Charles Lindbergh's Spirit of St. Louis to life–had taken some aircraft technology and applied it to trailers. The 1934 Bowlus Road Chief featured traits trickled down from aircraft like a riveted aluminum body using stringers for support. As Hemmings notes, they weren't originally for families, but as a way to house crews and ground support at airports.
Byam was definitely paying attention, and just two years later, Airstream released its first aluminum trailer to compete.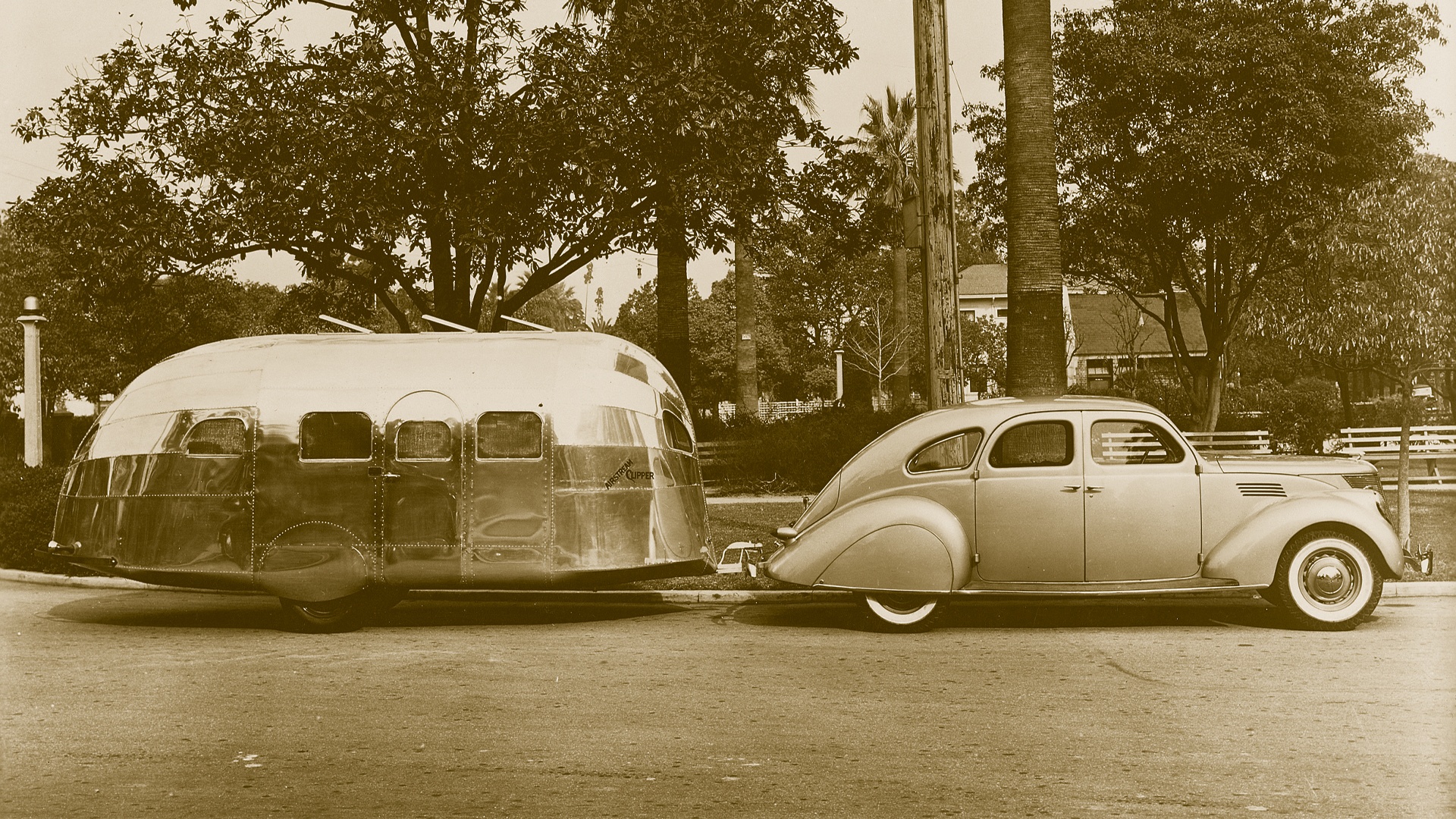 The Clipper looked a lot like a Bowlus, but diverted with a door on the side instead of the front. It also had a bit of a sleeker shape and still used an aircraft-inspired semi-monocoque build. And its name was inspired by the majestic "Clipper" flying boats of the day. With the help of the Clipper, Airstream was able to survive the Great Depression. Bowlus, unfortunately, didn't.
Airstream expanded its concepts through the 1940s with trailers like the long Whirlwind, the tiny Wee Wind, the advanced Liner, and the light Globe Trotter. But the direct successor to the original Clipper didn't come until 1949 with the Flying Cloud.
Airstream's focus with the Flying Cloud was to give campers all of the amenities of home in a trailer that wasn't going to be a burden for vehicles to tow. The Flying Cloud boasted a refrigerator (many campers of the time simply had an ice box), double sinks, and working plumbing. Flying Cloud owners could enjoy taking a shower and a flushing toilet on the road.
It was also quite versatile, with Airstream offering a plethora of floorplans for its 18-foot body, giving buyers some decent choice. And at a dry weight of about 2,500-pounds, you didn't need something huge to tow it.
Airstream says that 70 percent of its travel trailers are still on the road today. I found a few vintage Flying Clouds for sale. Most of them have been renovated but a few originals are out there.
Check out this 1955 Flying Cloud.
It's said to be in mostly original condition. I love how the aluminum still shines bright. And the visible parts of the frame that we can see look great.
Inside, it's like a museum piece or a time capsule. I mean, check out the original kitchen equipment. The only thing that looks out of place is the air-conditioner.  It's not original, but a welcome addition considering the crazy heat lately.
Of course, even 67 years down the road these trailers seem to hold onto some value. This one is $37,500 from a seller in Stafford, Texas.
And for an example of what these look like with a few renovations, check out this 1958 Flying Cloud.
It still has the vintage vibes–and most importantly, a bathroom–but you won't be working with equipment old enough to receive retirement benefits. Even this one is $29,990 out in Lakeport, California.
And for just one more mostly original one, there's a 1953 Flying Cloud with a slightly different floorplan for $25,000 in Signal Hill, California. This one looks like one good polish away from being the star of the campground.
Flying Cloud production originally lasted just ten years, with Airstream moving on to other future concepts. The company even produced a conventional fifth wheel camper at some point, too. In 2009, Airstream dug into its archives and dusted off the Flying Cloud name for a new line of trailers. The new Flying Clouds have a huge number of floorplans like the trailers of old, but they have the modern Airstream look.
It's awesome to see old campers like these still in decent shape. It's not easy keeping any camper on the road, let alone one nearing 70 years old. But these trailer stand proud as a testament to their owners' willpower and quality that some modern rigs could only dream of having.