When most people think of Smart, they probably think of slow and tiny city cars that don't quite get the fuel economy that they should. But in 2003, German tuning house Brabus made ten Smarts that are so quick that they had the same power-to-weight ratio as a Porsche 911. The Smart Roadster Brabus V6 Biturbo is one of the fastest Smarts ever, but you'll probably never be able to buy one.
For a short few years between 2003 and 2006, residents of a handful of lucky regions could buy one of the coolest cars to be bestowed with a Smart badge. The Roadster was a modern and quirky take on the old-school British roadster. It was a car that felt so responsive and so alive that it impressed journalists and owners around the world. Even Top Gear enjoyed the ride. But, a common complaint with the low-slung Smart was that it wasn't all that fast. That's where famed German tuning house Brabus comes into play. Later in 2003, German tuner Brabus, known for its fast and even more luxurious versions of Mercedes-Benz vehicles, created a Roadster design study.
Whereas a normal Roadster at the time had at best 82 HP from its 698cc Mercedes-Benz M160 Suprex turbocharged three, the Brabus design doubled up on the power. And Brabus did it in the best way possible: by taking two Roadster engines and combining them together to make a V6 with a common crankcase. The result? The new 1396cc V6 powerplant sports two turbos and makes 170 HP, which Smart says allows the Roadster to hit 60 mph in under six seconds before going on to a top speed of 137 mph. The Smart Roadster Brabus B6 Biturbo was born.
Brabus created ten of these cars and allowed the media to play around with them. Motor Trend got to review one, as did Top Gear. The outlets that got to test these seemed to fall in love with Brabus' hot rod Smart.
Then Top Gear presenter Richard Hammond noted that Smart's engineers hadn't figured out how to make traction control work with the extra power, so the car didn't have it. Thus, the car was happy to get very sideways.
Top Gear was already a fan of the original Roadster for how alive it is. Hammond concluded that doubling the engine, doubling the power, and halving the acceleration time only made it better. And because the Brabus V6 Biturbo has so much of its power down low, Hammond said that the car felt like the engine was so much bigger than it really is. "It's like a bottle of sports car concentrate," Hammond remarks.
The Roadster Brabus V6 Biturbo is based on a Roadster Coupe; that's the one with the extra trunk space by way of a glass hatch. And amazingly, the double-sized engine still fits in the back, sort of. In creating this car, Brabus eliminated the storage tray that would normally be on top of the engine. That means there is no storage space in back anymore. But as an upshot, you get to look at the engine through awesome louvered glass.
If you know Roadsters, you might be thinking that it's fine because the car has a frunk. Normally, you'd be right. However, because the engine is so big, Brabus had to fill the frunk with the vehicle's Formula 1-style foam-rubber fuel cell.
Other changes happened under the skin, MOTOR magazine writes. Normally, a Smart features a De Dion tube in the rear. In this setup, the springs and shocks are separate (see my Smart below), and mounted onto a U-shaped tube that goes around the engine: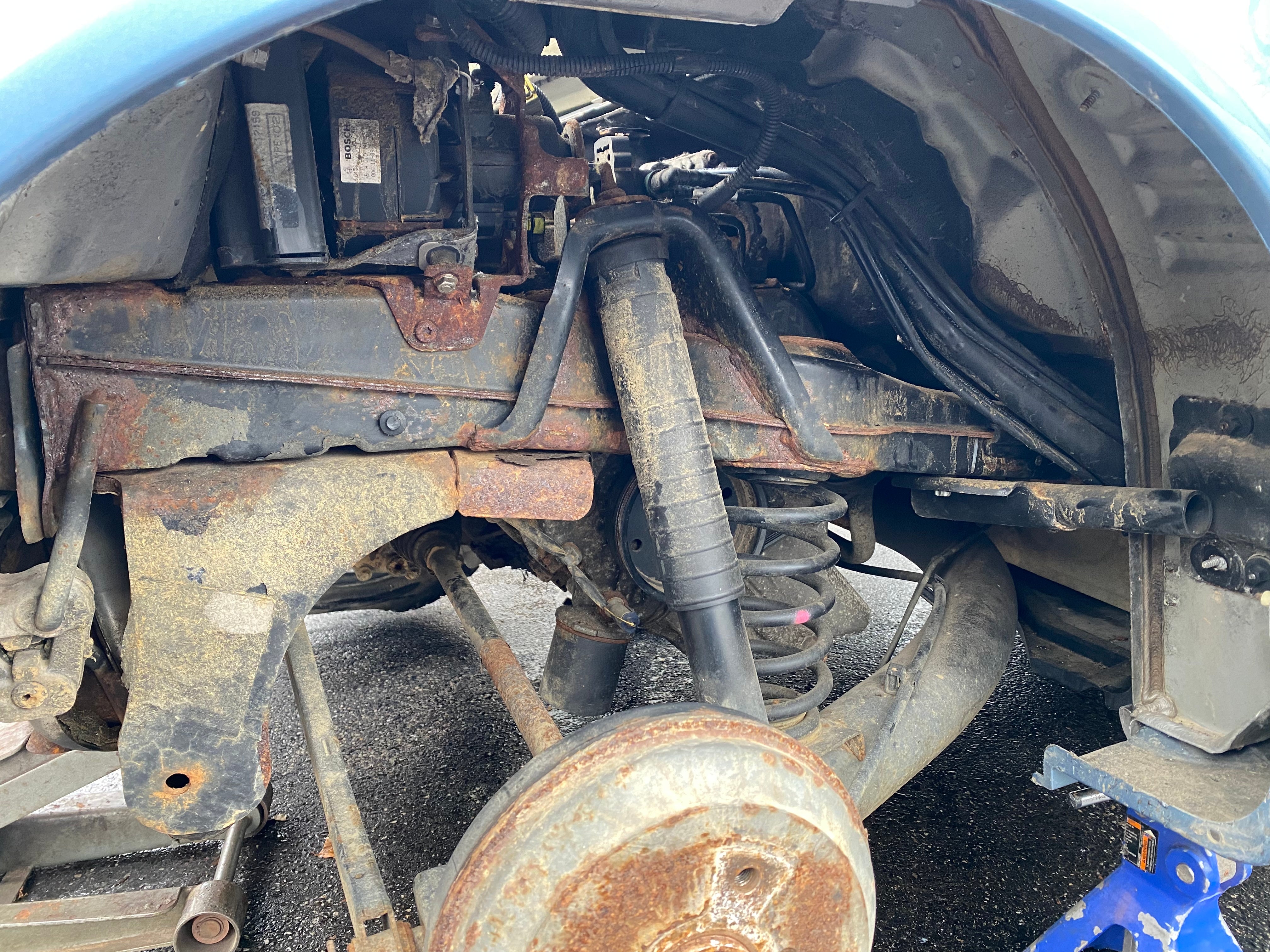 In the Roadster Brabus V6 Biturbo, the De Dion tube stays, but the separate springs and shocks are replaced with struts.
Inside, the cabin is filled with aluminum, quilted leather, alcantara, and red accents that match the outside of the car. The transmission here is still Smart's single clutch automated-manual gearbox. Normally, people dislike these things, but it seemed that reviewers liked the car so much they were able to forgive it. Curiously missing from this interior is an air-conditioner and a radio. Reviewers noted that the car made a fantastic soundtrack–especially with the top off–so perhaps you only need the tunes of that engine.
There's more good stuff, too, like the car's 50:50 weight distribution and a power-to-weight ratio of 10.8 pounds per horsepower. Motor Trend notes that a period Porsche Carrera 4S has a 10.3 pound per horsepower ratio.
Of course, a car this good has a catch. While Brabus built ten of them, none of them are road legal. And with each costing 330,000 pounds to build, they're certainly the most expensive Smart out there. Speaking with MOTOR, Heinz Gottwick, then senior PR of Micro Compact Car (Smart's former name) said that the cars weren't built for production or for competition. Instead, Brabus just built ten functional show cars.
In 2004, Smart fans would get a Brabus model, but it would make a much tamer 101 HP with intact storage and a lower price. Of the ten Brabus V6 Biturbo cars that were built, it's reported that only three survive. One remains with Brabus while Mercedes-Benz has two. The others were apparently dismantled.
To date, these Roadsters are the fastest cars that Smart ever built. And perhaps no amount of money in the world could get one of them in your hands. That said, if you live in Europe or China, Smart's new #1 electric SUV sounds really quick. Acceleration times haven't been released yet, but you're looking at 268 HP. Like most cars that I write about, I'd love to have some time with a Roadster Brabus V6 Biturbo. This car sounds like all kinds of absurd and stupid, just as a Smart should be.