You longtime Autopian fans may recall how, back in the early days of the site, almost two weeks ago, I did a bit of a critique of the 2001 BMW-owned Mini modernization, focusing primarily on how the headlight design of the 2001 car appeared, at least to me, to be modernized versions of headlights that the Mini never used. At the time I reached out to Mini designer Frank Stephenson for his input, and just this morning I got a response! It's interesting, and, yes, stings a little.
Here's what I got from Frank, which, I would like to point out, was
… "dictated and sent in my absence," which is a pretty baller thing to have at the end of your emails that you can't even be bothered to type out on your own! You're a badass, I get it, Frank.
Okay, the response:
Hi Jason!

 I started to read your article with great interest and then it faded dramatically when I understood the point you were trying to make. Of course, taste is subjective, but the difference between good design and bad design is not subjective. It's guided by science and the basic laws of proportion and balance.

 In a nutshell, the new MINI I designed is not a retro piece of work. I've explained often that it's a product of 4 decades of imagined evolution. I arrived at the selected theme in my initial concept ideation phase with theoretically updated versions of the Mini for 1969, '79, '89 and finally '99. In fact, I also added a vision of a potential '09 design. All this took place in 1995 at BMW AG in Munich, Germany. I've never worked at Design Works in California.

 As a modern version of the original, it's unimaginable for me that the R50 and the R53 would have upright round headlamps. That would certainly have antiquated the design, much like a person today using a monocle instead of contact lenses. In my opinion, a designer who stays tied to the past is not really a true designer. Designers in our industry are paid to innovate and improve. Moreover, the application of aerodynamics to automotive design has improved overall performance.

 Your reasoning behind keeping the original Mini's upright headlamp design places aesthetics over performance, a principle I think that detracts from the true purpose and mission of good design.

 Best, Frank
First, "I started to read your article with great interest and then it faded dramatically," ouch. But I get it, and absolutely had that coming, since I'm some dipshit criticizing this incredibly important work of automotive design.
What I found especially interesting was the part where Stephenson clarified that he never considered the Mini a retro design, because he was basing his design on a series of imaginary updates to the original Mini. Honestly, I adore this concept, because it goes so much further than just updating an old design into a modern design vocabulary, but imagines a whole history that never actually happened–something that we here at the Autopian are especially fond of doing.
The redesigns for 1969, 1979, 1989, and 1999 can be seen here, as sketched by Stephenson:
These sketches are interesting; the '69 update shows a Mini that's been smoothed and refined a bit in the details, while the '79 one, with its elongated hood, perhaps suggests early attempts to improve crashworthiness? The '89 one introduces the more sloping headlamp design that prompted my article in the first place, and the '99 one is clearly very close to the 2001 R50 modern Mini.
Stephenson discusses these imagined updates in this video:
Now, the real question here is: Do we think that these sketches and incremental Mini concepts were actually done before the 2001 Mini, or done afterwards to fill in the path? I don't think we can ever really know for sure, and I'm not sure it even matters all that much.
What could also be interesting to consider is that for some of these imaginary Mini updates, we kind of do have real-world counterparts. BMC did leave the basic Mini design alone for an incredibly long time, but it's not like they never played with the Mini design.
Take the Mini Clubman, for example, which appeared in 1969 and was what our reality had for a 1969 Mini re-design:
BMC modified the Mini from the A-pillar forward to give it a more modern look, and in doing so essentially abandoned the traditional Mini face. Of course, they made this alongside the original Mini look, so that wasn't lost.
Another fascinating real-world Mini redesign happened in 1974, when Innocenti, then part of British Leyland, re-bodied the original Mini to update its look, based on designs from Bertone, and the result was extremely modern-looking: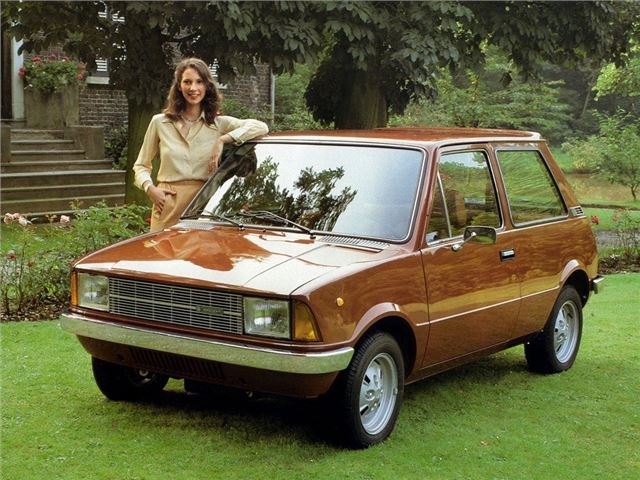 The Austin Metro, which arrived in 1980, could be considered reality's redesigned Mini of that era, since the goal of it was to replace the Mini. As you can see, it owed almost nothing to the look of the OG Mini:
So, really, it's not so much that British Leyland never attempted to redesign the Mini, it's that they never attempted to redesign the Mini while simultaneously giving a shit about the look of the original Mini design–something that Stephenson's imaginary Mini re-designs absolutely do, and, I think, despite what Stephenson himself says, does make them retro resigns since that's the key to a retro design, isn't it?–a respect for and attempt to translate key design cues to a more updated design language.
But look: Stephenson designed the new Mini, and if he says the headlights have a damn good reason to look the way they do, then the headlights have a damn good reason to look the way they do.
I mean, I still think they look a lot like modern versions of this old Hella lamp, as I said, and I don't think I'll ever be able to un-see that, but I'm also happy to admit that I'm wrong.
Frank Stephenson has told me that the 2001 Mini headlights are the result of decades of imaginary evolution from the original, and that's good enough for me. In fact, I like it even better now that I know a whole made-up history is involved, because, whatever you think of the design or its justifications, that's just fun.
(Images: YouTube, Chasing Perfect documentary (2019), BMW, AROonline)