Happy Friday, fellow Autopian superusers! What a whirlwind week of news it's been in the car world, from Tesla financial returns and Cybertruck delays to Akio Toyoda's departure from the CEO position at his family's company. Let's wrap things up today with some updates on Toyoda's successor, details about how fire departments are preparing for the EV era, some updates on China's increasingly global car industry, and news on a big Ford recall—not a serious one, but one you should know about.
It won't all be completely depressing, I promise.
Meet The New Boss
Say what you want about Akio Toyoda's risk-averse approach to battery-electric vehicles, but I think we can all agree it's a shame we're about to lose such a Real One at the helm of a major automaker. Toyoda is a legit gearhead like us; an enthusiast, a racer and someone who truly believed driving should be fun. This trickled down to tons of Toyota products over the last decade and change, and we all know there was a time when you couldn't say that.
So here's the good news: Toyoda's replacement, Koji Sato, is apparently a fellow traveler in the enthusiast world. As I wrote yesterday, he drives a Supra handed down from his father-in-law (I'm not sure which Supra, but all of them were rad.) But there's more: He was the chief engineer on the Lexus LC, which is very good, and he generally doesn't come across as one of these bland executives who could work in any industry and just happened to land in cars.
Remember, Sato's an engineer by trade, and car companies run by engineers just tend to do cooler and better shit than the ones run by bean counters.
Check out that video above where Sato and Toyoda go for a drive in the new electric Lexus RZ on a track and seem to be having a genuinely good time together. The way they both get giddy when that electric torque comes on (which is always fun to experience if you're not used to it) is really delightful to watch.
Here's Automotive News' ace Asia reporter Hans Griemel on the new guy's deal:
As that story also notes, Sato has a tough job coming up, even by CEO standards (and Toyoda's farewell speech yesterday made it clear his life hasn't been a picnic for the last 14 years.) He has to get Toyota through all of the digital, mobility and energy-related challenges of the coming years in "an era when software adds more value to vehicles than their metal, glass and rubber."
One last quote on that from Toyoda himself about what's to come, and I think this is especially significant:
That says a lot about what's next, doesn't it?
China's Automotive Takeover Speeds Up
If you're an American, and Google Analytics tells me that most of you are, you may not realize just how big the Chinese auto industry has become. That isn't your fault; Chinese cars aren't really a thing here yet for a variety of reasons, including tensions over trade, supply chains, national security and our country's deep-seated fear of communism. But guess what? Just about everywhere else in the world, Chinese cars are blowing up. (Figuratively.) Here's Bloomberg (subscription required) on how China is about to surpass Germany and catch up to Japan in terms of car exports. (Also, America's car exports? We're way, way down on that list, a distant fifth now behind South Korea.)
Overseas shipments of cars made in China have tripled since 2020 to reach more than 2.5 million last year, according to data from the China Passenger Car Association. That's only a whisker (about 60,000 units) behind Germany, whose exports have fallen in recent years. China's numbers, behind Japan but ahead of the US and South Korea, herald the emergence of a formidable rival to the established auto giants.

Chinese brands are now market leaders in the Middle East and Latin America. In Europe, the China-made vehicles sold are mostly electric models from Tesla Inc. and Chinese-owned former European brands such as Volvo and MG, and European brands like Dacia Spring or the BMW iX3, which is produced exclusively in China. A raft of homegrown marques like BYD Co. and Nio Inc. are ascending as well, with ambitions to dominate the world of new-energy vehicles. Backed by Warren Buffett's Berkshire Hathaway Inc., BYD is already charming EV buyers in developed countries such as Australia.

The trend underscores that China has moved beyond being the "world's factory" for low-cost consumer electronic devices, appliances and Christmas toys. By shifting to more complex and sophisticated products for competitive, highly regulated markets, Chinese companies are moving up the value chain in manufacturing—a key driver of growth that transformed the once-struggling communist economy into today's quasi-capitalist $18 trillion juggernaut. Indeed, the Economic Complexity Index compiled by the Growth Lab at Harvard University, which analyzes the range of products a country exports, ranks China 17th in the world, a rise from 24th a decade ago.
(By the way, if you pay for Apple News+, as I do, you can read Bloomberg and a ton of other outlets. It's a shockingly good deal for like $10 a month. Just a helpful PSA from someone who's as much a news junkie as he is a car nerd.)
It's kind of wild that the Chinese car boom hasn't happened in the U.S. yet; it certainly has in even Mexico, for example. But the Trump-era tariffs and now Biden's Inflation Reduction Act policies have kept that industry at bay here, save for a few Chinese-built outliers like the Polestar 2 and the Buick Envision. But this is the other reason that, for example, Toyota's EV strategy has come under fire: these Chinese exports? They're largely EVs or will be entirely in the coming years. And their prices can undercut everyone else's in several markets. If you're a big legacy automaker increasingly focusing on battery power, you have the Chinese auto industry to fend off. That won't be an easy task.
How Fire Departments Are Getting Ready For The EV Era
A lot of the conversations to be had around EVs aren't about "good" or "bad" compared to internal combustion, but "different." Let's take firefighting, for example. Car fires happen all the time with gasoline-powered cars, typically after crashes but also in rare cases from maintenance issues. Gasoline burns. That's what it does. But fire departments have spent a century getting equipped for that outcome.
Battery fires are different and they're especially nasty. Lithium-ion batteries burn hard and hot, and when they do, they are notoriously difficult to extinguish. This Vox story dives into the reality facing fire departments, especially smaller and more rural ones that may not have the funding to deal with this like more well-heeled operations do. (The story's framed as "Tesla fires," which I don't really agree with; ask Chevrolet how that's been going for them.
[Michael McConnell, an emergency response technical lead at Tesla]'s long email reflects the current approach to fighting EV fires and the fact that fire departments across the country are still learning best practices. Even now, there isn't consensus on the best approach. Some firefighters have considered using cranes to lift flaming EVs into giant tanks of water, although some automakers discourage submerging entire vehicles. Rosenbauer, a major fire engine and firefighting equipment manufacturer, has designed a new nozzle that pierces through the battery casing and squirts water directly onto the damaged cells, despite some official automaker guides that say firefighters shouldn't try rupturing the battery. Another factor that needs to be considered, added Alfie Green, the chief of training at the Detroit Fire Department, is that there are new car models released every year, and there is particular guidance on how to disconnect different cars.

While some standards have been released, others are still being developed, and fire departments are still catching up with National Transportation Safety Board recommendations. There's also the matter of just getting the vast number of firefighters up to speed on EVs. O'Brian, the fire chief from Michigan, told Vox that the federal government needs to take a much more active role in funding research and helping buy EVs that fire departments can practice on.

Another complication is that EV fires present different risks in different places. The New York City Fire Department (FDNY) hasn't had to fight any electric car fires yet, but it is facing e-scooter and e-bike fires, which are on track to double compared to last year and disproportionately endanger delivery workers in the city. Batteries that lack safety certifications or are charged improperly are more likely to ignite, explains John Esposito, the FDNY's chief of operations. In November, 43 people were injured in a Manhattan building fire that the department ultimately linked to a battery-powered micromobility device — possibly a scooter — that had been kept inside an apartment.
It's thankfully worth noting EV fires are still especially rare; one Austin fire chief quoted in that story says that his department has only dealt with a handful of them, and Austin is a pretty EV-savvy place these days. What we need is more safety improvements for EVs, as has happened for decades with ICE vehicles, some national standards on how to battle these blazes, and hopefully better funding for the departments that will be called upon to do so.
Ford Recalls 462,000 Cars For Camera Issue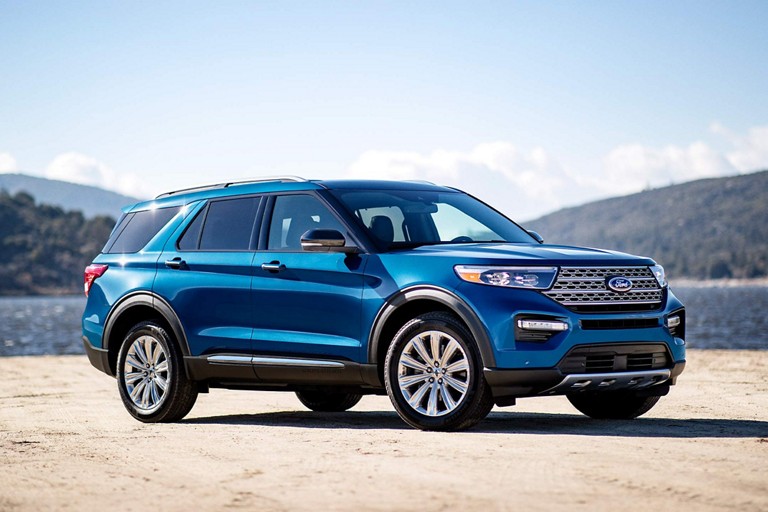 Luckily, nothing is on fire with this Ford recall news. But 462,000 cars is a lot of cars, so I figure I'll take the time to let you know about it. The automaker is recalling a bunch of SUVs worldwide because the backup camera could fail, which isn't what you want. Here's Reuters:
The U.S. automaker said the recall covers some 2020-2023 model year Explorer, Lincoln Aviator, and 2020-2022 Lincoln Corsair vehicles equipped with 360-degree cameras and includes 382,000 in the United States.

Ford said it has reports of 17 minor crashes relating to the recall issue and more than 2,100 warranty reports but no reports of injuries. The recall expands and replaces a 2021 recall of 228,000 vehicles. Dealers will update the image processing module software and vehicles previously updated under the old recall will need the new update.
If you own one of these, be on the lookout for your recall notice. You're welcome for the heads up. I know—I'm one of the heroes.
The Flush
What do you want to see from the Koji Sato era of Toyota? I say the time is right for the MR2 to make a comeback. I've been saying that for two decades now, but it doesn't mean I'm wrong.