The Suzuki Jimny is a triumph of off-road design. With tiny dimensions, a light curb weight, good ground clearance, short overhangs, and short gearing in the axles, the little Japanese SUV is just a beast off-pavement, even with only 101 horsepower from a 1.5-liter naturally aspirated four-cylinder engine. With that said, the vehicle would flop in the U.S. market if Suzuki tried selling it here, and the biggest reason for this is that it only comes with two doors — or at least, it used to, because Suzuki just revealed a four-door Suzuki Jimny, and it looks awesome. Check it out.
"The 2018 Suzuki Jimny Is the Off-Road Bargain of Your Dreams, and the Highway Cruiser of Your Nightmares" I wrote four years ago after having driven the little 4×4, off-road. The Jimny is truly a gem, but even I had to admit that, on the highway, it was kind of a disaster. The transmission only has five gears, and, when paired with the Jimny's short 4.09 axle ratio, yields a buzzy, high-RPM Autobahn driving experience that I wouldn't want to deal with for more than an hour or two. Part of the issue is that the vehicle only makes 101 horsepower, so a sixth gear might not be able to hold the vehicle's speed, especially on inclines.
For big, fast American roads, this just won't work. And you know what else won't work? Two doors.
I've said this since the Jimny came out: As great as it is, it'd never sell in the U.S. without a four-door option. We saw this with the Jeep Wrangler JK — when it debuted for the 2007 model year, Jeep thought the four-door variant would sell in relatively low quantities, but in short order it outsold the two-door three-to-one. America needs doors (two-door vehicles rarely sell in high volumes), and it also needs long-stretch, high-speed freeway capability. The Jimny now has the former. Check this thing out:
And of course, with the extra doors come extra airbags:
Power is still about the same (it's now at 103 HP versus 101 on the two-door), length is up about a foot (to ~13 feet), but weight has only gone up about 150 to 200 pounds depending on trim (from ~2,500 to ~2,650 on base models). The off-road angles are still quite impressive. Here are the two-door's off-road angles:
And here you can see that the four-door's are largely the same, with only breakover angle having dropped by four degrees (departure and approach are a little different, though I recall there being a bit of variation in the two-door's angles depending upon which brochure you looked at; I'd ignore the one degree difference — the main difference is breakover). Honestly, 24 degrees isn't bad at all — it's better than that of a four-door Wrangler, and not far off from the two-door Wrangler Sport (25 degrees).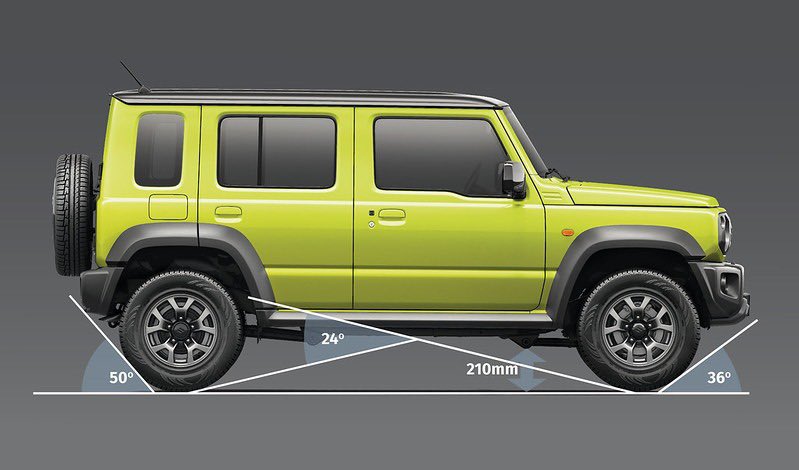 There looks to be a decent amount of space in that cabin:
And look, the seats fold flat-ish!:
There's no word on pricing, but anything under about $30,000 would be a bargain in my eyes (the two-door starts in the low to mid 20s, depending upon market).
Come on: A reasonably efficient four-door little off-road beast with solid axles (equipped with a "brake lock differential") and a ladder frame for under 30 large? I'd be all over it. I'm a fan of small, cheap, off-road Suzukis, after all. It's a great formula!
From what I've read from other outlets, the four-door Suzuki Jimny is to be sold in markets in Africa, Asia, and South America; Europe seems unlikely due to emissions restrictions. The U.S.? That's also not likely in the cards given that Suzuki no longer sells cars here (perhaps Suzuki could sell the car to Chevy it did with the Tracker?), but I maintain that the Jimny is now one significant step closer to being to being viable for U.S. customers — just add a turbo and one extra gear, beef it up as necessary so it passes our crash tests, and keep the price in the 20's, I think it'd be a hit.
We Are All Underestimating The Chevy Tracker
A Look At The Off-Road Trip That Resulted In Our $700 Chevy Tracker Dead On A Trailer And Our $1700 VW Touareg Stranded In An Abandoned Detroit Neighborhood
How My $700 Chevy Tracker Got Stuck On Flat Solid Ground
All Images: Maruti Suzuki